Interestingly over the years, the term "innovation strategy" may have been something for corporates or the 'in' or 'cool' companies. What small-to-medium sized business owners in New Zealand don't realise are the opportunities that having an innovation strategy can uncover. For example, one company I worked with recently was able to develop new competitive services creating an opportunity for their existing customer profit to increase and additionally stopping customer churn.
Before you stop reading, this is not about creating a 30-page document (often a picture you imagine when the word strategy is used), or a subject to consider at your next business planning session in 3 years' time. Start thinking about your innovation strategy now, because if you really care about your customers or growing revenue, you won't just 'keep doing what you've always done'.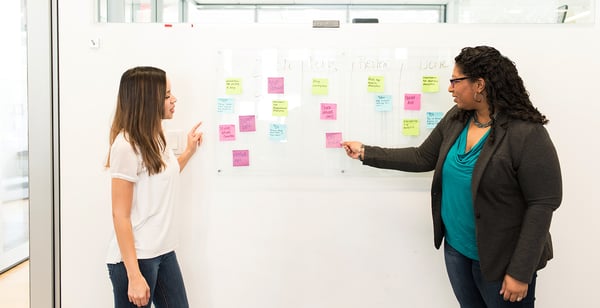 What is an innovation strategy?
For small-to-medium business owners, managers or teams, an innovation strategy can be a positive key (or possibly huge elephant!) to opening a prime competitive advantage in what we all see as crowded NZ customer pools or markets - let alone if you are thinking about taking your business internationally.
My suggestion is that an innovation strategy (for most small-to-medium business owners) is not a "big bang theory (e.g. completing all actions in one business period, possibly disrupting normal customer or operational matters)", but more about creating new value, leveraging current business models, being focused on your customers, then collaborating with your entire team to achieve a selected competitive business goal. An innovation strategy should not be separate from your overall business vision, but an addition to it, to create real opportunities for collaborative work between different teams or bringing individuals together that have different responsibilities.
My suggestion is a one-page approach for a chosen innovation strategy idea. This one page could contain information such as (but not limited to):
Why do we need a new strategy?
What pain points exist?
What are the measurable outcomes that define the strategy?
What competitive or unique selling points does this create?
Outline the playing field, (undertaking some reverse analysis on the above points)
What offerings or value is provided?
Internal or partnership capabilities needed?
Systems changes required
Supporting this I would have a simple implementation action and communication plans (specific, measurable, attainable, results-oriented and time bound) created.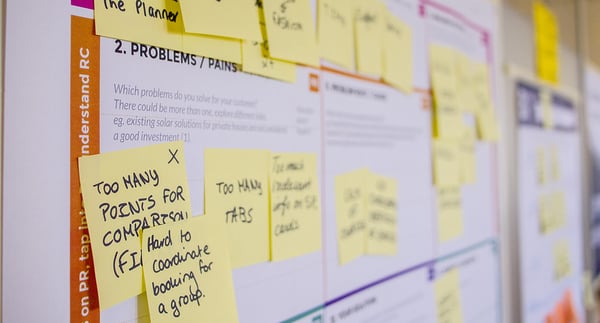 How to create your innovation strategy
A good starting point is to decide on what the basis of your innovation strategy will be, starting with grouping the many ideas you may have. I suggest segmenting all of your ideas into these categories:
Business plan actions (cost savings or operational)
Unmet customer need or collated customer feedback
Incremental changes to products
Leap frog R&D efforts or technology breakthroughs
Once you have grouped your ideas, it's often a struggle within everyday business to choose or shortlist the items you need to work on. To help select a few impactful ideas, create a business-based criteria to rank the most important ideas. Imagine a simple voting process and make sure to involve cross section of people. The selection criteria could contain (but is not limited to):
How they fit with key business objectives
What is the playing field like for each (segments, competitors)
Does this leverage your current business model?
Customer value (measure possible?)
Competitive advantage
Capabilities to deliver
Systems and processes required
From experience, I recommend that only a few ideas (1 to 3 depending on time and resources) are carried forward, not eliminating all the others but parking them for the meantime, ready for another wave of innovations. Each wave selection can then be managed with multiple short-phased steps, of course involving your team with defined customer feedback (recognising that you are or "should be" completing regular customer feedback sessions, e.g. part way through delivering a service or obtaining through online survey feedback) at select points.
My top tips to make the most of your innovation strategy and implementation are:
Define the basis of your innovation strategy
Carry out the innovations that will leverage your current business model
Involve your people at all stages by seeking their view on operational or customer ideas,
getting them involved to rank ideas or participating in preparing an implementation plan.
Obtain a customer view and define the value proposition
For each selected idea, create a one-page innovation strategy canvas, mentioned above (reverse engineering a strategy, test barriers and assumptions)
Create a simple customer metric to measure the innovation progress
Know your market and customer competitors
If you are a small-to-medium business, take this opportunity to plan and differentiate or grow your business through innovation. Use the key team members and customer ideas you have identified in the process above to create value; improve user experience processes; bring your team together, focus on more than normal operating actions; and allow collaboration in your business to drive additional revenue and customer satisfaction.
This blog is written by Nick Egerton, innovation strategy expert and Business Coach at The Icehouse. If you'd like to create the best innovation strategy for your business, contact him to organise a free, no obligation chat.