Are you an owner-manager looking to recruit? Maybe you're a family business searching for expertise outside the family circle for the first time, or a start-up who's growing too quick for your current team?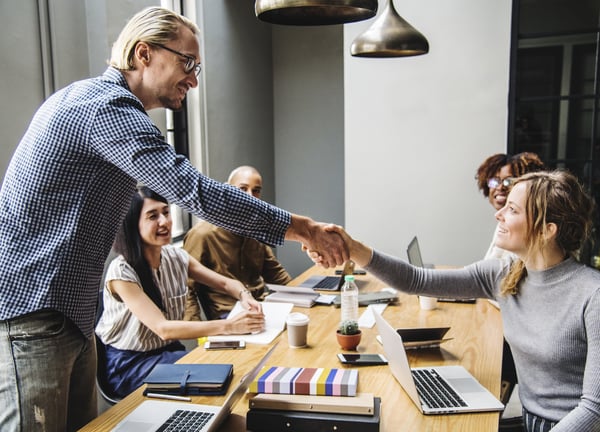 Either way, making the decision to take on extra employees can seem daunting (but congratulations on taking the leap)!

In short, you're ready to hire if you and your existing team simply don't have time to manage all the current work yourselves, you need new skills to fill a gap or supplement your current teams expertise, there are opportunities for growth that you really want to take, or/and you've got the revenue you want to invest back in to the business.

|

A new team member equals greater productivity
Dwelling on the financial commitment of an extra salary is a mistake. Instead, imagine what adding to your workforce is going to do for your business – and you? You'll benefit from a surge of expertise that you don't have, significantly increase productivity, and open a pathway to that mysterious thing you've heard so much about – delegation. It's also a chance to eradicate much of that emotional responsibility and pressure as there will be someone new there to help.

So, who will it be? A finance guru to take ownership of the numbers? Sales and marketing gurus to find new leads? An office manager to take care of customer service and paperwork?
Thankfully, for many start-ups and SMEs, the question of who to employ will present itself gradually. And you'll know when the time is right to recruit, and in what area.
|

Write a list of what you expect and need
When owner-managers are bogged down in the day-to-day running of their business, it's tempting to react hastily. If you can, take your time to build a detailed job description, listing precisely what you want from the new role. What will be the immediate impact, and how will that role develop over time to provide maximum return and extract value?

Ask yourself what the position will truly bring to your organisation – not just now, but in two and five years' time. You know where the pressing gap is but, again, think strategically and holistically. How much work actually needs doing? How much responsibility are you prepared to give them? How will their work complement your own and others?
|

Ask yourself a lot of questions and be thorough
Speak to trainers and mentors, your small business advisor and trusted professional bodies. Also, what are the competition up to? There's no harm is seeking inspiration from your rivals.
However, whatever you do, do follow a rigorous and professional process. Employing a friend of a friend, a relative or a previous colleague out of misguided loyalty is a common error – particularly when it comes to family businesses.
|

Keep one eye firmly on the future
Remember the individual won't just bring expertise to the table and is not merely an extra pair of hands. They bring creativity and teamwork to the table. Think about succession and planning. Your business probably won't look the same in five years' time. So how will your new recruit fit into that framework? Will they need extra training? Will you need to set aside further investment to upskill them in key areas?
|

Types of workers and protecting yourself
You'll also need to think about specific staff types. Are you looking for a permanent or casual employee? Fixed-term or contractor? The Ministry of Business website has some useful information on this.
Get all your legal ducks in a row, too. Employment New Zealand has some good practical advice on the hiring process (how to prepare, advertise and conduct job interviews), plus weightier stuff focussing on how to take care of the legal niceties, your rights, and responsibilities.

For more business and leadership advice check out more of our blogs.