The Icehouse has unveiled its brand new co-working space in Auckland. The business centre is currently taking bookings for 35 fixed desks and ten hot desks.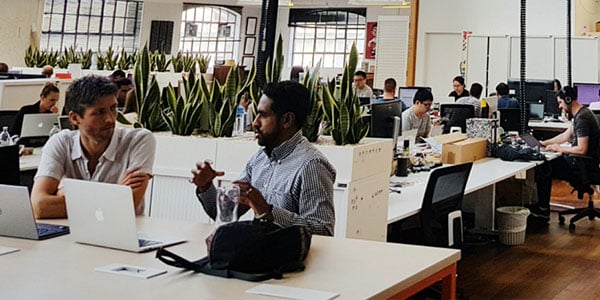 The explosion in co-working space opportunities around the world is largely thanks to the flexibility of services and locations available to remote workers, start-ups and freelancers, while more and more established businesses are also embracing the trend.

A software company in San Francisco is credited with opening the first co-working space – in 2005, and now there are an estimated 14,000 co-working spaces in the world today (Allwork).

The spacious accommodation, high ceilings and natural light are in keeping with the historic warehouse origins of The Old Textile Centre in Parnell, living harmoniously with the contemporary look and vibe tenants expect from a central shared-space facility in 2020.
Benefits include unlimited Wi-Fi, 24/7 security, meeting and boardroom access, acoustic focus pods, informal breakout areas, free bar space and communal kitchen facilities, but that's just the beginning, explains Natasha Burton, Community Lead, at The Icehouse.
'Tenants searching for the ideal shared office location are more and more discerning. They expect state-of-the-art facilities, but there's a community feel at The Icehouse, where like-minded business people build relationships and support each other,' says Natasha.
Building connections, working among highly-motivated peers, flexibility and location are four of the most common criteria tenants list when initially seeking co-working space. These requirements are also available at The Icehouse – and come for free.
That sense of community includes access to The Icehouse's unrivalled business network – with nearly two decades of deep connections in New Zealand and International business community, and strong partnerships with Xero, Vodafone, Asset Insurance, BNZ, Callaghan Innovation, Chartered Accountants ANZ, James & Wells, NZTE and Auckland University, The Icehouse co-working space is the obvious choice for professionals, entrepreneurs and contractors that are serious about their work and their contacts.
Further benefits include:
Preferential rates and credits with companies such as Xero, Amazon Web Services, Stripe and more


Priority when special offers on The Icehouse workshops become available


Free weekly legal advice and accounting


Access to on-site workshops and networking events


Networking opportunities with Friday community drinks


Close to Auckland's waterfront and CBD, and all motorway links
The Icehouse is currently offering free no-obligation weekday trials where prospective clients can spend a day at the facility – to decide if the space is a good fit for them.

The co-working space also comes with a secret ingredient, which few similar spaces can offer. 'We are an awesome bunch of people who co-habit and support each other. Wonderful things can happen in this space. By joining this community you will reach your potential and thrive,' adds Natasha.

'The Icehouse is where Kiwi businesses grow. We get alongside them, no matter what stage they're at, and help them reach their growth aspirations.'
With flexible options available, why not come and see for yourself? And look out for some exciting events hosted by Parnell's business community over the next few weeks.

For all co-working enquiries, to book a tour, or to experience a day's free trial, contact Natasha Burton, Community Lead at The Icehouse.

DDI: +64 9 308 6200 ext.6
Email: N.Burton@theicehouse.co.nz
Check out The Icehouse co-working space online.
For more business ownership and leadership advice check out more of our blogs.