Your free and exclusive webinars are ready to view. Each webinar provides strategic advice and critical information to enable you and your business to come out of the current situation more resilient.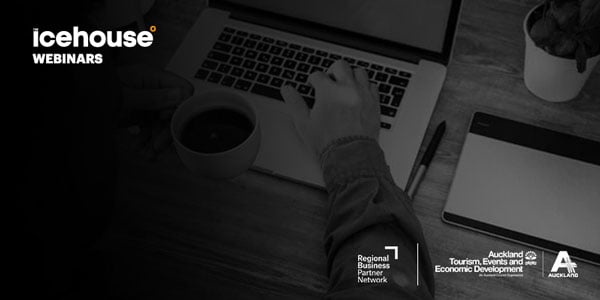 You can also view the complete series via our dedicated webinar website and via The Icehouse's YouTube channel.
Created by The Icehouse delivery team and leading experts and valued members of our network, this week's webinars concentrate on preparing for the shift to Level 3, how to communicate effectively with a virtual audience, management and growth in and out of a crisis and enhancing leadership resilience into the recovery phase.

We want to acknowledge and thank the Regional Business Partner Network for their support as a partner in these webinars.

| Your free and exclusive webinars
Level 3 and the next steps + challenges with Three60 Consult
Lynn, Robyn and Campbell from Three60 Consult address the move to level three and the implications for health & safety, WFH policies and more.
Keeping your virtual audiences fully engaged with Gaye Stratton and Tim Horne
Gaye and Tim provide a toolbox of skills, ideas and suggestions to communicate more clearly with your virtual audience.
Coming Back Stronger - Managing businesses in and out of crisis, planning for growth and opportunities, then actually delivering those outputs with Gray Paterson
Gray discusses crisis management and governance, and identifies some key short-term growth opportunities and how to expedite them.
Resilience for a new Normal Bounce, Reimagine and Drive with Dr Sven Hansen
Sven illustrates how to sustain and grow your leadership resilience into the recovery phase with practical, actionable solutions.
Don't forget, we'll be hosting further webinars next week!
Recordings: The Icehouse Webinar Series Recordings
For more business ownership and leadership advice and the latest discussion around COVID-19, check out more of our blogs.