This is Part 1 of our Good Business series, where we interview Icehouse alumni on their business journey, what up-skilling means to them, and advice they would give to other Kiwi SME (Small and Medium-sized Enterprises) owners. This interview was originally published in M2 Woman's March/April issue.
Steph Fry is a co-founder of the award-winning IdealCup, the first reusable coffee cup to be designed and manufactured in New Zealand. Steph completed the Owner Manager Programme in 2018.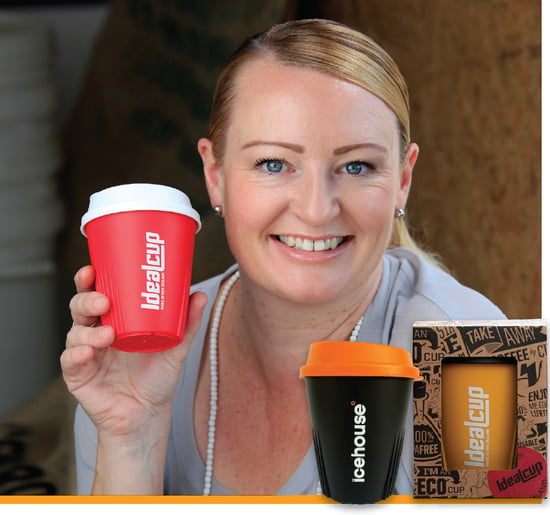 Tell us a little bit about your business journey up to this point in time and why you founded IdealCup.
Nick, my husband, and I got into business 15 years ago with Celcius Coffee (a roastery we owned in Wellington), and IdealCup was a sustainable byproduct of that business. Five years in, we realised that the coffee industry is the biggest contributor of single use waste-to-landfill in the world and we thought that if we're passionate about making change, we need to do something to mitigate these horrible single use cups going to landfill.
What's the biggest challenge you've faced in business?
In all honesty, working in business with my husband – at least for the first number of years. We are complete polar-opposite personalities. It's caused a friction with our business decisions and for years it over-ran our lives. We had lost our personal relationship and every conversation was about business. Since going on the Owner Manager Programme, I have far more respect and appreciation for his thinking and how he processes.
What values drive IdealCup and why are they so important to the business?
Our values are driven by sustainability and specifically around really wanting to make change and 'walking the walk'; being transparent, having integrity, being honest in making sure that everything we do reflects our passion about what we're trying to achieve. It's not just doing that for our business, it's also about encouraging others to join us on our journey.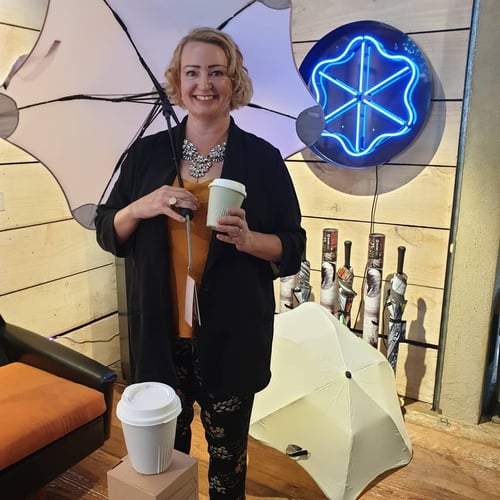 Steph with the Blunt Umbrellas and IdealCup collaboration - a limited-edition series that lasts.


I bought myself my first ever briefcase about 12 years ago and thought that if I had a briefcase and I dressed nicely, I was a businesswoman and that was going to be enough. Both my husband and I laugh about that now.

IdealCup as a company is built around the idea of being sustainable and providing a sustainable option for consumers. Does this come with a different set of challenges?
Sustainability for us was a huge challenge 15 years ago – it was a word that people were only just starting to say, and even today, being 'sustainable' is a bloody minefield. At every turn you can be scrutinised, so you have to do it right. For us, it means refining our processes and educating people about the full lifecycle management and product stewardship of our products. This is integral and imperative for us, as it's challenging day-to-day to be in this space.
Do you think personal development is an important part of being a successful business owner?
Yes, definitely. I was at a pivotal point with IdealCup where I knew that I needed to access new knowledge and skills to answer: How do we take the business to the next level? What are the next steps? What do we need to be doing? It wasn't until I was on the Owner Manager Programme when I realised that wearing so many 'hats' and feeling like I had to be in control of everything was such a detriment to the business. Now, I'm engaging more strategically, meeting with stakeholders, decision makers, movers, shakers and change makers. This is what I visualised for myself in my business and it came to fruition during my Owner Manager Programme journey.
Following your experience on the Owner Manager Programme, what tips would you would give to other business owners?
Do your business plan – always write a business plan – and see what you're trying to achieve, where you're trying to go and then drill down into those areas and follow the plan – it will continually evolve as you do. Figure out what skills and knowledge you don't have and need, to ensure that you can achieve the goals you set for yourself and your business… oh and make sure you continually network and connect – knowledge is power and it's not necessarily what you know but who you know.

To learn more about Steph and IdealCup, visit idealcup.co.nz