If you've been through an Auckland transport hub in the past few days you may have spotted our 1000and50 campaign – asking the question, 'Are you New Zealand's next success story?'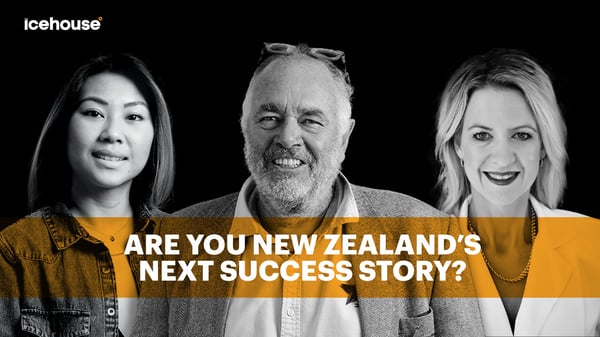 We are very proud to be delivering our 50th Owner Manager Programme which started this week, Wednesday 1st July – and our 1,000th 'OMPer' going through the programme later this year during OMP51. So that's 1000and50. Why not head to our dedicated 1000and50 resource for more information?

| Scholarship potential for you
We have a wide range of scholarships available to business owners and managers to celebrate this milestone – to provide some assistance to utilise our services and grow your business.
And who knows where these opportunities could take you? Taking Your Business Forward is our brand-new programme – combining online content, facilitated sessions and self-moderated peer group discussions. The idea is to give owners from around New Zealand practical sessions with a highly skilled and experienced Icehouse facilitator, subject-matter experts and owner-manager guest speakers.
Or what about the chance to tap into the wealth of expertise available from our many coaches? Our coaches and advisors can do many things for you and your business, such as fill a knowledge gap which is preventing you from growing, provide new insight into a particular challenge that's troubling you, or you just need a sounding board to self-validate your own business ideas and strategies.
| About OMP. The word from our alumni
'Production went up, I couldn't believe it. People were happier and just everybody worked better and production went through the roof, all from this mysterious inkling that maybe there was something there. People kept saying 'If you do that, then it's amazing' but I really didn't believe it until I tried it. It was really cool.' Pic Picot, Owner - Pic's Peanut Butter, OMP 32
'It was just amazing the authenticity the other owner managers brought and actually seeing the difference – even in six months – that our internal actions with each other actually made. The Owner Manager Programme helps you focus on your goal-setting and visualising where you want to be and what are the things that you're doing that in three years' time you probably won't be doing.
'You've got a set amount of time, you can't do everything, and the Programme taught me that I need to work ON the business and not IN the business and that's a great discipline. If you follow the process of the Owner Manager Programme, it's phenomenal.' Carmen Vicelich, Founder - Valocity Global, OMP 36
 'The best thing about attending OMP was looking forward to the info packed workshops, the friendships and fun of fellow attendees, and coming away from it inspired and remembering what I'm in the business for and that it can and will be done. OMP really gives you a boost for, not only how to get to the next level, but also the mental push required.  
'Business owners don't take enough time out of the business to be inspired by great ideas, dream big and doing OMP definitely recharges and energises.' Janice Tan, Business Development Manager - AB Food Industries Ltd, OMP 41
Please visit our knowledge base if recent global events have impacted you. It's full of useful information and resources, support and offerings, funding opportunities and partnership and coaching details.
For further business and leadership advice and news from The Icehouse, check out more of our blogs.