Rhythm and Vines is New Zealand's leading three-day music festival held in Gisborne, popularly known as the first festival in the world to bring in the New Year. Hamish Pinkham co-founded the festival in 2003 and completed The Icehouse Owner Manager Programme in 2012.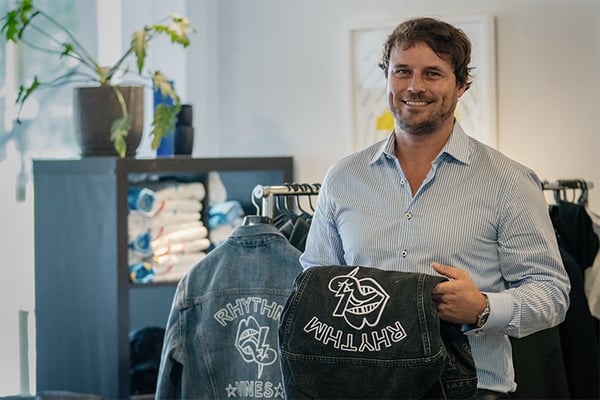 Hamish, tell us about Rhythm and Vines and your role in the business.
Rhythm and Vines came about as a wild idea to hold a party for some friends. We've grown it over the last 16 years to be a world-class music festival here in New Zealand, set in beautiful Gisborne. I'm one of the directors of the business and the festival, I make sure that 20,000 people are turning up every year and that we provide a cutting-edge line-up that attracts and entertains the masses.
What interested you about the Owner Manager Programme and The Icehouse?
While growing Rhythm and Vines, we had learned a lot along the way, taught ourselves and managed to get our business off the ground to a reasonable level but I wanted to surround myself with other like-minded business owners and share experiences. I really wanted to upskill myself and what I liked about the Owner Manager Programme was the smorgasbord of modules – you're not learning about one thing but about so many areas of business. I liked the idea of removing yourself from the business once a month and the fact that you get the chance to work on the business and not just in it.

You're trained as a lawyer; did you ever think about returning to university and completing an MBA instead?
I did, but the Owner Manager Programme provided a great homegrown opportunity to apply myself at a business level and it was reasonably accessible. We had the support of the NZTE and I had spoken to alumni like Tim Alpe (co-founder of JUCY Rentals) that have completed the Programme, so it always came with good references. I've always been into personal development and I've attended a lot of conferences over the years – TEDx in London, the Live Music Conference in London – but this provided some real business structure, which I hadn't experienced since university.
How would you describe the Owner Manager Programme in a nutshell?
It's a crash course in different areas of business, from marketing to supply chain, to understanding finance and putting plans together, coupled with some real-world experiences. I was able to establish a network and a team of like-minded business owners. During the programme we were able to swap stories, share experiences over some beers, and most importantly work outside of the business in a controlled environment where you could reflect and take heed of where you are. Over the 6 months you really grow as a business owner and you can really apply yourself – it's super, super rewarding. The Owner Manager Programme is just a fantastic course.
What sessions or discussions really stood out to you?
We had David Irving, former CEO of Heinz Watties Australia and Founder of The Icehouse, as one of our facilitators and he was just fantastic. To get that one-on-one access to someone really experienced was great.
I really enjoyed 'checking myself' against some of the modules and topics where I think Rhythm and Vines do really well – marketing, social media and governance – and I felt really fulfilled that we were on track and on par with some of the leading examples and best practices.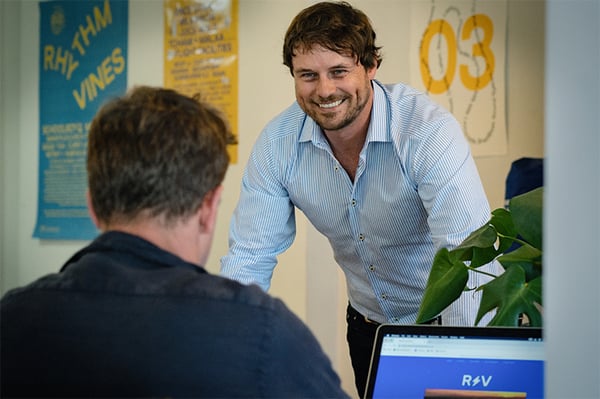 What's the biggest business challenge you've faced and how did you meet that challenge?
One of the biggest business challenges we had was probably overextending our business. We grew it quite fast, we had around 15,000 more people attend the festival within 5 years and moving to the three-day model was huge because it took extra investment on-site. At the same time, artists' costs increased and with that, visas and hospitality costs. As a result, the business was overextended, and we had some cashflow issues which we had to overcome over several years. So, bootstrapping the business, holding on and really believing in what we were doing got us through. Now, we've created a sustainable business and we've attracted some new partners through Live Nation, an international promotions company, and it feels like we're on track.


What's the biggest learning that you got out of the Owner Manager Programme as a business owner?
That you need to take time as a business owner to work on your business and not just in it. I learned that you need to surround yourself with the right team, be it at the governance level or to make sure that you've got the right people on the bus to take the business forward. The programme was a good 'stop check', to put the brakes on the business to some extent and to get a clear path for where we're heading.
Since beginning the programme, the team at The Icehouse have been super supportive, providing introductions or advice and I'm now part of that alumni network that offers opportunities to grow and network.

Learn more: The Icehouse Owner Manager Programme

What things are you proud to have achieved with Rhythm and Vines so far? Where do you see the business in 10 and even 20 years' time?
I'm proud to still be in the game and having longevity and sustainability because it's such a risky industry – a lot of players come and go, so I think we've done bloody well to still be here 16 years later. That's probably the thing I'm most proud of, the stickability, the courage to ride the ups and downs and see things through. Now that we have Live Nation as a partner, it's great to know that the festival is in safe and experienced hands. It's opening the doors for the business and for me professionally as well, there are many opportunities for growth.
In 10- and 20-years' time, I still want Rhythm and Vines to be around. New Year's isn't going anywhere and it's one of those times of the year where people want to celebrate. They want to get in their cars and drive to the beach with their friends, I think that recipe has been a big part of Rhythm and Vines' success. I'd like to still be involved in some form – even though the festival is at the right size, hosting 20,000 people every year, the creative elements change and a focus on that is always required.
We're never going to beat Glastonbury, but I think we'll be a world-respected boutique festival of a pretty respectable size and we'll continue to do justice to the venue in Gisborne. We'd like to more at the venue outside Rhythm and Vines and that's something we're working on, it's just such a fantastic, stunning setting. Watch this space.


What would you tell someone who is on the fence about signing up to the Owner Manager Programme?
Just do it. What you'll learn on the programme is you need to spend time on developing yourself outside of the business. It's fantastic personal development and a great chance to put a plan together in your personal and professional life. There's never going to be a good time to 'remove' yourself from the business so there's really no better time than now.
Take the leap, take the opportunity, the show will go on. Your business will continue to tick over, but you'll have the necessary skills and plan at the end of it to help take your business to new heights.