Bridgette O'Sullivan is the owner of The Red Barn, a wedding and events venue in Waikato. She is also an Owner Manager Programme alumni. Here, Bridgette discusses pivoting the business during and post COVID-19, operating a family concern, and owner resilience.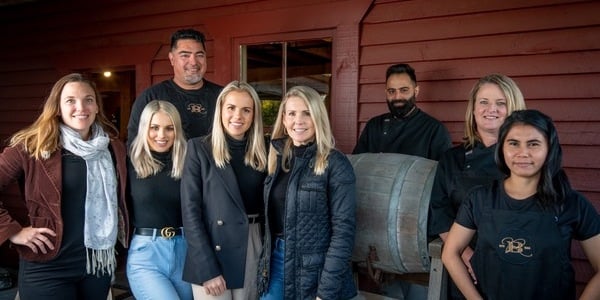 Just a few minutes' drive from Hobbiton on State Highway 29 you'll find The Red Barn. It's an idyllic location and iconic venue but, as Bridgette (centre, right) explains, the last few weeks have demanded she look far beyond its stunning tree-lined boundaries.
The Red Barn has built itself great momentum and an even better reputation for servicing large visiting groups of cruise ship passengers and inbound tourism. 'All aspects of the business were going so well,' says Bridgette. 'We had weddings at the weekends and tourism during the week, so everything was working beautifully.
'Then suddenly we had all this free time on our hands [as COVID-19 hit]. All of our weddings were postponed, all our tourism stopped – the majority of our international visitors are from America, Canada and the UK – so we had to look at the potential of pivoting the business,' she says.
Bridgette also experienced the extra responsibilities of running a business during COVID-19 when daughter Caitlin was made redundant from her job, and her other daughter, Georgia, came home prematurely when her university was temporarily closed. They came into the family business in April and bring new skills to The Red Barn's operations – particularly around marketing.
'My daughters are very business-minded, so I didn't have any concerns. They're young and enthusiastic and courageous, and they're so in touch with how customers behave. With more than 20,000 combined followers on social media, it's been great to harness their experience,' she says.
So after several family conferences and needing to move quickly, The Red Barn struck on the idea of subscription food boxes – and Red Barn Chef was born. There are two different products available. Packages comprise of four meals per week which can feed a family of four, or boxes for either two or four people.
'One of the things about COVID-19 is that no matter how bad things get, we all need food. It's a growing sector regardless – you only have to see how the likes of My Food Bag are doing,' says Bridgette.
The twist for Red Barn Chef is that the new operation is done to scale and uses only local suppliers and sourced local ingredients from the Waikato region.
'It just seemed like the perfect fit for us and that's the basis of our business model,' adds Bridgette. 'Some companies are at capacity, and there is room for another player in the market. We're going to be sticking to the Waikato to start with, as supporting what's going on in our own backyard is incredibly important to us.'
Every box sold will see a donation going to KidsCan and the Food for Kids programme, so that deprived Kiwi children can enjoy a hot meal.
'All our full-time staff are utilised in the business. I am so lucky to have such a talented team but I don't want to overload them. We've got over 80 weddings to oversee between October and May, and we'll be employing more people in August. So it's really all hands on deck for the next few months!'
It's a great example of pivoting in a crisis, helping the local community and shows off Bridgette's resilience – something which came to the fore during The Icehouse Owner Manager Programme 39 in 2017, in which Bridgette participated.
'I took so many things away with me and learnt so much. The importance of building a workplace culture was a big thing for me. As was developing resilience and discovering how to handle a business and manage expectations when things go bad – because things will always go bad at some point in a business!'
It was reassuring for Bridgette to hear that, 'actually I am doing that right. OMP gave me the confirmation that I am on the right track.'
Bridgette still stays in touch with her programme peers, and they meet every six months to swap ideas, discuss current trends and issues and support each other. 'We know each other's businesses inside out! We spend three days together in a conference-style set-up and talk about the challenges we've faced, and we're facing.
Bridgette predicts that international tourism in New Zealand 'won't get back to normal for at least another 18 months'.
'Tourism as we used to know it is going to take a while to get going again, so we have to be realistic about the future. The masterplan is to have three arms to the business – weddings and events, tourism and conferencing, and Red Barn Chef,' she says.
The Red Barn Chef website will go live on Monday 8 June and you can sign-up right now – and you can head to The Red Barn for more information about its range of hospitality products and services.
For more business ownership and leadership advice and the latest discussion around COVID-19, check out more of our blogs.