We continue our series of free webinars and our new podcast from leading experts and valued members of The Icehouse delivery team, to help clarify and make sense of some of the most pressing topics that are affecting businesses and business owners during this unprecedented time.

Please register for one or all sessions - they are free to attend online via zoom.

Note: we recommend you download and install zoom prior to the event for the best experience - https://zoom.us/download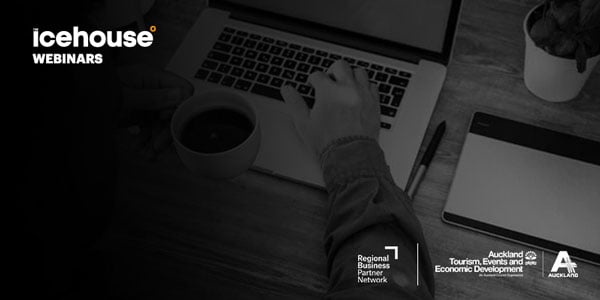 |
How to pivot your business; a design thinking guide with Melissa Wragge
The market has structurally changed; this is no longer about restoring the status quo after lockdown. So how do you respond? How do you survive, revive and thrive? In this webinar, Melissa will guide you through the simple 101 steps to strategically pivot your business, using proven design thinking smarts.

Learn what to do and how to do it - steps, sequencing and some handy tips:
Listen, understand and unlock potential value - both on the demand and supply side.
Understand and appraise your assets and potential strategically.
Calibrate and align operationally.
Bio: Melissa has 25 years' experience leading large scale transformation, from blue-chip corporates, banks and retail giants to SMEs, NGOs and start-ups. Schooled in systems-based design-led thinking in the UK, she has lead transformation programmes - the first half as a capitalist, the second half as a conscious capitalist. Most recognised and awarded for the transformation she took Ecostore through, she's passionate about sustainability, holistically, and believes in business as a force for good.

Melissa takes Boards and Exec teams through a design-led transformation process to blueprint their future. She runs workshops and offers training and coaching programmes to help leadership teams architect a sustainable business model, from innovating new value propositions to new financial, operating and marketing models. Currently she's taking The Icehouse through their transformation. She also teaches Master's students in applied innovation, coaches start-ups and is an expert advisor for SMEs at Manaaki.io.
Time: 5 May, Tuesday, 10:00 am
|
Being a Leader Worth Following with Amanda Fleming
Leadership is a great privilege and especially mission critical currently. In this quick look at leadership Amanda will explore some principles that will help grow your influence and effectiveness - from the inside out.

What will be covered:
20th and 21st Century Leadership - What's the difference and what new skills do we need?
Essential Principles for effective Leadership and Teamwork - These work in all situations.
The No1 communication strategy that can change everything! - Hint, you are already using it.
Bio: Amanda Fleming is a 'presenter at large', who creates and presents popular and very effective training programmes in both corporate and public environments in New Zealand and Australia.
In addition, Amanda offers conference keynote addresses and workshops which are designed to inject a 'hit' of zest and inspiration to corporate events. Amanda's style is interactive, and she will engage the audience in active discussion and participation in even short presentations. She is passionate about learning and the empowerment of others and believes in the inherent brilliance in every individual. In short, Amanda strives to enable others to understand possibility and responsibility in a 'true' sense. She uses applied compassion, consciousness, healthy communication, and a commitment to lifelong learning, as keys to success.
Time: 6 May, Wednesday, 10:30 am
|
Changing consumer behaviour in a post Covid world with Janet MacDonald
Covid-19 has changed the world and as a result, much consumer behaviour has changed - some forced and some voluntarily as we adjust to the new reality.
In this webinar, Janet will present an insightful session on behaviour change, unpacking the four approaches to change as a practical tool for refining business strategy and developing effective marketing communications.
Bio: Janet MacDonald is a communication strategist with over 20 years behaviour change and communications experience working for and with organisations as diverse as BBC, BNZ, Fire and Emergency, TVNZ, New Aids Foundation and Ministry for the Environment.
Time: 6 May, Wednesday, 1:00 pm

|

NEW - The Icehouse Podcast
New podcasts from industry leading minds, business extraordinaire, creative thinkers and valued members of The Icehouse delivery team.
View here - info.theicehouse.co.nz/podcast
Episode 1: Andy Hamilton
Andy Hamilton is a Director, Advisor and investor in Kiwi companies. Loves helping people to find their path to realising potential.

Was CEO of The Icehouse for 18 years and now Director of Icehouse Ventures the investment arm of Icehouse and leading his own consulting and investing activities.

Prior to joining the Icehouse, he was CEO and Director of Inventure, Fletcher Building's venture capital arm that he established in 1998. He was also a member of the Advisory Board of Unitec's Centre for Innovation and Entrepreneurship, and Chair of the Unitec Accelerator from 1999 to 2001.

Way back when - he began as a commercial lawyer for 3 years at Russell McVeagh one of NZ's leading firms, after graduating in 1992 with a Bachelor of Commerce, LLB Honours. Following Russell McVeagh he was with a publicly listed NZ company, Skellerup Group for 4 years in various roles, including Executive Assistant to the Managing Director – Skellerup Group, Sales and Marketing Manager - Masport, and Retail Manager of a Masport Retail Franchise.

Specialities: Business growth, priviate equity and venture capital - internationalisation of technology ventures - research and development - economic development