We continue our series of free webinars and our new podcast from leading experts and valued members of The Icehouse delivery team, to help clarify and make sense of some of the most pressing topics that are affecting businesses and business owners during this unprecedented time.
This week's webinars focus on key areas that an accountant can add value to your business and an excellent session about taking your business online with Kevin D'Ambros-Smith.
Please register for one or all sessions - they are free to attend online via zoom.

Note: we recommend you download and install zoom prior to the event for the best experience - https://zoom.us/download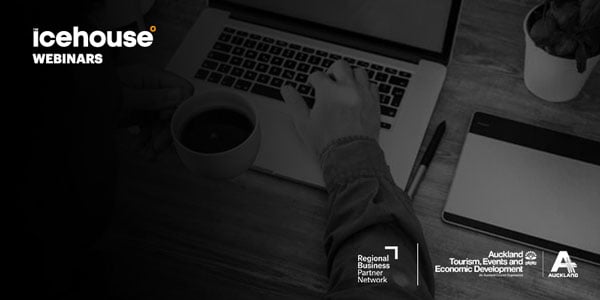 |
Disruption and Recovery: How CAs and businesses are working together
With the COVID-19 emergency deeply impacting businesses and the wider economy, the skills and expertise of an accountant are in high demand. From business continuity planning and cash flow forecasting to accessing funding and more, this session uncovers key areas where an accountant can add value and what is involved in building the road to recovery. Hear from and engage with several Chartered Accountants in a session designed for you to workout how to get the best out of your accountant partner.
Host – Gareth Bayliss
Time: 26 May, Tuesday, 10:00 am
|
Taking your business online with Kevin D'Ambros-Smith
Your customers are researching the brands, products and services they will buy - online. They are also increasingly choosing to purchase online.
In this webinar, Kevin will talk about:
Determining the best online solution for your business and budget
Briefing and working with web developers
Attracting online customers to your website
Creating loyal customers for your business
Ensuring you maximise ROI
Bio: Kevin has worked at advertising agencies DDB, Ogilvy and Saatchi & Saatchi and helped grow the businesses of major clients like Telecom (Spark) , Lion Breweries, Unilever, NZI, GSK and McDonald's.
He has over a decade of experience in utilising inbound marketing and sales funnels and marketing automation tools to attract leads, drive sales, surprise and delight customers and ultimately generate the loyal customers that will fuel your future business growth.
Kevin has also started, developed and sold multiple businesses across a number of industries; growing these from start-up into multi-million dollar companies. These span from multi-award-winning online retail stores in the grocery, pet, pharmacy, toy and baby categories; through to a specialist 'Influencer' media company and a healthcare logistics business.
Time: 28 May, Thursday, 10:00 am

|

WATCH NOW - The Icehouse Podcast
New podcasts from industry leading minds, business extraordinaire, creative thinkers and valued members of The Icehouse delivery team.
View here - info.theicehouse.co.nz/podcast
Episode 4: Sarah Ramsay
Sarah Ramsay, CEO of United Machinists.
Sarah's expertise is in developing commercial growth strategies. Which is overlaid with a passion for operations efficiency and performance management - processes ingrained after an early career in investment management, running her own marketing agency for 9 years, being a professional governor of several NFPs, investor in numerous startups and the co-owner of a CNC manufacturing facility.
You can't survive off software, 'physical things' are still going to exist in the future – they're just going to get cooler and more sophisticated. That's why her husband and herself purchased his family business United Machinists in 2016. They get to help make components for NZ's leading high tech high value exporters – like ShotOver Camera Systems, TASKA Prosthetics and Scott Waterjet.
Startups do change the world and changing the world from right Dunedin is a pretty cool thing to be part of. That's why she loves investing her time and oftentimes funds into startups as an angel investor and as Chair of Startup Dunedin.
Most importantly, she's got a toddler, Finlay. Watching him rapidly grow into a great human is her biggest achievement to date!