We continue our series of free webinars and our new podcast from leading experts and valued members of The Icehouse delivery team, to help clarify and make sense of some of the most pressing topics that are affecting businesses and business owners during this unprecedented time.

Please register for one or all sessions - they are free to attend online via zoom.

Note: we recommend you download and install zoom prior to the event for the best experience - https://zoom.us/download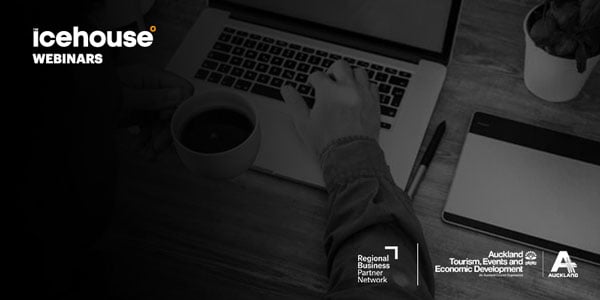 |
How to pivot your business; a design thinking guide with Melissa Wragge (part 2)
The market has structurally changed; this is no longer about restoring the status quo after lockdown. So how do you respond? How do you survive, revive and thrive. This webinar is the second in a 3-part series in which Melissa will guide you through some models to help you strategically pivot your business, using proven design thinking smarts.
Learn what models are useful, what process to follow, what to think about, what criteria to apply to your decisions and why gaining Insight is the strongest tool in your toolbox when Pivoting.
Bio: Melissa has 25 years' experience leading large scale transformation, from blue-chip corporates, banks and retail giants to SMEs, NGOs and start-ups. Schooled in systems-based design-led thinking in the UK, she has lead transformation programmes - the first half as a capitalist, the second half as a conscious capitalist. Most recognised and awarded for the transformation she took Ecostore through, she's passionate about sustainability, holistically, and believes in business as a force for good.
Melissa takes Boards and Exec teams through a design-led transformation process to blueprint their future. She runs workshops and offers training and coaching programmes to help leadership teams architect a sustainable business model, from innovating new value propositions to new financial, operating and marketing models. Currently she's taking The Icehouse through their transformation. She also teaches Master's students in applied innovation, coaches start-ups and is an expert advisor for SMEs at Manaaki.io.
Time: 19 May, Tuesday, 10:00 am
|
Setting Up for eCommerce Trading – Legal Considerations with Phil Monahan
The unprecedented circumstances brought about by COVID-19 have forced many small businesses to start taking orders and payments online. This webinar discusses some of the legal considerations of trading on-line.
In this webinar, Phil will talk about:
Electronic transactions
Website terms of use
Privacy obligations and privacy policies
Click through sale terms and conditions and returns policies
Intellectual property
Delivery issues
Bio: Phil is a Partner at Tompkins Wake, and leads their on-line platform AdviSME. Phil also advises clients on business and personal structuring, the sale and purchase of businesses and shares, succession, shareholders' agreements, governance, terms of trade, general contractual matters and financing. Phil was listed as a Recommended Lawyer in the Asia Pacific region in The Legal 500.
Time: 20 May, Wednesday, 1:00 pm
|
Answering your employees 21 questions with Three60 Consult
The Three60 Consult Team will touch on topics such as:
What needs to happen next for your business?
Flexible working arrangements
Working from home i.e. policy, IEAs and allowances
Health and Safety
Changes to remain viable
People issues we predict you'll see.
Time: 21 May, Thursday, 10:00 am

|

WATCH NOW - The Icehouse Podcast
New podcasts from industry leading minds, business extraordinaire, creative thinkers and valued members of The Icehouse delivery team.
View here - info.theicehouse.co.nz/podcast
Episode 3: Kevin D'Ambros Smith
Kevin coaches businesses on how to drive long-term sustainable growth and profitability.
He specialises in business, sales and marketing strategy; working with businesses to set clear and defined business goals, as well as mapping out simple pathways to success.
Kevin knows every business has a story to tell and he will help you tell yours. Whether your business is big or small, it has a uniqueness and magic that can captivate consumers. He is obsessed with what makes a consumer buy and how businesses can best position their products to appeal to customers and drive them to purchase. Kevin will help you find and develop the 'secret sauce' in your business.
Kevin has worked at advertising agencies DDB, Ogilvy and Saatchi & Saatchi and helped grow the businesses of major clients like Telecom (Spark) , Lion Breweries, Unilever, NZI, GSK and McDonald's.
He has over a decade of experience in utilising inbound marketing and sales funnels and marketing automation tools to attract leads, drive sales, surprise and delight customers and ultimately generate the loyal customers that will fuel your future business growth.
Kevin has also started, developed and sold multiple businesses across a number of industries; growing these from start-up into multi-million dollar companies. These span from multi-award-winning online retail stores in the grocery, pet, pharmacy, toy and baby categories; through to a specialist 'Influencer' media company and a healthcare logistics business.