We're enhancing our connectivity and member experience throughout our coworking space at The Icehouse with the launch of OfficeRND. Simon Rogers, Operations Executive at The Icehouse, explains.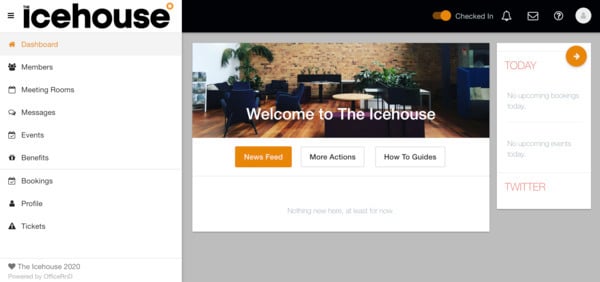 I'm always looking for ways to improve the team experience and that of our shared space community – you may have read my previous article on the advantages of coworking spaces in a post-COVID-19 environment.
[Here's a snapshot from that article on coworking benefits: 'In terms of your bottom line, there minimal up front costs, and there is contract flexibility, depending on the size of your business. There are no office operating expenses to concern yourself with, and no need to have your own member of staff dedicate their valuable time to this. You can downsize or scale your team up without having to think about the hassle of moving.']
|
Why choose OfficeRND?
Now, from June, our members will have access to a digital members' directory, meeting room bookings, events, Icehouse community perks (such as HubSpot for start-ups and discounts at local businesses), a series of 'How To' guides, as well as Slack and Xero integrations – all accessible in one place via desktop and mobile app.
At The Icehouse, we believe in digitisation, but digitisation that retains a human element. When researching the different coworking platforms on offer, I looked at functionality from both the member and visitor experience perspective, as well as operational efficiency and functionality.
From an operational viewpoint, The Icehouse already uses Xero for accounting, and OfficeRND has a proven track record with its billing integration with Xero. We'll also be able to track membership, revenue, space growth and management of desk allocations, plus member contracts and pipeline.
Support is another key issue, and OfficeRND has been highly responsive and proactive to every onboarding query I've had. Much like The Icehouse, they're also constantly looking to the future, with a lot more features available to see on their Roadmap.
| Software that supports business
Looking at what this software will do for our members, not only will the platform give members access to all community perks and benefits, events, 'How To' guides and meeting room bookings as mentioned above, but the directory also allows members to see which other companies operate from our space, with each member able to customise their own profile with a bio and specific skill sets; skills which can then be looked for via the search function.
This enables start-ups and established SMEs and larger businesses that operate within The Icehouse community to fast-track network opportunities and quickly open doors so they can get face-to-face with the organisations that can assist them on their growth journey.
|
More to come on the platform
Version 2 will see us adding a virtual receptionist, plus an interactive floorplan and digital wayfinding map for guests and visitors.
If you're interested in The Icehouse coworking space, or the OfficeRND platform, please don't hesitate to get in touch.
You can email me here, or head to The Icehouse's dedicated site: coworking at The Icehouse.
For more information about OfficeRND and the OfficeRND Roadmap.
Check out our dedicated resource for businesses impacted by COVID-19. It's full of useful information and resources, support and offerings, funding opportunities and partnership and coaching details.
For more business and leadership advice check out more of our blogs.