We're thrilled to announce that The Icehouse has been appointed as Youth Business International's (YBI) delivery partner in New Zealand for its Rapid Response and Recovery Programme.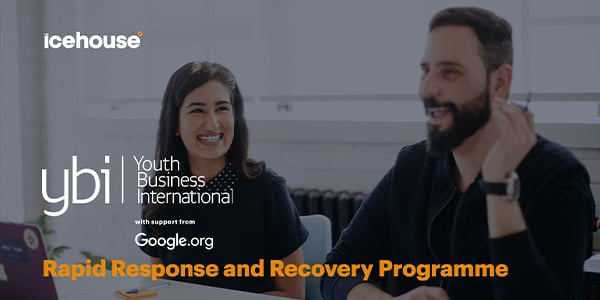 The programme offers critical financial support for under-represented small and medium businesses that have been hit hard by the COVID-19 crisis.
The programme is led by YBI, the international organisation which empowers young people to turn their ideas into a business reality. The funding is provided by Google.org, Google's philanthropic arm, which supports non-profits that address humanitarian issues and apply scalable, data-driven innovation to solving the world's biggest challenges.
Small and medium-sized businesses are vulnerable to any economic downturn, but the unprecedented events of 2020 have called for even more urgent support for business owners and entrepreneurs from specific communities, such as young people (aged 18-35 years), women, and refugees and other migrants.
The Icehouse has enabled a thriving New Zealand, driven by entrepreneurs and business owners since 2001, so it's an excellent fit for us, and a unique opportunity to deliver the programme throughout New Zealand as we work towards a 'new normal'.
'We are excited to be part of YBI's Rapid Response and Recovery Programme funded by Google.org,' says Gavin Lennox, CEO at The Icehouse.
'Our values and vision are aligned – we're pleased to partner with both global organisations to support New Zealand's small business owners survive and thrive in the post-COVID world.'
At The Icehouse we'll be harnessing the YBI support to help fund business owners to participate in our most accessible development activities. We'll have live weekly webinars featuring business experts from our network where viewers can ask questions, plus a weekly podcast – both will be available online via our website and on YouTube.
Scholarships have been provided for our virtual and interactive Taking Your Business Forward programme – focused on helping owners rethink, refocus, retool and reset their businesses.
The funding is also helping provide coaching from our team of business experts – one-on-one guidance tailored to the specific needs of the business.
'In times of uncertainty, as young owners of growing businesses, our mindset can often turn to panic and we can lose clarity and focus. Funding initiatives are the lifeline which empower us to refocus our attention on doing the things we need to do to successfully move forward,' adds Georgia Meek, Owner of Babysitters Club, which provides world-class childcare services for families across New Zealand, and received critical funding from RBP with the help of The Icehouse.
YBI will support more than 200,000 small and medium business owners across 32 countries across Europe, the Middle East, Africa and Asia Pacific to respond to, and recover from, the impact of COVID-19.
Anita Tiessen, CEO of Youth Business International, says: 'The world is changing dramatically from day to day and I feel deeply for business owners everywhere, especially those running smaller businesses and are from underserved communities, who are often least able to bear the economic shocks of this crisis.
'In the face of these challenges, I have been incredibly inspired by the quick response of our network to support business owners around the world. YBI, with Google.org's new funding commitment, will help us sustain and extend this support throughout 2020, ensuring more than 200,000 businesses can get the advice they need right now to navigate this crisis.'
'The coronavirus outbreak is taking a devastating toll on lives and communities, and small businesses are facing unprecedented challenges as they struggle to stay afloat,' adds Rowan Barnett, Head of Google.org, EMEA & APAC.
'With this grant to Youth Business International, alongside a series of Google initiatives and products, we hope to help some of the most vulnerable small businesses find a way through the crisis.'