Around 100 of The Icehouse Alumni, network, partners and friends gathered at Orakei Bay events centre on Thursday 27 May 2021 for a day of connection, inspiration and insight.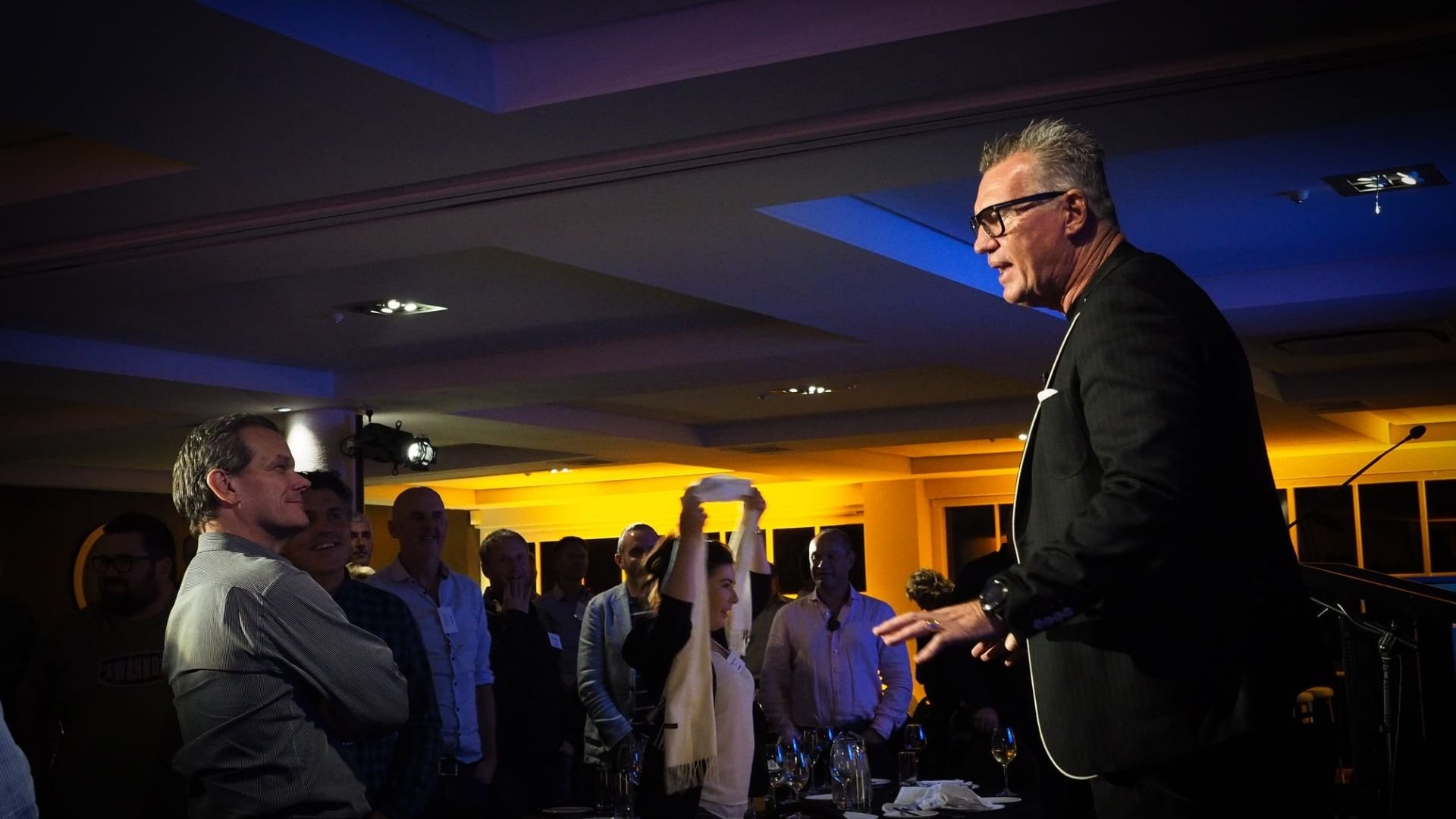 United by this year's theme of 'Gearing up for the Future – People, Passion and Purpose' attendees were treated to keynote speaker and reflection sessions before All Blacks' legend Sir John Kirwan concluded the event with an enthralling discussion over dinner.
Guest speaker expertise
Will Barker, CEO of Mint Innovation, discussed his entrepreneurial journey and provided a comprehensive overview of his business and the exciting future ahead for an organisation that provides a low-cost, sustainable solution to recover precious metals from the urban mine by having a biorefinery in every major city around the world.
Fashion designer and philanthropist Annah Stretton outlined the amazing work undertaken by the R.A.W. (Reclaim Another Woman) organisation – created to provide offending women with all the skills, confidence, and support networks they need to turn a life of crime into a life of promise.
David Letele, The Brown Buttabean, and founder of BBM Motivation, got the room moving with an inspirational 'workout'. He talked about his early life struggles and how he turned his life around to become founder of BBM Motivation which he established in 2014 across the Auckland region to achieve health, fitness and motivational goals.
Frances Valintine, CNZM and founder of Tech Futures Lab, rounded off the daytime session with her expert take on digital transformation, New Zealand's place in that ecosystem, and how the nation's SMEs can best equip themselves to become global front-runners in the technology revolution.
Frances has worked with and advised 250+ organisations from every sector in New Zealand, from agriculture to finance, retail to law, and has gained a reputation as an expert in leading change initiatives.
Inspirational impact
Talks were interspersed with reflection sessions from Owner Manager Programme facilitators Deb Shepherd and Chris Woods.
'After the many challenges of 2020, I was so excited to be able to be all together at Icehouse Conference 2021! The day was another truly Icehouse-style experience with a great group of alumni connecting with us and with each other,' added Liz Wotherspoon, Chief Executive of Growth at The Icehouse.
'And we all felt genuinely blessed and lucky to experience five great keynote speakers sharing their stories and examples of brilliant entrepreneurship, innovation and taking philanthropy to a whole new level. I know I'm not the only one to go away with a lot of provocation, excitement and energy for what I will do going forward.'
'The Icehouse Conference, returning after last year's cancellation due to COVID-19, reminded us why getting together with other Icehouse Alumni, sharing ideas and hearing inspirational speakers has such impact. What a great event!' said Gavin Lennox, Group CEO at The Icehouse.
Plans are already in place for 2022, so watch this space!

For information on how capability building programmes, workshops and advisory can help your business, click  here.

For more business ownership and leadership advice, check out more of our blogs.

Icehouse Alumni? For exclusive content on Icehouse Central, register now. Follow this link.