Welcome to the eighth part of our 20-Year Anniversary Publication serialisation. Each week, we'll be publishing a new chapter telling the stories of the people and places that have contributed to our history. You can view part seven here.
The Startups
Icehouse Ventures partner Jack McQuire has a framed email hanging on the wall above his computer which he refers to when he needs reminding why The Icehouse has been involved in startups for so long.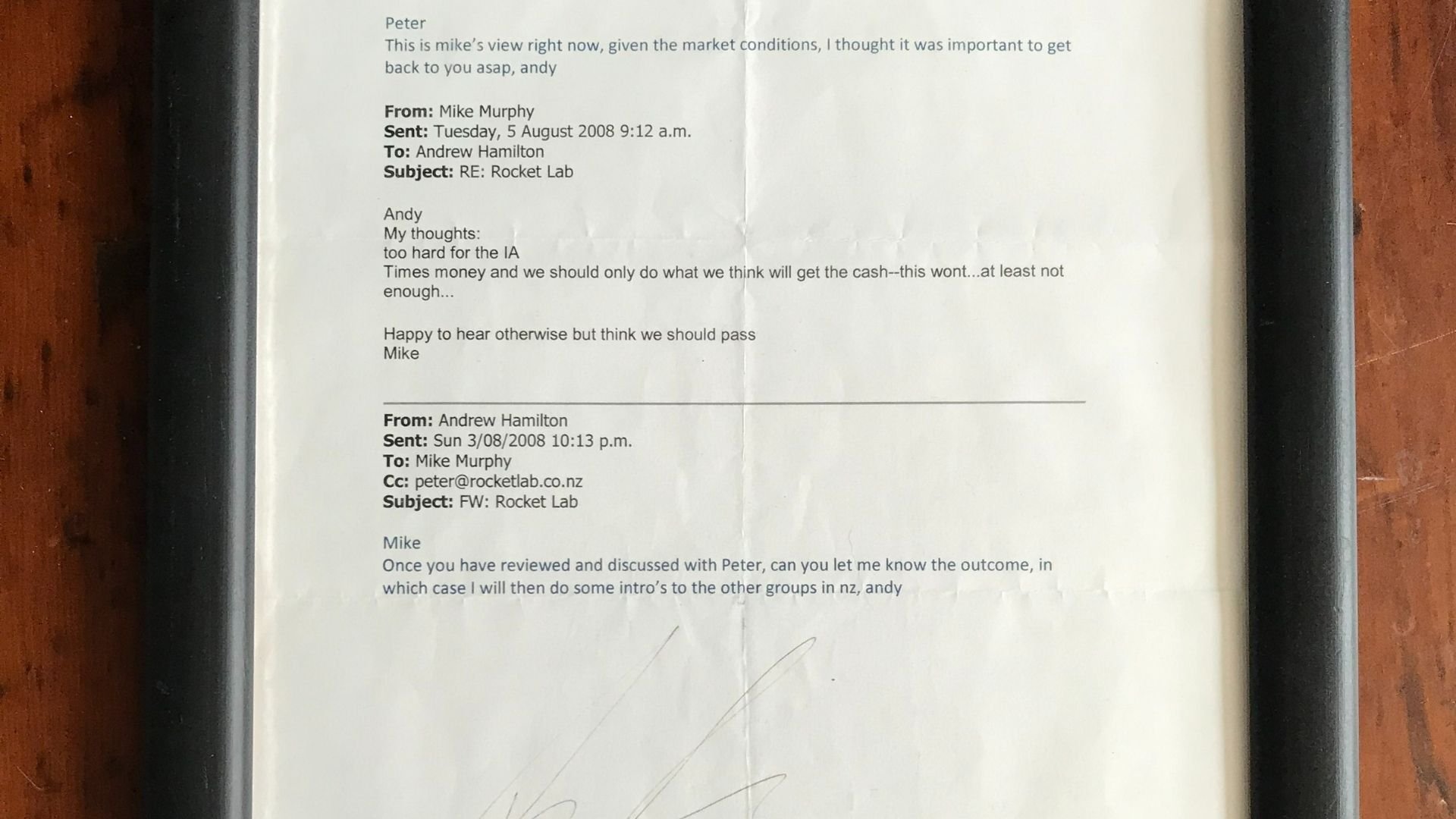 The email was a gift from Peter Beck, founder and CEO of aerospace manufacturer Rocket Lab. In 2016, Beck went to The Icehouse for a lunch with the Ice Angels team and presented the email, which had been sent to Beck by The Icehouse startups team in 2008.
It was an email to Beck saying it wasn't worth the time meeting with him because there was no chance Ice Angels would invest in his startup.
It's a lesson about the one that got away.
Why does McQuire keep it so close?
'It's a reminder,' he says. 'If something seems crazy, ask yourself – do you want to be the person whose name is on that email that says you're not even worth the time it takes to have a meeting?
It's a reminder that we're here to back the crazy outliers. 'Ultimately, success for us in 2030 will be measured by whether the company that replaces Xero or Rocket Lab as the household name of New Zealand startups was backed by us.'
There's another cautionary tale involving Peter Beck and the startups ecosystem endemic to The Icehouse, which from 2003 and the formation of Ice Angels, New Zealand's first angel network, has been instrumental in securing backing for some of the nation's most prominent new companies.
This tale is about Craig Piggott, founder and CEO of Halter, probably one of the most well-known, well-funded and most attention-grabbing startups in the Ice Angels portfolio.
It concerns the question of what makes a successful entrepreneur and founder, and whether there's any truth to the urban myth that you can only make it if you're young and sexy. McQuire says it's not a myth – it's true; if you redefine what you mean by 'young' and 'sexy'.
It's not about youth, he says, it's about being young at heart – having boundless energy, optimism, hunger and ambition. And in place of 'sexy', McQuire would substitute 'magnetism', that secret sauce that Icehouse Ventures looks for in the founders that it considers backing. It's a skill set, but it's also more than that. It involves personality, but it's not showmanship or pizazz. It's also about an idea, but that's not enough to carry the day on its own. It's a different spin on the question of whether entrepreneurs are born or made – and if there's one thing McQuire is sure about it's that even if you have IT, it's not enough. The successful founders are those who have people close to them, showing them the way while also raising their aspirations.
Take Piggott, for example, who was 21 when Ice Angels backed him. He hadn't even finished his engineering degree. Still, it was obvious that he had the inherent features to become an iconic entrepreneur. But the key element to his meteoric rise? He had Peter Beck, his former boss at Rocket Lab, on his shoulder, steering him, challenging him, reminding him that he wasn't getting Peter Beck's time because he wanted to build a $10m business… he was being mentored by Peter Beck so that he could change the face of the industry and build an iconic, multibillion-dollar company.
'It's not that they start out with that idea,' McQuire says. 'It's that they're challenged to think bigger, to see their ambitions grow.
'What's characteristic of the ecosystem and the startups we deal with is that the ones that are really successful tend to have people around them who bring that out of them.'
It's also a piece of the puzzle that organically links the startup side of The Icehouse with the owner-manager side – call it a dissatisfaction with the status quo. Whether it's Janene Draper from Farro or Bernie Crosby from Prolife Foods or Tim Alpe from Jucy or Hamish Pinkham from Rhythm and Vines or Graham and Anne Catley from Marstel Terminals, they all have one thing in common – they're not satisfied with building a small business.
'Startup is described as sexy because you've got these stars that changed the game,' McQuire says. 'But they became stars because they are transformational; they're not transformational because they are stars.'
Velocity Programme
Fady Mishriki, co-founder of PowerbyProxi with Kiwi entrepreneur Greg Cross, still stands as a shining light of what the University of Auckland's Business School programme Velocity can help students and staff achieve and thereby achieve the goal of turning first class ideas into world-class businesses.
Mishriki has since risen to legendary status among the Kiwi tech startup world for his contactless power technology, which was bought by Apple in 2017. He was both a key foundation member of the Velocity organising committee and a graduate of the very first Velocity Entrepreneurial Programme when it had barely any infrastructure.
'Godfather' of Spark/Velocity, Geoff Whitcher, who helped drive the programme's creation, remembers Mishriki well.
'We started from nothing back then,' he says. 'Fady entered and came second that year with contactless power. That was 2000. They went up to Singapore and won a prize with it the next year. Fady then worked partly for the university and kept the contactless power going and in 2007 joined up with Greg and formed PowerbyProxi. Now here we are, it got taken over by Apple in 2017.'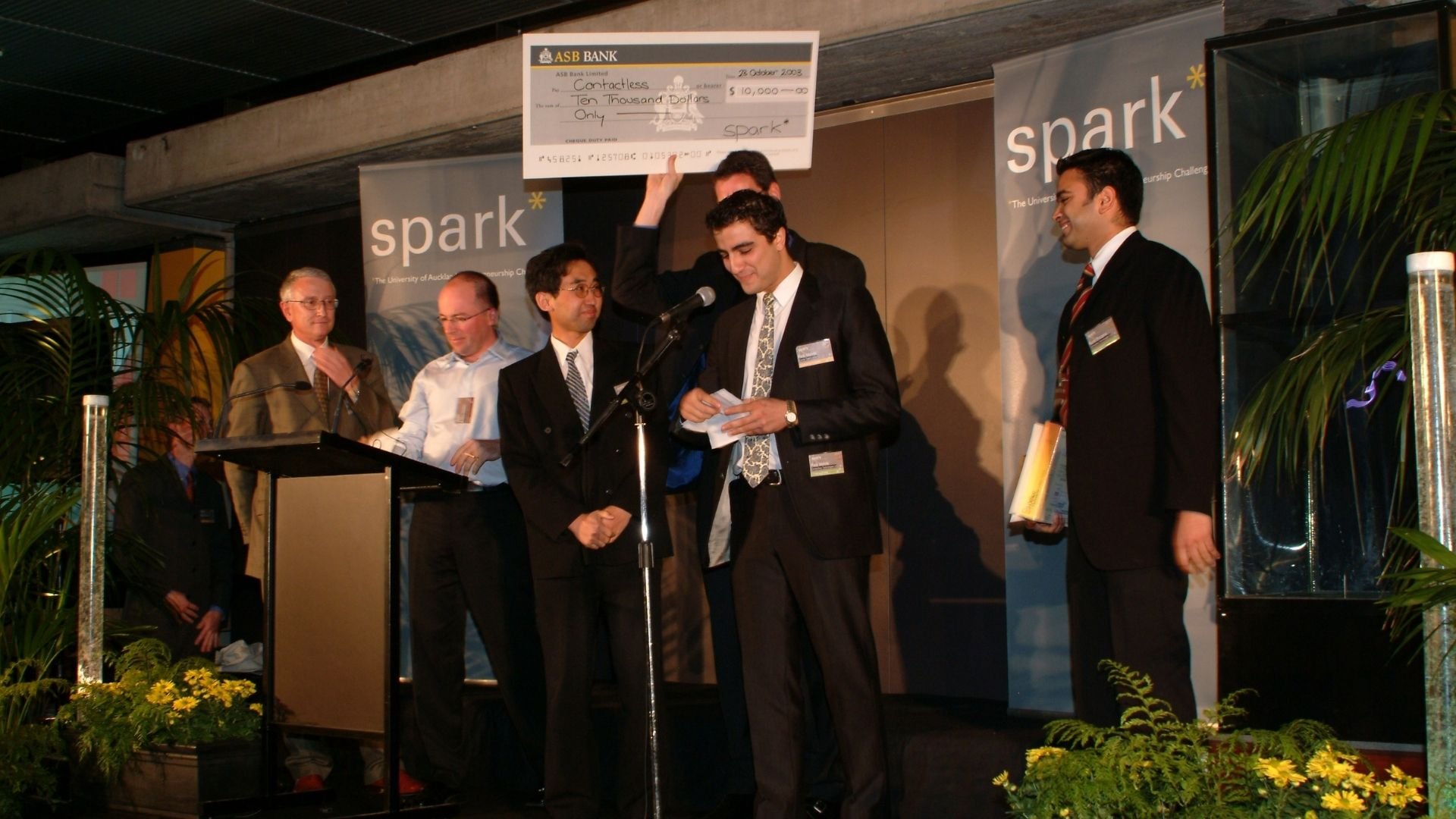 It's a shining example not just because of its success, but because PowerbyProxi benefited from the full gamut of the experience and mentorship available through The Icehouse's involvement in Velocity, not to mention funding from Ice Angels.
'It is a wonderful story because it was built on the deep knowledge and research of the underlying technology of three or four academics at the university and kept churning out new developments,' Whitcher says. 'That's the sort of relationship you want to develop and I guess this is the biggest one to date.'
Velocity, which was founded as Spark in 2003 and rebranded as Velocity in 2016, is a not-for-credit student-led programme within the Business School to encourage entrepreneurship among students and staff.
Velocity involves a year of talks, workshops, events and challenges, from the Innovation Challenge where writing 1000 words on your idea can win you $1000, to the Velocity $100k challenge, in which the best ideas win a place in the Velocity Launch Pad Programme – rising entrepreneurs are given mentoring and workshops on how to convert their ideas to reality, and the finalists compete for the $100k Velocity Grand Final and a share in $100,000 seed-capital.
Integration between Spark/Velocity and The Icehouse was strong in the programme's early years and a key to its success, Whitcher says. Chris Woods and Deb Shepherd, both on the staff of the Business School as well as designers and facilitators of the Owner Manager Programme, gave sessions in the Velocity programme, and The Icehouse former chief executive Andy Hamilton was a conduit between the programme and industry people, such as patent attorneys. A number of people who came through the Spark/Velocity programme provided initial concepts and IP for several companies that Icehouse Ventures financed.
For Geoff Whitcher, it's a practical outworking of an ecosystem which was envisaged some 20 years ago and continues to develop. The universities are one of the places entrepreneurship should begin, he maintains – it's where ideas which are research-intensive are generated. And Velocity is a programme that, like The Icehouse, plays a key role in ensuring NZ keeps riding the knowledge wave and grows towards its potential as a thriving knowledge-based economy.
Next Week: The Continuing Journey
Want to read more? You can download the publication here.

For information on how capability building programmes, workshops and advisory can help your business, click  here.

For more business ownership and leadership advice, check out more of our blogs.

Icehouse Alumni? For more Icehouse content head to Icehouse Central and register now. Follow this link.