Welcome to the thirteenth, and penultimate, part of our 20-Year Anniversary Publication serialisation. Each week, we'll be publishing a new chapter telling the stories of the people and places that have contributed to our history. You can view part 12 here.

Icehouse Ventures - Backing Brave
Tim Williams was nine years old when he and a mate were approached by a woman while they were fishing with bamboo poles off the local wharf, something they did with every free moment.

The chairman of Icehouse Ventures remembers they'd caught a whole bunch of sprats and piper, and the woman wanted to buy some for her cat. Williams told her she didn't have to – that she could just have some.

'No, young man,' she said. In his memory, she's ancient – which he admits is probably a huge disservice. Her business nous, however, was as old as commerce itself. 'How long have you been here fishing?'

'Aw, about six hours,' the boys answered.

'Well, your time is worth something isn't it?'

It certainly was, they agreed – about five cents a fish, it turns out, which was nothing to sneeze at, especially since 20 cents back then could buy you a can of Coke. The woman of indeterminate age agreed to buy from them whenever they fished from the wharf – her neighbours would too!

And so was birthed a passion and knowledge for business that steered his life, from selling Christmas trees in the Takapuna Grammar toilets, to setting up an internet marketing company in Japan after leaving New Zealand with just $2000 in his pocket.

In other words, Williams knows what it is to be brave in business, and whichever way you slice what Icehouse Ventures has achieved over the past couple of years (and its precursor, Ice Angels, before it), bravery is baked into the cake. That goes for the establishment of Icehouse Ventures itself, as well as the founders the group chooses to back.

'I think bravery is having the fortitude to say, I'm going to have a go at doing something myself,' Williams says. 'It's taking the plunge and having the tenacity to keep going at it.

'You have to have a passion for what you do because if you're doing it just for money, I don't think that's enough. You have to have some interest in the problem that you're trying to solve for society.'

Icehouse Ventures was formed in 2019 specifically to back the bravest Kiwi founders and to launch global companies from New Zealand. From the beginning, it had to practise what it preached – going out to raise capital and talking to close to 50 prospective lead investors, people and institutions capable of writing multimillion-dollar cheques and being that cornerstone investor.

It was Simplicity CEO Sam Stubbs who laid down for them a bravery challenge of his own: your vision isn't big enough to get me excited, tell me a more ambitious story of what you could do with more capital; how you could make this something that changes the face of New Zealand.

Now Icehouse Ventures has more than $250m of assets under management and a highly active co-investor network of more than 900 investors and operates a suite of funds with different portfolio strategies. In just two years.

Williams says that when Icehouse Ventures is considering backing a founder, it's that same level of bravery they're looking for.

'It's about drive and tenacity and who they have around them – do they have passion? Passion is massive because in business you have bad days, and if you can't pick yourself up and go again, you'll be dead pretty quickly.'

There are several startups backed by Ice Angels and Icehouse Ventures whose bravery stands out for Williams, who carried a notebook of business ideas around with him from childhood.

Mint Innovation is one – he remembers seeing founder Will Barker demonstrating how thermophilic bacteria gobbles gold off a single circuit board and knowing immediately that if it could scale, it would be a significant company.

Halter's cow herding necklace is another. He watched Tim Piggott's first raw pitch and saw right through the early business plan but couldn't deny that everyone had fallen in love with his passion.

Sharesies is another – a concept so simple and with tech and a business case just as simple, but a company that's 'gone bananas'.

'Leadership in entrepreneurship is being brave and tenacious enough to make it work,' Williams says. 'If you focus on money, money, money, people will sense it a mile away. You have to solve a problem for people that's worth paying for – and if you do that well, the money will naturally flow.

'Kiwi investors have a firm focus on returns, but they do want to back young Kiwis to start companies because they realise that as much as we love our primary industries, there's only so many fish and sheep and trees that one can have – and that if we really, truly want to improve our standing in the world, we have to use our brains.'

Future view: Doughnut Economics

E kore tātau e mōhio kit e waitohu nui o te wai kia mimiti rawa te puna

We never know the worth of water until the well runs dry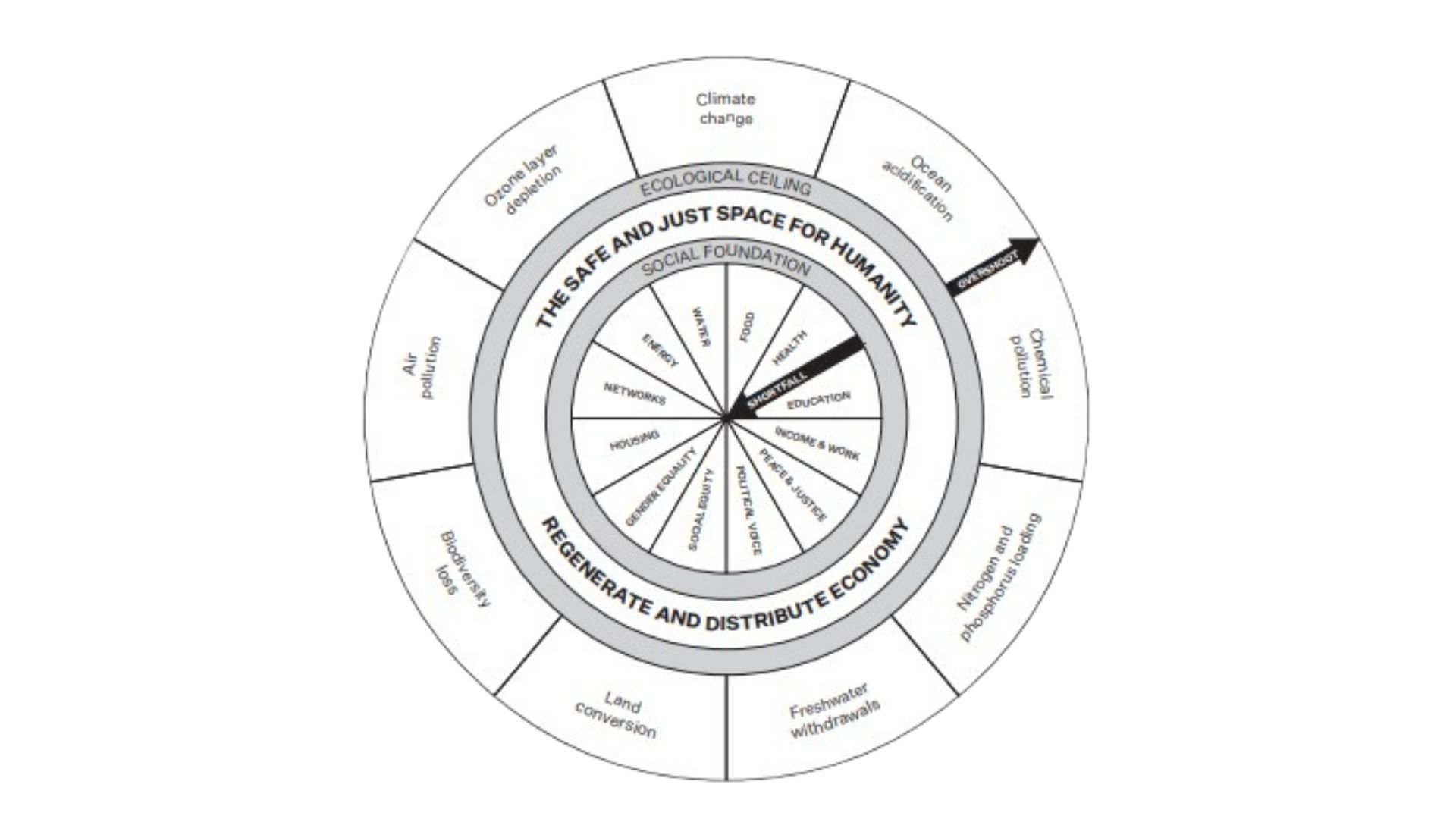 Chief executive Gavin Lennox doesn't know what The Icehouse will be in 2040. Neither does The Icehouse board or stakeholders. They're not short of ideas, but they have no real way of knowing.

And that's the point. Because that's the pivot to what comes next.

Prediction is a frustrating (and futile) exercise. But spotting the signposts to the future, that's something else entirely, particularly when you know where to look.

'We took some time to think about the question of what The Icehouse will be in 20 years' time,' Lennox says. 'Everyone had lots of ideas. But we concluded we didn't know. It was almost too hard – like picking stocks.'

Instead, they considered the most important contextual drivers that were likely to shape the future. And it wasn't difficult to see what they were – not when you consider the increasing urgency around climate change, more (and largely unsustainable) pressures on GDP growth, deepening inequality, and the most immediate concern, navigating the pandemic and its implications on how to safeguard the health of the community while driving productivity.

Enter the Doughnut.

Oxford economist Kate Raworth developed the doughnut in her 2012 Oxfam paper A Safe and Just Space for Humanity. It's a simple visual aid for understanding a complex problem – how humanity can live in the sweet spot of prosperity (the doughnut) between 12 social foundations and nine ecological ceilings.

These aren't random boundaries. The environmental tipping points were set out by Rockström et al in 2009* to delineate where irreversible environmental degradation occurs in each ecological category. The social foundations comprise the United Nations' Sustainable Development Goals set up in 2015. Raworth's doughnut (her doughnut economics) builds on these foundations and ceilings to lay out how humanity can thrive between these social and planetary boundaries in an environmentally and socially just space.

This is the context for The Icehouse's roadmap to 2040. As Lennox says, this century calls for a new goal – meeting the needs of everyone, within the means of the planet. In more simple terms, getting into the doughnut.

That's the context in which New Zealand and the world will be measured for success in the future.

The Icehouse is uniquely placed to play a role in that success – 20 years of establishing networks of SMEs, innovators and investors, grants The Icehouse a privileged position to help small and medium businesses and startups to thrive and to find solutions to the damage we've collectively inflicted on the Earth's critical life support systems.

Kiwi business owners will require a more informed understanding of their role in the context of climate change as well as their contribution to the social fabric. They will also need the skills to grasp this future world. And New Zealand's best startups will need to innovate around issues of land conversion and chemical pollution, seeking to solve the imbalance that has resulted in the crisis in which the globe currently finds itself, while also improving productivity through innovation and exports, and developing products that add scale.

That's The Icehouse vision for the next 20 years – working with Kiwi businesses and innovators (as well as investors) to create a future world that thrives within the doughnut.

'The Icehouse will need to play its role to construct a better future,' Lennox says. 'But our purpose is still the same: improving New Zealand's economy by unleashing the potential of entrepreneurs and startup founders through knowledge, connections and investment.'

*Rockström, J., Steffen, W., Noone, K. et al. A safe operating space for humanity. Nature 461, 472–475 (2009). https://doi. org/10.1038/461472a

Next Week: The final part – Future view: The virtuous VC feedback loop and Te Ao Māori


For information on how The Icehouse's programmes, workshops, and coaching and advisory services can help you and your business, click  here.

For more business ownership and leadership advice, check out more of our blogs.

Icehouse Alumni? For more Icehouse content head to Icehouse Central and register now. Follow this link.