The Technology Investment Network's influential 2021 TIN Report is out now. This year marks the 17th edition of the leading independent source of information on New Zealand's technology sector.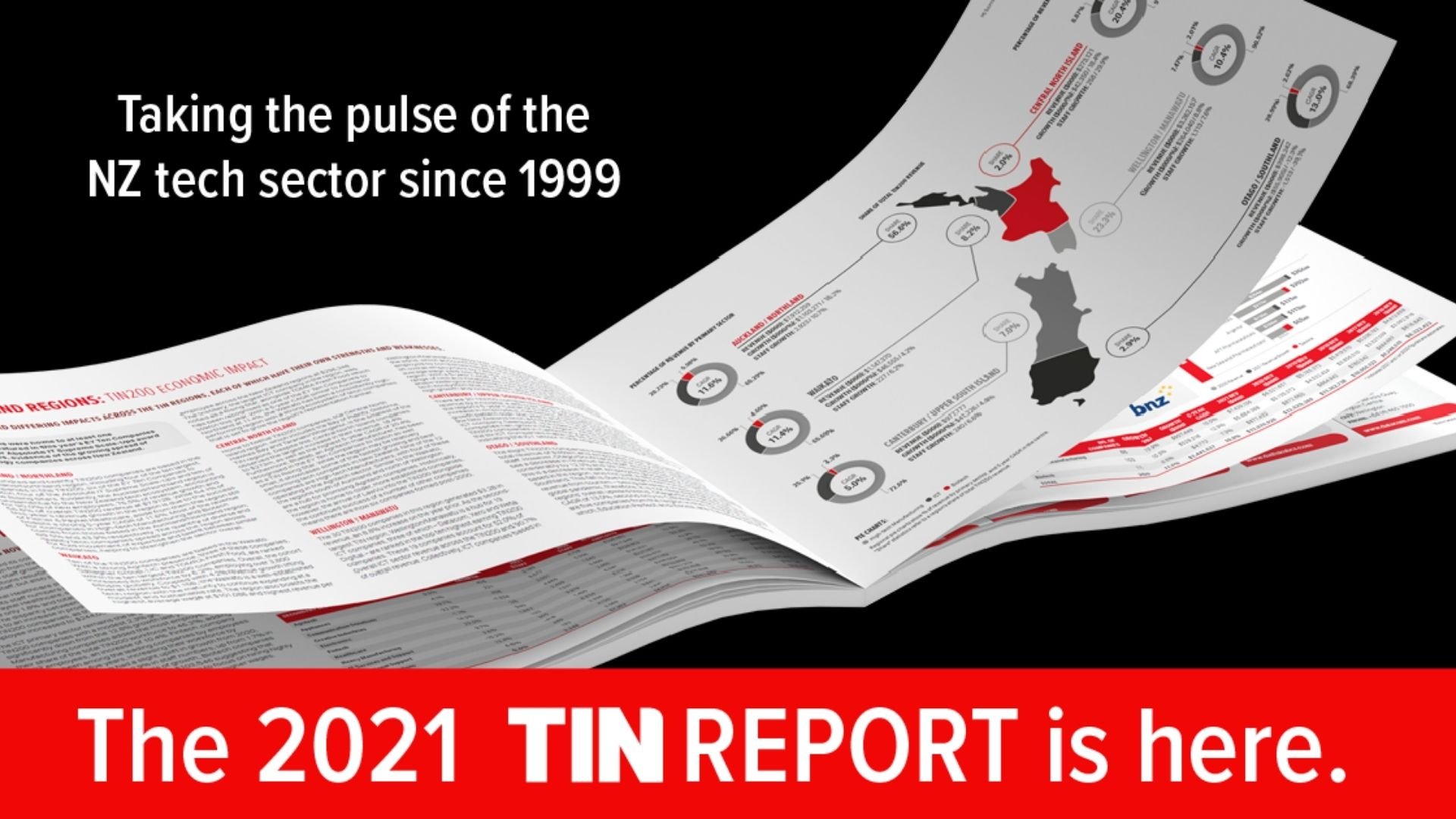 The report is a unique quantitative study of New Zealand's leading internationally-focused technology businesses. It provides a valuable reference for industry stakeholders within both the private sector and government.
The report explains that New Zealand is home to a vast array of tech companies that are taking on the world and changing lives. The key findings from 2021 reveal that while Covid has created many challenges across the NZ tech sector, the sector has shown resilience, creativity, and continued innovation over the last year.
Big numbers dominate the 2021 review amid a challenging business landscape, 'recording $10.4B in export revenue from nearly $14B in combined revenue; signs the tech sector is growing in maturity and vital to New Zealand's economic success.'
Driven by a 14.4% increase in exports, the TIN200 group of technology companies is the second-highest offshore revenue-earning sector in New Zealand, with exports to the key markets of Australia, Asia, Europe and North America all recording double-digit growth.
After a full year of operating with COVID and varying levels of lockdowns, the TIN200 companies have shown amazing resilience with the annual growth rate of 11.5% exceeding the 10.9% 5-year CAGR. Revenue growth was more than $1.4B, once again breaking the $1B barrier (from 2020 figures).
Key findings include:
TIN200 companies now employ more than 57,000 staff, increasing employment by over 3,000 (+ $5.9%) vs 4,000 (+8.4%) in 2020


The Central North Island region, home to 12 of the TIN200 companies, showed the largest revenue increase this year, rising 18.4% to $273m, as well as the highest 5-year CAGR of 20.4%
Founded by tech entrepreneur Greg Shanahan in 1999, TIN has been taking the pulse of NZ's technology exporters for nearly 20 years, with a simple mission: to help facilitate the growth of the technology sector in New Zealand.
Tech sector 'moving forward'
'In 2021, TIN surveyed a sector that had experienced a full year operating under the shadow of the COVID-19 pandemic – and what we discovered is inspiring. In the midst of a world in turmoil, the New Zealand tech sector is not only moving forward and growing, it is proving itself to be unstoppable, gaining speed, critical mass and global investor attention, ahead of its long-term growth trajectory,' says Greg Shanahan.
'The numbers speak for themselves. In 2021, the 200 top tech exporting companies experienced record growth, lifting their collective revenue to nearly $14B, a growth of $1.4B, (+11.5%) on 2020, well ahead of any previous dollar value increase. A full $10B of that was revenue earned offshore, the first time this metric has reached double-digits in TIN's history, moving into the territory only previously held by Tourism and Dairy exports in recent times.'
Click on the link  to buy a digital or hard copy of the report, to learn more about the home-grown tech that NZ has on offer and to find out about TIN's range of products and services.

For information on how The Icehouse's programmes, workshops and coaching and advisory services can help your business, click  here.

For more business ownership and leadership advice, check out more of our blogs.

Icehouse Alumni? For more Icehouse content head to Icehouse Central and register now. Follow this link.