Welcome to the first of our new regular features where we focus on one of the amazing businesses who share our co-working space at The Icehouse HQ in Auckland. This is the incredible story of Vega.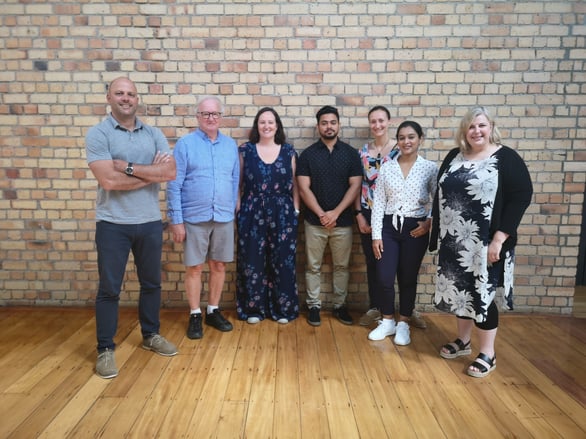 Vega is a global technology company providing supporter engagement software for the community, club and not-for-profit sector.

It's the vision of Tony Lindsay (second, left), founder and CEO, who as a lifelong technologist and author saw a gap in the marketplace. 'When Rod Drury blazed a trail with Xero, launching an accounting package for a small monthly subscription, what is possible changed. With colleagues, we thought, 'we can do that for fund-raising and community engagement.'

'Having spent a lifetime volunteering in and then working in the not-for-profit sector we knew that leading organisations like Greenpeace, Amnesty International or Oxfam are built on passion, commitment and importantly, great technology. Our mission was to bring similar great technology to social organisations everywhere, at a subscription price they could afford.'

'On Monday you can be helping save the Kiwi, on Tuesday, helping to combat domestic violence and on Wednesday, putting shoes on children in impoverished communities. All the time at Vega, we are dealing with people who are doing inspirational work – and doing it in a lovely, friendly and exciting environment,' he says.

The sector generates billions of dollars in value for the global economy and rivals the SME sector for value and contribution. Tony explains that the not-for-profit sector is competitive where 'all parties are out there competing to raise their voices.'

Vega's automated and integrated management tools eradicate the time-consuming tasks which weigh-down time-poor organisations, so they can get on with the real business of raising awareness, providing services and fund-raising. 'Helping not-for-profits build and maintain relationships with their supporters is a key part of what Vega does.'

Vega is based in Parnell in Auckland, and shares The Icehouse co-working space. The Auckland team consists of seven core employees and can draw on contract developers for major development projects.

Vega's plans for the next five years are concentrated in breaking the North American and European markets, followed by the UK and Ireland – making Vega a major force in the sector.

With around three million registered charities globally, and ten times that number of community organisations or unregistered social organisations, the potential is huge. Yet one of the biggest challenges facing Vega has been how to manage success. Fast growth is something many companies struggle with but, as Tony explains, it's a nice problem to have.

'We can have four to five clients each week coming onto the platform. If we had endlessly elastic resources, it would be possible to bring on a lot more to the platform. Like all start-ups ensuring we have the working capital to grow strategically and channelling that capital into growth is our main commercial focus.

'Coming to work every day at Vega is a privilege. It is impossible not to be inspired by the work our clients do. That is ultimately what drives us as a team.'

We shifted the business to the co-working space in Parnell for several important reasons, in 2019. 'We restructured the business for the next stage of the company's growth. That involved moving the focus to onboarding and sales, and I thought, where do I want these people? I wanted them in the buzz of The Icehouse because I believe the amazing facilities, structure and credibility of being here materially assists in progressing the business.

'As we prepare the business for its global launch, we decided this was the place we wanted to be. We're at a significant growth stage in the company, so sharing the co-working space means the business is settled and I don't have to worry about the little things, such as booking conference rooms or presentation spaces and suchlike,' he says.

To find out more, head to: https://www.vega.works

For more information on opportunities at The Icehouse co-working space, please visit: theicehouse.co.nz/coworking-space.