Following the success of our inaugural Taking Your Business Forward (TYBF) programme in July, we're thrilled to announce the second programme begins on 8 September 2020.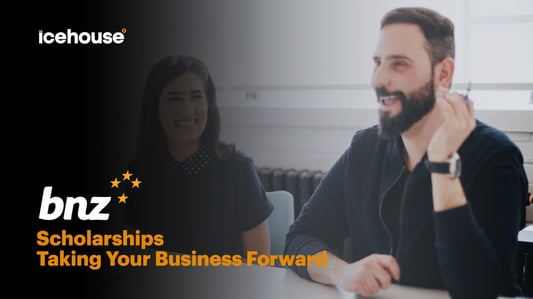 It's an interactive 3-month e-learning programme for business owners – where you'll have the opportunity to rethink and retool across many aspects of your business. TYBF is perfect for owners of businesses with revenue between $1m and $3m and employing between 5 and 25 people.
TYBF is a combination of online content, facilitated sessions and self-moderated peer group discussions, curated to give owners from around New Zealand practical sessions with a highly-skilled and experienced Icehouse facilitator, subject-matter experts and owner-manager guest speakers.
| 'Rethink and refocus business'
'We wanted to create something immediate, loaded with long-term value and, above all, engaging, that would enable business owners to think about what they need to do to rethink and refocus their business in the current climate,' says Liz Wotherspoon, Head of Growth at The Icehouse.
'Honestly, we weren't 100% sure if there was an appetite for this kind of learning for clients who were familiar with what The Icehouse usually brings to the table. We knew TYBF was good, but the overwhelmingly enthusiastic response we've received from participants has been really heartening. I encourage eligible BNZ business customers to apply for one of our scholarships,' adds Liz.
The next TYBF commences on 8 September 2020. Sessions are interactive and inclusive, and every element is designed to keep participants interested and engaged. You will benefit from real-time, discussion-based sessions with an Icehouse facilitator and fellow business owners. As with all Icehouse programmes, this is a uniquely intimate, small-group programme set in a secure and stimulating digital environment.
| 'Best-practice' skills and disciplines
Once participants complete TYBF they'll be better prepared for the challenging business conditions we are currently facing. Moreover, the 'best practice' skills and disciplines learned can be applied now and far into the future.
'Being part of a like-minded group, although all in different avenues, are very much all on the same path looking at the same destination. Great listening to those that have learned from a business journey of their own and are able to pass on some lessons,' says Darrell Bate, Mag & Turbo, Blenheim and TYBF1 participant.
Supported by an unrivalled group of subject matter experts, presenters and guest speakers, the facilitators for TYBF combine decades of experience and their advice and knowledge have helped many of New Zealand's most notable and successful businesses. 
You'll pick up ideas around how to create and deliver more value to your business and customers and even develop resilience in your business and personal life. Through TYBF you'll also:
Understand your customers and align your product and service more strategically
Improve your leadership and communication skills
Develop a grounding accounting and finance
Explore digital technologies
| BNZ scholarships available
In partnership with BNZ, we are offering 20x $1,000 scholarships towards our Taking Your Business Forward Programme. If you're a BNZ business customer or have been thinking of changing banks, and think you might be eligible, follow the links below.
BNZ business customer? There's still time to benefit from Taking Your Business Forward. Click this link to get your scholarship application in quickly.
Non-BNZ business customer? You can still drive the success of your business. So for further TYBF information, please visit our dedicated Taking Your Business Forward programme page.

For more business ownership and leadership advice, check out more of our blogs.