Our first interactive digital programme is Taking Your Business Forward, and the first 'TYBF' takes place in early July. You've asked us why now and why online? So why is it easy to mistake this as a traditional eLearning programme?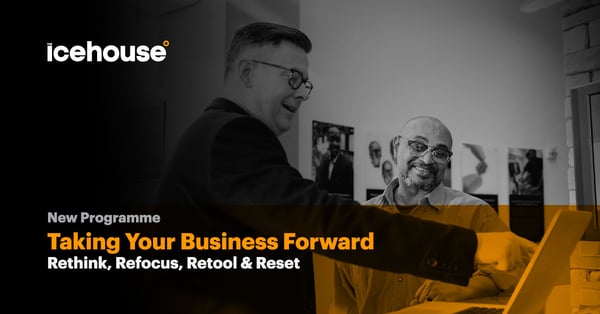 Naturally, the concept of eLearning has positively helped an increasing number of organisations to dive into the use of virtual tools. The eLearning market was worth more than US$200 billion in 2019 and is anticipated to grow at over 8% year-on-year between 2020 and 2026 (Global Market Insights). And did you know that 77% of US companies had used eLearning by 2017?
What's not to love? Learning through digital channels can be more cost-effective, can reach a wider audience anywhere across the globe due to the connectivity of online, and it's available for digestion at any time. It enables organisations – particularly in academia – to work with specialist third-party eLearning technology providers to set timely, relevant content well in advance.
It also embraces new innovative tools and practices – the digital education space has benefitted from advances in cloud computing and AI. It's also somewhat green – cutting some energy consumption. Research by the Open University in the UK suggests hosting learning slashes CO2 emissions by more than 85%.
However, in building TYBF, we uncovered a handful of drawbacks traditionally associated with online delivery success and we're excited about how we've solved these problems. After all, TYBF is not an eLearning programme in the truest sense.
| When to self-pace and not self-pace?
Statistics show that self-paced learning isn't that successful. There has to be an end-goal – and often, there isn't. A high number of participants don't complete their organisation's internal developmental training. They get bored, move jobs, or don't feel the content is pertinent to their position or the stage they're at in their career. TYBF has a distinct programme design and execution.
After three months, you'll have completed all the elements you need to make a significant contribution and difference to your business. Moreover, each element of the programme has been designed to keep participants interested and engaged as they think about what they need to do to retool and refocus their business.
| More discussion, more feedback
Standard online learning is notorious for a being one-way relationship. You put the work in, and get very little out the other end in terms of feedback, group session work and onward discussion.
This is a crucial learning element with TYBF and, as many of you will know, an intrinsic part of the Icehouse philosophy. Like our physical programmes and workshops, we know that learning is more interactive, fun, and effective when it's layered with deeper discussion work, peer and coaching dialogue, and group interaction. And it has to be relevant, too.
| How good is your coach?
Many online education facilitators become jaded in the role – hitting 'send' to launch the same old content is hardly what they dreamt they'd be doing with their many qualifications. Often the facilitators aren't even affiliated to the courses they are providing. That's why we're thrilled to have the likes of Liz Wotherspoon and Chris Woods leading TYBF.
Not only have they been involved in curating TYBF's content and sifting through the decision-making process of how it can best work, they are cornerstones of the Icehouse community. Their experience and expertise, plus their emotional investment in knowing how The Icehouse can make a real difference to Kiwi businesses, means TYBF participants will benefit from the same world-class coaching throughout, as all the traditional programme formats.
| How Taking Your Business Forward will impact your business?
Understand

your customers and align your product and service
Improve your leadership and communication
Build resilience in your business and personal life
Understand accounting and finance better
Create and deliver more value
Understand and explore digital technologies
Learn more about Taking Your Business Forward.
For more business ownership and leadership advice and the latest discussions around a post-COVID-19 business landscape, check out more of our blogs.