Greg Deck grew up in the world of horticultural spray technology – his father Miles founded Croplands in Wellington in 1972. Some 40 years later and Greg manages the national Croplands (now Australian-owned) warehouse and call centre from his Omahu Road premises in Hawke's Bay, adding significant value to the established on-site sprayshop and workshop servicing the needs of the region's leading orchardists and viticulturists.
The business has expanded rapidly and Greg knew he needed an external perspective to keep him accountable. He joined the Icehouse Owner Operator Programme, based at the Hawke's Bay Business Hub, and hasn't looked back.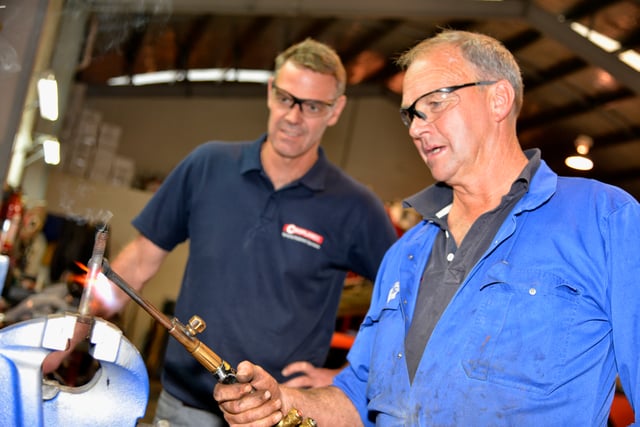 (Greg Deck operates the warehouse and call centre for Croplands Australia and New Zealand.)

Kate de Lautour caught up with Greg and began by asking him what was happening in the business when he joined The Icehouse.
There was a lot going on! We had bought the Spray Shop business in 2009 with five staff. In 2010 we got the contract to operate the Croplands warehouse for NZ and the following year we were operating the nationwide call centre. It was a great move for the Spray Shop, and of course, our staff numbers increased, we needed a new website, we rebranded, our processes needed updating and I was heading home at night and "talking shop" with my awesome wife and business partner Katie which wasn't ideal! In my head it was work 24/7 and I needed to make some changes.
So, you joined The Icehouse Owner Operator Programme, what was your initial impression?
At first there was a lot to take in, with heaps of practical learning in the workshops and accountability in the one on one coaching but there was a brilliant group of other business owners with me and although we were from totally different businesses, we were all facing the same sort of challenges. All of a sudden, things started kicking into action. I was setting goals and reaching them, I started communicating better, writing a vision to share with the team, running regular meetings in a more valuable way, with better processes.
Read blog: How to Make Sure Your Strategic Plan is Valuable for Your Business
It's not rocket science but I just hadn't been doing it. I learnt so much from the others on the programme as well and seeing them make difficult decisions and overcome challenges made me think that I could do that too and I'm not the only one having to tackle tough decisions. It was inspiring.
Once you had all this in place how did it enable you to move to the next level?
I started planning better. We had a capacity issue and to keep up I was looking at new building ideas then a warehouse opportunity came up. My numbers stacked up and we moved in. This meant we doubled the workshop capacity allowing us to service more sprayers before spring. Several of our customers were expanding their businesses as well and we wanted to be able to keep up with their requirements – one grower has gone from 30 sprayers to 60 sprayers in the space of three years!
Getting into The Icehouse encouraged me to hire a 2IC which has allowed me to focus ON the business rather than just IN it. We are now at 10 staff (including Katie and myself) and it's likely we will need to hire another two staff members in the coming 12 months. We have had six mechanics working through the season and we may well need another permanent mechanic – and they're not easy to find.
What's next for the business?
There's no doubt the horticulture industry is booming throughout New Zealand and we want to invest in our infrastructure and our people to make the most of it! We have two staff enrolled for the Icehouse Effective Leadership Programme in 2018 to give them the skills they need to grow with us. We'll continue to work with Michaela and The Icehouse team to ensure we stay on track and stay accountable.

This blog was written by Kate de Lautour, The Icehouse Customer Growth Partner & Operations Manager, Hawke's Bay.