You'll be surprised how many small businesses still don't have an online presence in 2019. Recent research shows it could be as much as 36% (Clutch).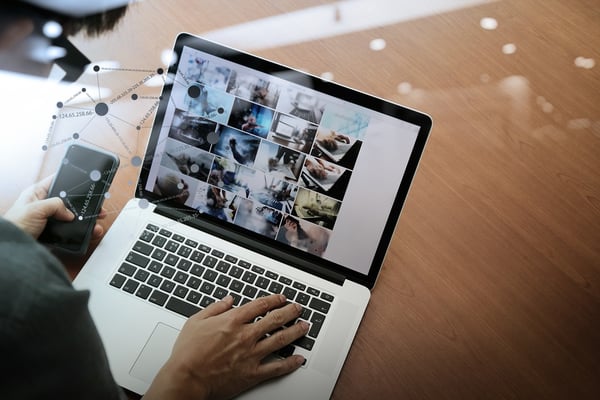 | How to get four billion customers

This will seem extraordinary to some. Many start-up owners and managers tell us that 'It's too hard' or 'My customers don't go online'. But if you're not online, it might be a fabulous opportunity missed, as 58.8% of the world's population use the internet (Internet World Stats).
Whether you employ a professional designer or try it yourself, the expertise and tools are readily available, and for a lot less cost than you think. The guiding principles and steps remain the same, whatever kind of website you create, and you don't need a degree in computer science to get one.
You want to create a smooth customer experience which showcases your company in the best possible way, provides online visitors with all the information they need, and works just as well across all devices. 94% of small business websites will be mobile friendly this year (Clutch). Finally, you want your site to load quickly. We know surfers don't stick around for long.

| Content is always king

If you stick to the rules above, you can't go far wrong. Once you've chosen your domain name, found a hosting provider and platform, designed a logo and designed a basic website, there's a small piece of the jigsaw by which many SMEs falter… content.

Larger SMEs may have access to the resources and expertise to create super-slick websites. You may be a touch envious of your competitor's all-singing and all-dancing website, with embedded video and 'Flash', but there are a few tricks along the way you can use to make your website hold its own.

You don't need your own developer team to:

Kept it tidy. Steer clear of clutter, busy-ness, garish design and jarring colour schemes. Visually, finding the right balance between words and pictures and white space isn't hard. Not every square inch of the site needs to be filled, and it will make the navigation process easier for visitors.

Provide high-quality service information. You want visitors to know exactly who you are and what services or products you offer, how much you charge, and where they can find more detailed information. Clear, well-written copy goes a long way, and value-laden pages will keep the visitor on your website for longer. You need to communicate your value proposition in less than 10 seconds (NNG), while Time.com estimate you have 15 seconds to get someone interested in your website before they click away.

Provide high-quality contact information. Don't be evasive about where people can find you if they need you. Detailing your full address, a human email address contact, a main switchboard number and enquiry boxes still go down well with the audience.

Engage visitors with call to action buttons. Buttons such as 'free trial', 'download here', and every B2C favourite: 'Proceed To Checkout' are great space savers, keep the customer journey simple and send the user deeper into your site. Using dynamic words such as 'now' and 'try' appeal more to the user than 'enter' or 'submit'.
| And finally...

Publish without fear, promote and preserve. Put simply, you need to keep on top of your website every hour, making sure that it's functioning well and marketed on social media. It's so much easier to post across Twitter and Facebook if you've got a website link you can send customers to.
For more business ownership and leadership advice check out more of our blogs.