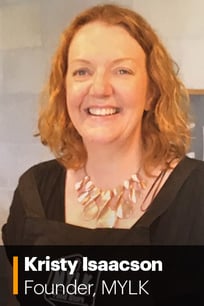 The way we're eating is changing – more and more of us are opting for a home-cooked ready to eat idea, either fully prepared or part of a meal that can be added to, like a vitamin-packed salad. No time to pick it up – have it delivered. Hawke's Bay foodie and trained chef Kristy Isaacson is capitalising on the time-poor trend with her business MYLK, opening stores in Hastings and recently in Ahuriri. As she told Kate de Lautour, the growth trajectory of the business has been overwhelming however being in The Icehouse, at the HB Business Hub, has helped Kristy guide MYLK to a manageable, and enjoyable, stage.
You started selling ready meals from your café in Hastings in 2015 – when did you realise you were onto something bigger than the café could cope with?
About 3 months in we were making 150 meals and a few months later I did start looking for another premises to use for cooking and we found Ford Road in mid- 2016. This gave us a physical outlet for customers in Napier and also the bigger kitchen we needed.
"Now we do 1600-2000 units a week, everything from dinners to desserts to salads in different sizes, including single serves and we courier across the North Island."


What are the popular dishes on the menu and how do you decide what new dishes will be on offer?
The slow cooked lamb and beef dishes are popular because people don't have time to make them but whenever we include a new dish on the menu, it's always popular so that's a challenge for the new year, to keep developing and diversifying the menu using the best ingredients we can source. The recipe testing takes time as making a recipe with a kilo of meat compared to 40 kilos will always take some tweaking to get it just right.

Delivery is a popular element of MYLK– how challenging is this?
Deliveries are packed and go out on one day of the week so this is always a really busy day. We send out the meals frozen in 100 per cent bio-degradable eco boxes made with wool insulation. We've been testing other options but these are by far the best. People can be surprised by the meal sizes so it's always good if they get a chance to drop into one of the stores first so they can choose the best size. I really like the fact that we have the physical locations as this does give us an edge.


Did you have any previous business management experience?
No not really, I had managed a high-end butchery and deli business in Christchurch and this gave me experience but it's not the same as the challenges of having your own business.


Why did you decide to contact The Icehouse?

I went to the Inspire Women in Business event and listened to Icehouse Alumni Kathryn Wilson and I was keen to get into the Icehouse then but I felt like I didn't have the time. The following year I went along again and listened to Janene Draper from Farro Fresh and at that time I had employed Jane who manages all the main cooking at MYLK and I thought I finally had the time to dedicate to the Owner Operator Programme.


You were able to access government funding via the NZTE Regional Business Partner, how did this help?
Funding was actually fabulous and it did make a difference to my decision to get the support of The Icehouse - without the funding I may have balked at it and Leonie Wallwork was wonderful to deal with – the process wasn't difficult.


You've been in the Icehouse Owner Operator Programme for the past 12 months – what's been happening during that time?
A lot! I made the decision to sell the café and concentrate on the take-home meals. It was something that I had had in my mind but was being sentimental about selling the café because it was where this all started. The one on one coaching with Michaela Vodanovich from The Icehouse made me realise selling was the right thing to do and she guided me through that process and opening the new outlet in Ahuriri, allowing Ford Road to be a dedicated kitchen. Now we have 8 staff and that's more manageable. I've become a much better communicator with my team – I was being a bit of an octopus and trying to do everything because I'm a control freak but me trying to do everything wasn't allowing the staff to grow in their roles.
"Now I can take a step back and it runs beautifully and I'm a lot calmer and not so reactive. We just communicate so much better now as a team - we're always talking."

Now that you've completed the Owner Operator Programme, what's next?
Putting into practice what I've learnt and really implementing it all. I would like to continue with the Icehouse coaching with Michaela because that is something that I really enjoy.
This article was originally published in Profit Mag. You can view all of their articles here.