Find out how Georgia Meek, founder of the Bay of Plenty-based Babysitters Club, worked with Jamie Brock at The Icehouse and RBP to get critical funding during COVID-19. This article first appeared on the Tauranga Chamber of Commerce website.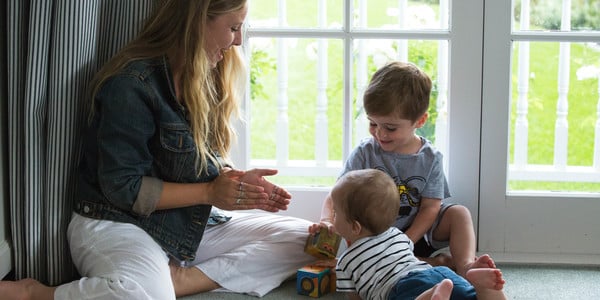 Like many businesses, work for Babysitters Club came to a grinding halt overnight, but founder Georgia Meek was determined to find new ways to work and to adapt her business to the challenges she faced.
With that in mind, she contacted Kirstin from our Regional Business Partner Network (RBP) team at the Chamber and through the support of the COVID-19 funding, was able to access one-on-one support, advice and business planning for free through one of the RBP's registered providers The Icehouse.
We asked Georgia how she found the process and how she's been able to switch up her business, without compromising on her community minded values, with the launch of an initiative that supports essential workers with care packages.
How has COVID-19 impacted your business, particularly heading into lockdown?
We had confirmed bookings that were being cancelled left right and centre, then we came to a halt. No bookings, no ability to operate. It was a very confronting time, not only for us, but for our sitters as well.
How did you hear about the Chamber's RBP services?
I had been working on business development during the first week, thinking 'where-to-from-here'. On an early morning bike ride, I saw Jamie Brock [regional leader for The Icehouse] out and (from a distance, of course) asked how he was going and also told him how we had lost all of our revenue overnight.
He said he had been working with clients through The Icehouse, with funding from the RBP programme. I went home, sent an email to Kirstin [at the Chamber] and she directed me from there.
How did you find the process and what was your experience of this?
The process and experience of receiving the funding was easy and non-invasive. I felt supported right the way through.
What work did you undertake with The Icehouse? What advice or support did they give, how did they guide you through the process?
We looked over our business and thought about what areas we were great at, where we could focus on and how to build a strategy around that.
Jamie asked challenging questions, encouraged quick action, and allowed me to step out of worry and turn it into opportunity. We have always had the passion to help others and Jamie really helped me to share that with the world. We have gone from a babysitting business that wasn't being used during lock down, to a service that is giving back to essential workers and small businesses that have been affected by COVID-19.
As well as giving back, we are now offering a flexible nannies service, with no lock-in contracts, world-class care and no admin. We are turning the stressful experience of sourcing and managing childcare into one that is seamless and enjoyable.
Tell us a bit about what you are offering businesses with the Babysitters Club Givealittle initiative? What sort of response have you had and what has been the feedback?
We are providing essential workers and small business owners with three hours free babysitting, as well as a home-cooked meal from Blank Canvas Catering and a bottle of wine from WineFriend.
We have nomination pages set up on Babysitters Club's Facebook and Instagram pages, so that we can build a community around giving back.
We have had an incredible response and it has been humbling to see how generous people have been with their donations. An incredible underwear company called Hara, donated over $1000. I think every family out there can appreciate how hard it has been managing children and work, so it has been a wonderful way to turn overwhelm into happiness by gifting the priceless gift of time.
When you are able to return to work as 'normal', what are some of changes you will make to your business as a result of COVID-19? What do you think the long-term effects will be?
As mentioned, we are now offering babysitting services, as well as flexible nanny services.
For me, Babysitters Club has never been about building a business, it has always been about building a community that is there to help others. By expanding our offering to flexible nannies, we are allowing families to have a nanny who takes over their role as a parent for a few hours, but with no commitment and no need to worry about the admin and management of childcare. We take care of the stressful parts.
We are enabling families to focus on their work, even if it's for a few hours a week, while their children are cared for by interactive and educational nannies. More than ever, parents need our support and we are honoured to be able to offer a flexible service so that we can tailor a nanny to each families needs.
Anything else you would like to add?
We strongly believe that every interaction contributes to the person you become. You are a reflection of those you surround yourself by.
As adults, we get to choose. As children, our parents choose for us. Babysitters Club is here to provide sitters and nannies that are going to make a lasting impact in these children's lives, as well as the parents. Our sitters and nannies can take care of the meals, light household chores and organising of a families life, so that the parents can focus on their work, or just have time for themselves.
We are passionate about making a difference and every family that is part of our community understands that when working with us. We are paving the way of providing a service that makes childcare seamless, meaningful and enjoyable.
Check out our dedicated resource for businesses impacted by COVID-19. It's full of useful information and resources, support and offerings, funding opportunities and partnership and coaching details.
For more business ownership and leadership advice,  check out more of our blogs.