Miriana Lowrie, CEO and founder of 1Centre, a digital customer onboarding platform for businesses, sets out her global ambitions for the organisation.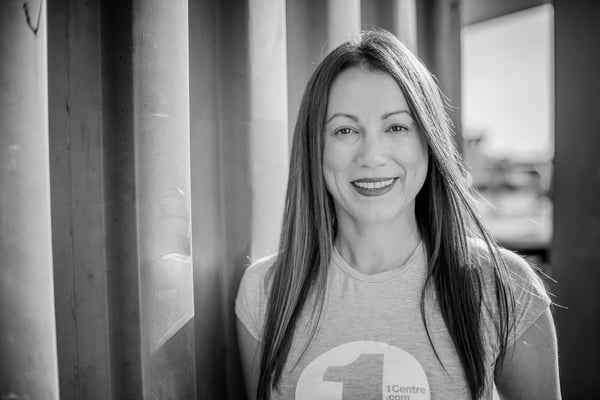 After more than 20 years on the sales and credit frontline in the banking sector, Miriana spotted a need for an innovative and intelligent digital solution to enable businesses to integrate customers more efficiently into their systems.
'The problem is that when customers want to open up an account with a supplier of any type, the process is manual. The original concept of back-office automation began with a hiss and a roar, supported with key functions such as project management software, email messaging, and so on. But even now there's still a high level of back-office automation to contend with.
| A world-class customer onboarding tool
'We've built a world-class customer onboarding tool, where our suppliers can confidently onboard a customer knowing that the software meets legal compliance and governance standards, is functional, and provides easy world-class user experiences,' she says.
Developing the knowledge and finding the right kind of help required Miriana to connect with a lot of people in an unfamiliar industry. 'I'm not from a technical background, and I'm a non-technical founder, so founding a technology business was quite intimidating! When I started, I didn't know that raising capital or Angel groups were a thing. I knew my idea could solve a huge problem, but I also knew I had to do it well – focusing a lot on the key stakeholders in the process and the user experience.'
| Collaboration with Icehouse Ventures
After working closely with EY in 2016, the team there put her in touch with Icehouse Ventures. 1Centre was one of the first six companies to make it into the first flux accelerator programme – which helped her answer the tough questions which keep entrepreneurs awake at night
'How do I build a software product? How do I pay for this? How do I build a team? How do I scale? How do I set up systems and processes? Who can help me with this? I pretty much learned everything from EY, Icehouse Ventures and The Icehouse community – initially through that first six-month programme. There aren't many female Maori businesswomen in technology doing this. I didn't know anyone, so part of it was about feeling safe, in a supportive environment.'
The past two years have seen 1Centre build the software required to smoothly onboard enterprise clients and presenting the platform as the number one customer onboarding and auto-decisioning software in market. Its uniqueness is in the ability for customers (suppliers) to dynamically and instantly curate their own custom onboarding experiences – no IT teams or extra budget required. The business is based at The Icehouse's co-working space in Auckland, where Miriana is perfectly located to drive the next stage of growth, and use Icehouse Ventures as a sounding-board.
| 2020 and beyond
With a phenomenal tech team supporting her, the plan for 2020 is to set up sales pods in Australia, architect the product for growth in other regions, and expand the team from five to ten, which will include integrating her new co-founder into the business (soon to be announced).
'I'm presenting to companies now that I wouldn't have dreamt of two years ago. Now I can stand in front of the largest multi-billion dollar organisations with confidence, and showcase 1Centre knowing we can solve real problems, no matter how complex their business structure.'
In three years, Miriana expects to have rolled out 1Centre globally, with sales pods in every state in the US, and she admits that with high ambitions come high expectations.
'Being a founder, the stories of entrepreneurial highs and lows are very real. I need to be kind to myself as there is a lot of pressure. I'm very tough on myself though, I actually think most founders are, but I know I'll get to where I want to be.'
For more information on customer onboarding solutions and services, head to the 1Centre website.
For more business ownership and leadership advice check out more of our blogs.