In 2007, George and Matthew Miller founded Mogul, a full-service, award-winning digital marketing agency based in Hawke's Bay. Since 2015, they have engaged with Nick Egerton, a business coach at The Icehouse, for numerous projects and continued business advice.
George and Matthew began Mogul from their home in Havelock North. Since 2007 they have grown to a team of 12 staff with customers in over 50 countries, that has included Etsy, IBM, Massey University, World of WearableArt, Yelp, Pepsi and Sony. "Back in 2007, we were able to set ourselves apart in the market because we were building websites with businesses in mind. We were thinking as business people, for business people, not just putting together some text and pictures on a webpage. It seems really obvious now but back in the day, it just wasn't. Our strapline of Smarter Thinking Online has been a foundation for everything that we've done since," says George.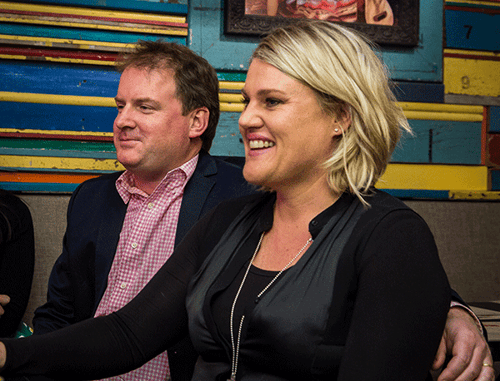 Matthew and George Miller, founders of Mogul.
Matthew knew The Icehouse had a positive reputation in the region and they both reached out to Kate deLautour, their local Customer Growth Partner for advice. "We've had some great business advisors over the years, but none of them really knew our specific industry well enough to make the difference in our business that we were looking for," says Matthew.
"We were looking for the magic ingredient that would take us to the next level, and we couldn't find it."
They were both keen to investigate the opportunity to grow the business with The Icehouse, but also wanted to be sure that it would be worth it. "I went to school with Kate, so I wasn't afraid to say, 'tell me the story, is business coaching with The Icehouse all it's cracked up to be? She said we should really consider it, and with Nick Egerton in particular because of his technology background," says George.
Matthew and George met up with Nick to see how he might be able help Mogul, "We met him, and we liked him. More importantly he had the knowledge and experience we were looking for. We had a validation project for our product Strea.ma, that we wanted help with, so we thought Nick would be really useful with that project, but also generally to provide advice to us for Mogul – how to scale it, grow it, how to hire the next generation of managers and explore other growth opportunities," says Matthew.
"Since then, Nick's been flying down from Auckland every month, it's been about three years," says George.
In that time Nick has worked with George and Matthew on multiple aspects of their business, from market validation to recruitment, but it all started with business planning and goal setting. "Nick really forced us to think much more rigorously about those things," says Matthew.
Nick has also been an asset during the interview process for recruiting, "Nick is really good at narrowing down candidates because he asks the tough questions. George and I wouldn't have been able to do that, we always give people the benefit of the doubt. Through it all, Nick just wants the best results for us."
Throughout the years, Nick has helped Matthew and George to develop their business acumen too, "Nick has taught us not going to make a decision without having properly thought it through and carefully considered what outcome we want," shares Matthew.
"We don't do things spur of the moment like perhaps we used to, and we don't procrastinate like we used to. With Nick's coaching we just feel more assured that we're making the right decisions."
George and Matthew have also benefited from Nick's background in finance and 20 years of senior management experience, "He knows exactly the sort of thing that banks need to hear, it's definitely made it easy for us to ask for help from the bank over the years. No matter the questions they ask us, we can recite all of the numbers now. We're much more comfortable talking about money and making big money decisions," says Matthew.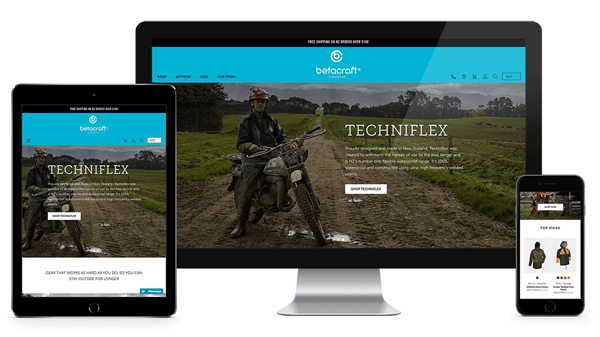 Betacraft Workwear website created by Mogul
Like any other business, Mogul has had its share of business problems, George shares how "running a business can be really hard and I went through quite a tough time a couple of years ago. Nick was the one that really helped me through that in terms of ring-fencing the issues and seeking the best solutions. I knew that Nick had my back and that he was there for me and that was huge for me in terms of support. It's so significant. He's been a rock for us, really."
In addition to support within the business, George and Matthew have also benefited from Nick's diverse network. "He's a great guy to have in your team because he's plugged into a lot of networks, and he's got a lot of contacts within the finance, banking and corporate worlds because of his background, and he has a lot of experience to draw on. He's introduced us to a lot of interesting new people through The Icehouse ecosystem and further afield." says Matthew.
As George and Matthew reflect on their time with Nick, they shared their biggest learnings. For Matthew,
"The biggest thing from working with Nick is that it's given us confidence, because (for me anyway) good business is so much about confidence."
For George, it's been his coaching methodology and structure, "Nick forces you to think by asking valuable questions like 'Where is the documentation? What is the thinking? Have you validated your idea before starting on the work?' Only when we know the answers and are certain on the plan do we execute. I think forcing us to use that kind of framework has had the biggest impact on our growth."
In 2016, Mogul won the CAANZ Small to Medium Business Category at the Westpac Hawke's Bay Chamber of Commerce Business Awards. Both George and Matthew credit Nick and his business coaching as one of the reasons they won, "the application process was actually a breeze because of the work and documentation Nick had made us do as part of our general business processes. Within the judging panel interview, a lot of the questions dealt with financials, growth and HR. If we hadn't had Nick coaching us prior to that point, we would have been at sea." shares George.
"We went into the interview and we found it easy because it felt like having another meeting with Nick. Then, we ended up winning which was so cool!" says Matthew.
Looking into the future, Matthew reveals Nick has been instrumental in shaping their long-term vision and goals, "the long-term vision is for us to let go of the day-to-day stuff in the business. Nick's been able to help us set up the business so we can take a step back and enjoy life more. We're not completely there yet but we're much further along that road than when we first met him."
For anyone interested in working with Nick or business coaching in general, George recommends Nick to any type of business, "coaching for us wasn't just about a one-off programme, it's a long-term relationship, especially when so much can happen in a year or two. Having that consistency and continuity for our business has been really important and beneficial."
"Nick enjoys working with people who put in a big effort and take the process seriously, and he really cares about people. I get the impression that he really loves what he does but if someone's not going to put in 100% effort, then he's not going to be the right person for you," shares Matthew.
"The return on investment for business coaching is definitely worth it – it's some of the best value for money you can have as a business owner."
"There have been times when we've thought, 'jeez, we're spending a bit on Nick,' but you never think about stopping it because you just look at the progress we've made and trajectory of the business since we've been working with him. Our business is constantly evolving, so we'll be enjoying Nick's Southland drawl for a while to come."
Learn more: Mogul, Digital Marketing Agency in Hawke's Bay