Our current week's webinars are ready to view. Free and exclusive, and curated by The Icehouse delivery team, the webinar series is looking forward – answering questions on how to arrive at Level 2 and more robust and resilient.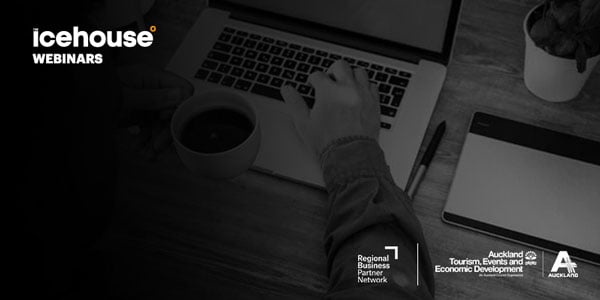 Missed one? You can binge-watch and play catch up by following the webinars right here on our dedicated webinar website page or via our Youtube channel.
We want to acknowledge and thank the Regional Business Partner Network for their support as a partner in these webinars.

This week's webinars focused on the steps and sequences you can implement to pivot your business more strategically, effective and better inside-out leadership, and the post-COVID-19 change in consumer behaviour.
| Your free and exclusive webinars
How to pivot your business; a design thinking guide with Melissa Wragge
Melissa outlines how businesses can respond, survive, revive and thrive by unlocking value, understanding your assets, and calibrating operations.

Being a Leader Worth Following with Amanda Fleming
Leadership is a great privilege and especially mission critical currently. In this quick look at leadership Amanda will explore some principles that will help grow your influence and effectiveness - from the inside out.

Changing consumer behaviour in a post Covid world with Janet MacDonald
In this webinar, Janet will present an insightful session on behaviour change, unpacking the four approaches to change as a practical tool for refining business strategy and developing effective marketing communications.

Remember to look out for new webinars and podcasts each week.
Recordings: The Icehouse Webinar Series Recordings
For more business ownership and leadership advice and the latest discussion around COVID-19, check out more of our blogs.