GO Rentals is New Zealand's largest independent car rental operator, with branches located in Auckland, Wellington, Christchurch, Queenstown and most recently Dunedin. Managing Director James Dalglish completed The Icehouse Leadership Development Programme in 2014 at the same time as company founder and Director John Osborne, who took part in the Owner Manager Programme.
As Managing Director, James is responsible for eight business units with their respective senior management reporting directly to him. "Essentially my role is around ensuring the business makes sound and informed decisions – largely around financial objectives and budgets. I also manage the strategic direction and development of the business across all departments and branches," says James.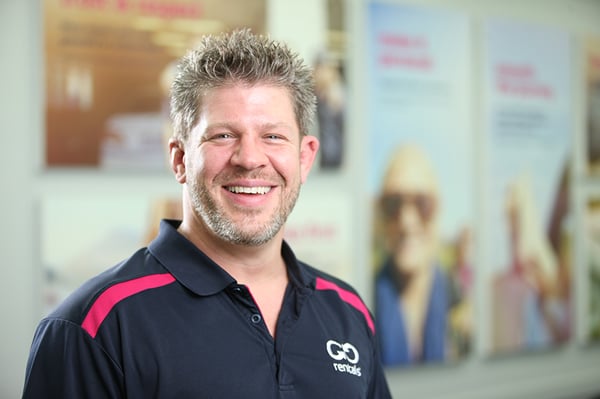 James had read about the great work that The Icehouse was doing with its training and management programmes and was keen for GO to be involved.
"The really exciting thing for me was that John and I both did The Icehouse programmes at the same time. That was massively rewarding for us both because we supported each other the entire time. It kept the two of us on the same page and meant that we were able to get focused and take the business' growth forward."
When asked about the most valuable part of the programme, James says you can't beat the value of being in a room with other business owners. "At first I went into the programme quite nervous – I didn't know if we would measure up to the other businesses. I felt nervous even when I knew GO Rentals was already an established and successful business. But I started talking to the other people in the cohort and quickly realised that we've all had some of the same challenges. Over the duration of the course we learned from and with each other, and I was able to take the learnings from those conversations back to my own business."
Alongside being able to learn and discover with peers, another of James' highlights was the programme's facilitators. "The quality of the presenters and facilitators is just exemplary. They're not just a bunch of people who spend their lives in a classroom, they're genuine people from businesses who have been there and done it. The quality is rock solid, and they've got real business stories and experience."
The 'Knowing your Numbers' session, which teaches key principles of accounting and finance in a gamified format, remains as James' favourite. "Finance isn't in my natural skill-set, so I've got to work a little bit harder in that space. The game runs late into the evening, particularly as the competitive spirit comes out in everybody and by the end we were all loving the final session over a few drinks, it was fantastic."
For James, the Leadership Development Programme gave him a deeper understanding of great leadership. "It taught me to be a little bit more self-aware and to listen more. I'm still nowhere near perfect but I constantly try. I think my leadership skills have really improved over time because I've consciously been practicing it over the last four years."
"I think there are three things that great leaders do. Number one, they listen. Number two, they ask questions. Number three, they ask lots more questions."
James continues to work with facilitator, Jo Clayton, and other guest speakers from the course as part of ongoing business. "We were also exposed to plenty of great businesses during the course and we've worked with a number of them – Ian Walsh from the Intent Group on LEAN implementation; Warren Topp with his Systems Thinking and Jo Clayton who facilitates all of our team's core strategic business sessions."
Working on being a better leader is a continuous journey. "On a personal level and reflecting back on my Icehouse experiences, the challenge of being a better leader and consistently working on that skill is something that continues to ring strongly." Because of this James has bought a real focus on upskilling and continuing education into the GO Workplace.
"If I want GO Rentals to succeed, I need my managers and the managers underneath them to succeed. If I'm not bettering myself, I'm not leading from the front."
"I'll do a reasonable amount of reading and researching these days – I subscribe to Seth Godin's daily snippets and spend a chunk of time reading tourism industry news too. My advice is to keep looking at your specific and wider industry sector publications, and don't forget to get out and talk to other business people."
Like any business, GO Rentals faces their own challenges. "Our growth has tapered off a wee bit of late. For many, many years in a row we were on a massive growth trajectory, however in more recent times in a slightly saturated market, our rate of growth has peeled right back. We're still growing but at a smaller rate - which has been a kind of an uncomfortable position for us, probably because we're not used to it."
Despite this, James is confident about turning this challenge into an opportunity. "It was important to shift the focus from the day-to-day concerns of a highly competitive market into getting our strategic focus right - essentially positioning GO Rentals well for the next wave of growth. I think we've climbed the first mountain and we're preparing ourselves for what comes next. That's massively exciting for me. I don't think we've eliminated the challenge yet, but I think we're going to be much better-placed for the years ahead."
Despite these challenges, GO Rentals has moved from strength to strength, and James is more than enthusiastic to share the successes of his team. "During the GFC our Director John, thought everybody else in the industry would be buckling back. Instead of doing that he decided to go hard and bring in some extra cars – we grew the business by 35% that year and it was a pretty amazing achievement."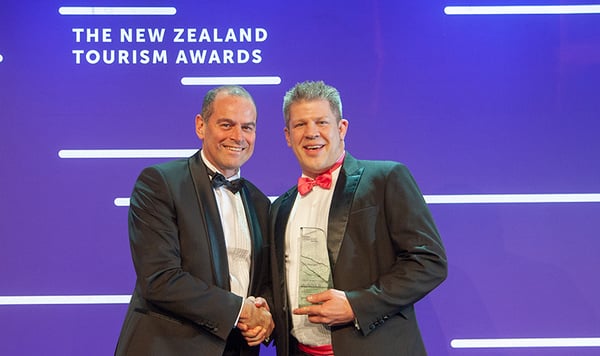 James Dalglish, Managing Director of Go Rentals (right) with Andrew McSweeney, Chief Executive of ServiceIQ
"In 2005 I set myself a personal goal to win a Tourism Award with GO Rentals and we achieved that last year. It was our first attempt and we had a crack at the Visitor Experience Award, it was quite interesting because while we are an enabler of a great tourism experience, we're not really an experience in its own right, compared to the amazing attractions and activities we have in New Zealand. So, to win that Tourism Award last year… I would say it's kind of like our Everest base camp, it's up there but it's not quite the top of the mountain!
I've also really enjoyed watching and seeing my senior teams succeed and do well. There are a bunch of fantastic people that have grown, like I have, with the business for many years – from entry level roles to senior positions. I take a lot of satisfaction in that and GO Rentals has always supported that kind of growth. Our IT manager Kevin started working at GO Rentals almost 10 years ago as a car groomer at Auckland Airport and now he is running a team of 8 and developing our end to end software systems. It's just incredible to see what people can achieve. The fact that we've enabled them to improve themselves over a long period of time is probably the golden nugget for me."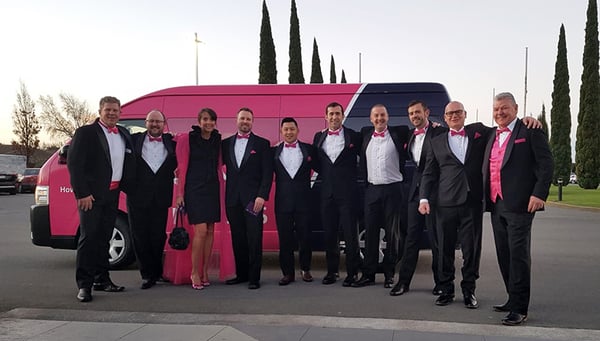 GO Rentals senior leadership team at the New Zealand Tourism Awards
No business is complete without some lofty goals, and James has some exciting projections for GO Rentals. "In 5 years' time I would like GO to be the dominant car rental brand in NZ and famous for being the brand that Kiwis love – sort of like Air New Zealand in the airline space. 10 years from now, we'll be operating internationally in many, many markets. I want us to be a serious global player."
For anyone who is on the fence about attending the Leadership Development Programme, James' advice is to make the decision to do it. "It's worth the investment in you and it's worth the investment in your business. The business itself is going to benefit greatly from it – including the people around you that you're responsible for."
"Get off the fence and make the decision to do it. Follow the advice of the successful people that have been before you and get it done, I guarantee you won't regret it."