The business world is overwhelmed with videos, article and discussions talking about "innovation, and "disruption". These have become buzzwords which are automatically attached to the latest technology or startup article to hit the newsstands.
As a long-term cultivator of New Zealand's business and startup ecosystem, The Icehouse often journeys with these businesses as they disrupt markets, innovate, and scale. What we've learnt from these journeys is that we need more of this disruptive thinking.
Disrupt your thinking to jumpstart your business growth.
After 16 years of working with over 5,000 kiwi businesses, Director of Growth at The Icehouse, Liz Wotherspoon has coined the phrase "what got you here, won't always get you there". 'There' being your next big milestone.
Entrepreneurs travel on a journey as their business matures. The initial steep start-up and scaling phase is followed by a transitional period where business growth slows, presenting an opportunity (and necessity) to diversify, reset and redevelop.
Read blog: Business Reflection: Are You 'Making Progress' or 'Mistaking Motion for Progress'?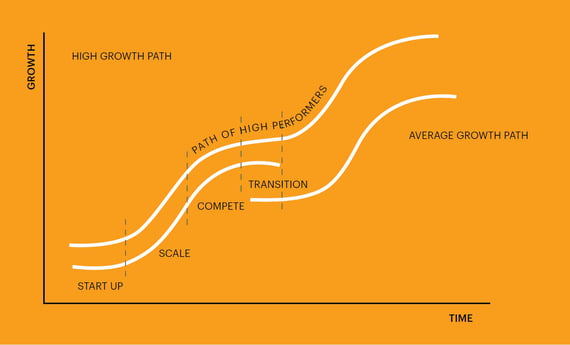 When you're in a transition phase, motivation and growth can dwindle, often generating feelings of "what next?" and "we need to do something, but what?" This is usually followed by a sea of rationale about why the growth that was expected didn't come to fruition. These may all be valid assumptions, but often the key unconsidered element is the unknown. Stagnating growth can be rationalised through multiple reasons, but if you feel you've been in a holding pattern for a few years, you are probably sitting in the transitional phase without recognising it for what it is; a natural part of the growth cycle.
Owners we speak to often say "but I'm comfortable", "I'm not sure I want to grow" or "I don't have the confidence to grow", often followed by "I'm not sure how to". Now is the time to disrupt your thinking. With markets consistently changing, standing still in business is not an option.
If you were to see yourself five years from now, how do you picture your role in the business and what you'll be doing? Are you satisfied with how you are tracking towards this?
Our experience tells us, the most significant contribution a business owner can make towards achieving their business and personal goals is to have a clear plan on how to achieve them. When you are sitting in a transitional phase, it can be hard to get clarity on your situation and your goals. To move forward into the next stage of growth, your mindset may need to be disrupted, freeing up your thinking through capability development and in turn reinvigorated aspiration to enable growth.

We encourage business owners to:
Develop your capability through professional development.
Get clear about what you want for you and your business.
Seek out a business coach or advisors who will challenge your thinking about what is possible.
Capability builds confidence which in turn builds aspiration.
If this resounds with you and you'd like to explore the next phase of growth for you and your business, take a look at the programmes and workshops we offer for business owners and senior leaders.