There is no lack of criticism for startup accelerators and incubators in NZ. Some of this is well warranted, and some of it we agree with.
At Flux we set out to create something different and help serve great entrepreneurs with something that is genuinely helpful and doesn't stop them from focusing on the most important things to maximising value in their business.
Ultimately, Flux acts much more like a seed stage investor than it does like a traditional "accelerator" program. We are focused on the investment and getting returns for our investors (long-term), we due to diligence companies as such and we help our investments to build their businesses, and create shareholder value.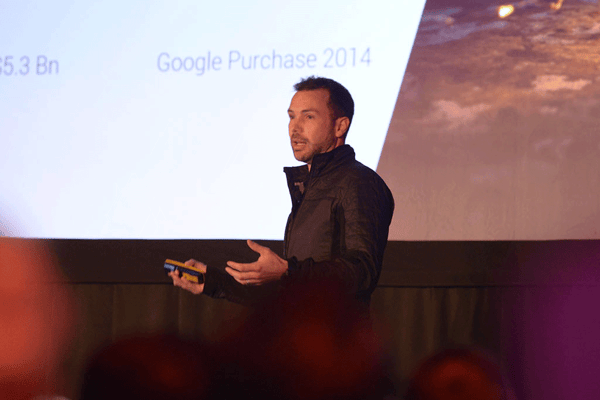 David Inggs, co-founder of Rocos, presenting at Demo Day 2018
Flux helps prepare entrepreneurs to raise venture capital — by focusing on the practices and operating rhythms.
We think that this approach will ultimately lead to the best results for both the entrepreneurs and the investors.
Having said that, there are still some "market myths" out there that we need to debunk.


Myth #1: I am too experienced for an "accelerator".
You might be too experienced to sit in meetings every week and be trained on the basics of starting a company or writing a financial forecast — luckily, we don't do that.
At Flux we are not about training people on how to become entrepreneurs; we are about helping great entrepreneurs do things faster than they could by themselves.
The most important thing for any company at the early stage is to, build a product that customers love, solve a problem that a group of people are willing to pay you to solve. This is a very humbling process for anyone to go through, irrespective of your wealth of prior industry or business experience, and that is something we help all of our founders with. Our first objective is helping entrepreneurs work on this challenge and develop processes to continue to learn from customers.
Case study: Rocos
Rocos was founded by 2 founders that were a part of a publicly listed SaaS startup. They had the vision to build a cloud platform to manage and control robots. They had lots of experience in building and managing large software engineering teams, selling enterprise software globally and being inside large organisations. They didn't have as much experience in raising venture capital, being in a smaller team or selling to the first customer. We helped them focus on the key business priorities in the early stage, connected them with industry experts in the robotics industry to add to their network, and introduced them to prospective investors for the next stage.
Flux invested $50k as a part of a $200k round, that was led by Flux. In the time Rocos was in Flux, they got their first 4 Proof of Concept sales signed, spoke with many potential customers, build a prototype of their software and raised a $1mil round of additional capital.
Myth #2: I am too late stage for an accelerator.
Some people think that because they are earning revenue, they are past the stage of needing an accelerator/seed investor. If you are in revenue, it's likely we can be more helpful than if you are still in the early stages of product development and customer validation. When you are in revenue, there is more to learn from real customers, and the opportunity to find more customers that look the same as the first few. We have invested in companies with monthly revenues of up to $40k and helped them get up to $90k per month.
Case Study: Thieve
Thieve is a product that was spun out of a development agency called Launch Agent. Thieve is a website to help consumers and drop shippers find the best direct from factory products. When they joined Flux they were early in their monthly revenue, processing about $2mil p/a in platform revenue and had approximately 60k members. They joined Flux primarily because they wanted the input and accountability from the Flux team and to engage with a wider network of experienced startup founders and investors that they couldn't access without Flux.
Flux invested $110k into Thieve and during Flux they had grown their monthly revenue by approximately 400% and surged to over 175k (at the time of this article) members on the platform.

Learn more: Apply for the Flux Accelerator Programme Cohort III



Myth #3: I can't apply because I am not a software startup.
We do not restrict who we work with to software startups. We are interested in founders that are committed to growing large businesses and growing fast. We are looking for companies that become more efficient as they scale and create genuine barriers to entry. Those could be brand, network effects, IP or some other competitive advantage. Most companies that we invest in use technology/software in some way to power their business, as all modern organisations do. But not all of them sell software as their core offering.
Case Study: The Social Club
The Social Club is an influencer marketing platform. Although they use their software and website as a core part of their value proposition — ultimately they are a service agency that is empowered by technology (not a pure play marketplace). We recognised this in The Social Club and invested on the basis there was a big potential market ahead of them and there was an opportunity to dominate the space in NZ and then be recognised internationally as domain experts. They had great revenue traction and were an impressive, smart team.
Flux invested $50k as a part of a $300k round. Flux led the original round. When the company joined Flux it already had a significant monthly revenue and large name brand clients on board. The company wanted the support with capital raising for the next round and to be introduced to more industry experts. The company grew monthly revenue 4x over the time they were in Flux and raised an additional $1.2mil to fund the next stage of growth.
Myth #4: I can't apply because I am not based in Auckland.
We have invested in multiple companies that are not based in Auckland. Typically we see them once a week or once every two weeks. We catch up at the other times via skype or phone. Being in the Flux office full time isn't critical for us to make an investment, but founders have reported finding it very useful to be around the other smart people at Flux to bounce off / troubleshoot with and have fun and share the journey!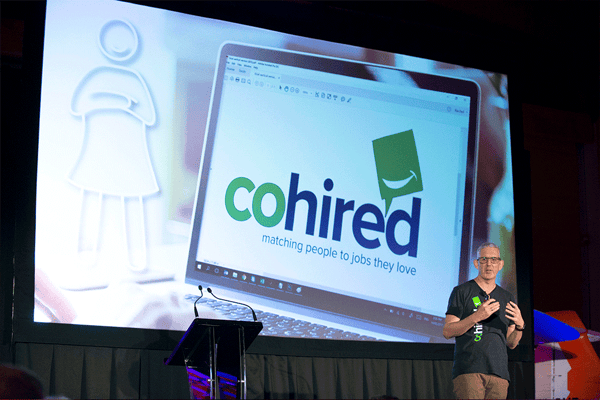 Andrew Nicol, co-founder of CoHired, presenting at Demo Day 2018
Case Study: CoHired
CoHired are an HR tech startup based in Hamilton, helping companies find new recruits faster by searching a pool of potential recruits that are pre-screened on skills fit, culture fit and job fit. The CEO and the CTO spent at least a couple of days a week in the Flux space, "rubbing elbows" with the other founders on technical and commercial issues.
What we actually do?
Invest. We invest in companies and lead the round, or contribute to a round that is already underway. We invest between $50k-$120k.
Space. We give companies free space in our Parnell office to work from for 6 months should they choose to use it.
Plan. We agree with you on a set of priorities for the business to work on and a way of measuring success (a one metric that matters).
Execute. We meet with the companies on a weekly basis and ask critical questions, brainstorm solutions, offer support, and help keep the company stay accountable to its growth plan.
Learn. We open up our network of other experienced founders and investors. They might provide you with valuable insights into the market, become your customers, become your investors, become your advisors or become your employees.
Grow. We help prepare you for the next round of capital raising and make introductions to investors.
We encourage companies to focus on (and provide support around):
Building a product that customers love.
This means understanding the real customer pain point that they are willing to pay you to solve. Not validating an assumption that you have made or letting yourself be lured into the trap of the "founder validation echo chamber".
Repeatedly acquiring new customers and growing.
This means understanding the archetype of the first customer that you had, and the circumstances that lead them to buy your product. How do you identify more customers with those circumstances? How do you market to them as cost-effectively as possible and onboard them? We help you to research this, learn from the processes others have used before you and begin to scale.
Building a great team.
Who do you need to bring around the business to be successful and achieve your goals? How do we find those people? How do we attract them to the business? We help you to answer these questions and connect with the right people through our network of 10's of 1000's of connections to individuals, and businesses in NZ and internationally.
Raising the next round of capital.
How much money do you need to grow the company to its potential? How do you deploy capital in the most cost-effective way? Who would be the best investors to have? From the first day with Flux, we help you focus on accomplishing the milestones required by the next round investors that will guide you through the nuts and bolts of actually raising a round.
We are looking for people that are truly dedicated to building the next big company, have a passion for their space and are willing to learn along the way to help them succeed.
If that sounds like you — get in touch — hello@fluxaccelerator.co.nz


This blog is written by Barnaby Marshall, a Flux Managing Partner at The Icehouse.