In our regular series,  we're profiling key members of The Icehouse team, so our wider network of alumni, programme and workshop participants, partners and friends get to know us better. Meet  Simon Rogers, Operations Executive at The Icehouse.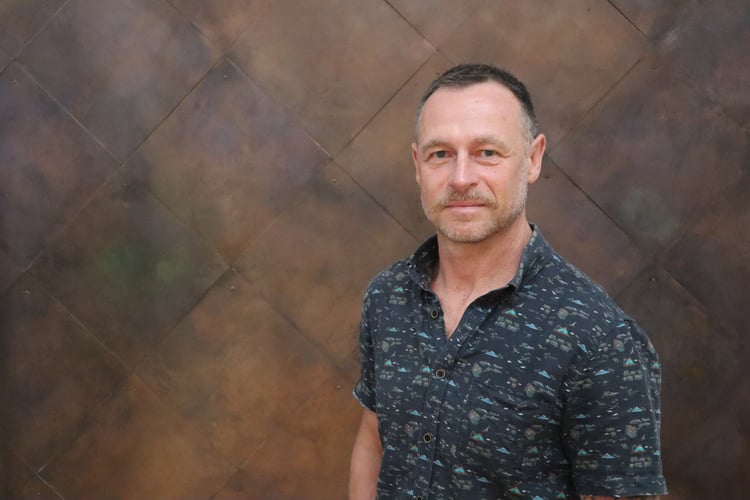 Simon is affectionately known as The Icehouse's 'Swiss Army Knife'. What this means is that he's our plate-spinning, solution-finding, skilled multitasker; working alongside Community Lead, Natasha Burton, managing the processes and systems to satisfy the needs of a 30-strong Icehouse team, 150+ coworking space tenants, and a constant stream of clients, visitors and operational staff.
With expertise in the areas of accounts and debt management, relationship-building, customer qualification and sales and customer service, his experience is put to the test daily.
'Primarily, I have two roles… but wear many hats. I look after finance work including all the accounts receivable and payable, and debt management related to the coworking space and The Icehouse, plus I job share with Natasha in running the coworking space – helping market the space, selling spots, the day-to-day operations and so on. 
Simon also takes on plenty of extra project work. 'Last year I owned the OfficeRnD project – creating an online one-stop-shop platform which provides our coworking members with more connectivity than they've ever had before'.  
'I enjoy connecting people in meaningful ways, facilitating ongoing relationships with people I have introduced, seeing them help each other out or offering advice. It's satisfying for me because it's such a unique ecosystem we have at The Icehouse. It's truly a place where business relationships grow.'  
Simon also has more links to 125 Saint George's Road than most; his wife Mariko is The Icehouse's Lead Analyst in the Operations team. 'I am thankful The Icehouse practices what it preaches in terms of flexible work/life balance. For example, I will start early so I can pick the kids from school while Mariko can drop them in in the mornings. It works well and even helps with my productivity. I get a lot done before most people are in the office and we are really grateful for that! ' 
After several years as an insurance underwriter in Auckland, in 1995, Simon bought a one-way ticket to London – living out of a backpack for six years and igniting his thirst for travel and outdoor sports.
'I travelled all over Europe, India, Nepal, South America and Thailand, doing odd jobs here and there in that time, saving money so I could go travelling in between. I got into the travel business and was the India, Nepal, Bhutan and Pakistan specialist for a high-end travel company, putting together luxury tours in those areas.  
From there, a job came up with an adventure travel company. I learnt how to rock climb in Spain. They sent me to learn and I really enjoyed it. They then started sending me on bigger trips, the French and Swiss Alps, Italy and South America. It was a fantastic time.'
Still a passionate rock climber, his personal highlight from that time was climbing five +5,000m mountains in 17 days in Ecuador. He's also an avid water person and you'll spot him in the waters of Auckland's North Shore all year-round, even in the height of winter. 
'My favourite quote is; 'A comfort zone is a nice place to be, but nothing ever grows there.' I loved travelling, as it's given me 20-odd years of life experience I would never have got anywhere else. I wouldn't have done it any other way!'
For information on how capability building programmes, workshops and advisory can help your business, click here.
For more business ownership and leadership advice, check out more of our blogs.
Icehouse Alumni? For exclusive content on Icehouse Central, register now.  Follow this link.