Coworking spaces are making a swift return to full functionality – and popularity, thanks to the welcome arrival of Level 2 in New Zealand. We explained recently how shared space opportunities take away risk and eliminate the exorbitant costs traditionally associated with traditional offices.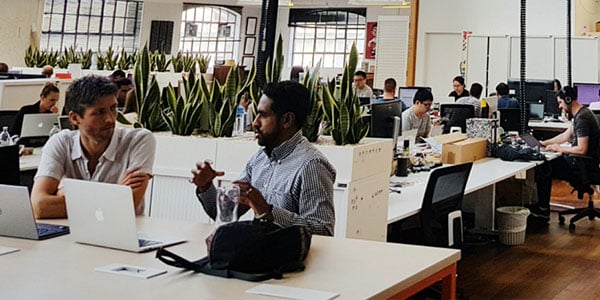 And we're pleased to report that we've been inundated with enquiries from businesses seeking to take advantage of the benefits. It's clear that post-COVID, Kiwi organisations are transitioning their operational models as much as their business models.
| Cleaner and clearer thinking
In the pre-COVID US, the coworking space sector was expected to grow annually at 6% and a massive 13% in the rest of the world (Allwork).
With an estimated 14,000 coworking spaces globally, it's a competitive market and, while COVID will see some spaces fall by the wayside, the more progressive space owners and managers are using COVID to create an even better-shared space ecosystem and a 'best-in-class' experience for tenants.
Since May 2020, the emphasis has been more on creating a safe return to work through proper social distancing and sanitisation practices, contactless check-ins for staff, employee tracing, and visitor management.
| World-class facilities
'Tenants searching for the ideal shared office location are more and more discerning. They expect state-of-the-art facilities, but there's a community feel at The Icehouse, where like-minded business people build relationships and support each other,' says Natasha Burton, Community Lead at The Icehouse.
At The Icehouse, we expanded our footprint at The Textile Centre – our Auckland HQ – giving our community even more of the facilities they already enjoy. The new facility now offers ten meeting rooms, including a large boardroom and private studios to lease.
Further benefits include unlimited Wi-Fi, 24/7 security, meeting and boardroom access, acoustic focus pods, informal breakout areas, free bar space and communal kitchen facilities.
| Growth and revenue gains
There's a bigger story to tell here, according to industry experts. 'Local and independent coworking spaces are integral to rebuilding economies in a post COVID-19 society… ', explains Jean-Yves Huwart, founder of Coworking Europe and Social Workplaces.
In New Zealand, SMEs generate 28% of New Zealand's GDP and employ more than 600,000 people. Their contribution to the Kiwi economy cannot be overlooked. Coworking spaces employ thousands of the best Kiwi business brains and the most innovative companies and start-ups.
Coworking environments have always been at the forefront of ergonomics and employee wellbeing, entrepreneurship, digital and mobile technology development and human resource management. And they're not just a place to work – they foster creativity, provide fast-track networking opportunities and potential customers, and support collaboration.
| How to cut operational costs
'If you're lucky enough to have your lease up in the next 6 months or so, my best advice would be to consider a coworking space, eliminating significant risk and wasted costs. These can now be things of the past,' explains Simon Rogers, Operations Executive at The Icehouse.
Whether you're now looking for a base and physical address for some of your team members while others work from home, or need a quality space to call your new home, we're ready. Are you?
Check out our dedicated resource for businesses impacted by COVID-19. It's full of useful information and resources, support and offerings, funding opportunities and partnership and coaching details.
For shared space opportunities: coworking at The Icehouse.

For more business ownership and leadership advice,  check out more of our blogs.