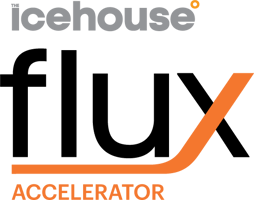 The Icehouse's Flux Accelerator kick-off their class of 2018 with five early stage ventures.
Flux, an accelerator delivered by The Icehouse and backed by Callaghan Innovation and ATEED, has picked five innovative startups for their 2018 cohort.
Flux invests directly in early stage startups, who then work with the team and mentor community for six intensive months. This year's cohort joined in late February hitting the ground running with practical support already from the likes of Victoria Ransom (Founder of Wildfire), Angie Judge (CEO of Dexibit) and Scott Nolan of Founders Fund.
"The class of 2018 have a really good shot at creating some great companies", according to Flux Managing Partner Tom Furlong. Tom (former Managing Director of San Francisco based venture capital fund Granite Ventures) adds "our 2017 class have been so successful, all raising follow on financing and collectively raising more than $5.5 million after joining Flux. The 2018 group is going to be bigger and better!"
The five Flux startups for 2018 are:
Rocos is founded by David Inggs and Richard Stinear, the ex CTO and Head of Engineering of Plexure, a software platform provider. Rocos is building a command and control platform for autonomous robots and vehicles. The platform is initially focused on the management and operation of autonomous mobile robotics in agriculture, mining and emergency response.
Thieve is founded by Tim Scullin, and is a community curated shopping site with the best direct to factory products. The team also develop tools for a growing community of dropshippers (people who buy 'direct from factory' for resale).
ThinkLadder is co-founded by Katie and Mark Gatt. A modern mental health application based on Cognitive Behavioural Therapy, ThinkLadder already has thousands of users around the world. Customers use ThinkLadder for self-awareness, to trace unhelpful beliefs and replace those beliefs with more empowering alternatives.
Chipi is founded by Carlos Seguin Lozano and Jing Li, who bring senior product management and development experience from Xero. Chipi is building a global search tool for all your cloud based apps and files. Picture your own Google search or Mac Spotlight for all your personal cloud data.
Cohired, founded by Andrew Nicol (founder of Agoge) and Vivek Sharma (ex-Fonterra operations manager), takes hundreds of CVs and shortlists the five most relevant candidates for that role and company. The Cohired mantra is "matching people to jobs they love", because people who love their job are more productive and stay longer.
Flux Managing Partner Barnaby Marshall says Flux and The Icehouse are on a mission to back high potential Kiwi startups. "Our approach is empowering, we give a small amount of seed funding, helping find experienced people that are relevant to their industry to share experiences and knowledge and help raise more capital to fund further growth. I am excited by the potential of the tech sector to dominate as NZ's top export earner in the next 10 years and believe that helping develop these companies and the wider technology ecosystem will make this potential a reality."
The programme culminates at "Demo Day" in late June attended by 400+ investors which teams historically have used as a platform to raise further capital.
Team Comments:
"Access to the networks and funds that we've now got through Flux will mean that over the next three to six months we can work to add more therapeutic functions to our app, and release an android version. A few weeks in and already we've benefitted from having more eyes to look over what we're doing, and more voices to add to the mix. We've loudly confirmed a few assumptions, and highlighted a few areas that definitely need some work! It's an exciting process, with a lot to get done, but we're pretty determined in our goals and now have the right support around us to get there," says Mark Gatt, co-founder of Think Ladder.
Carlos Seguin-Lozano, co-founder of Chipi, says the first few weeks have been full on. "Being part of the Flux 2018 cohort will provide us the time and space to build our dream product, for us it is basically a six month hackathon. Hectic, chaotic at times, but so far, lots of fun!
For further comment, please feel free to contact
Barnaby Marshall – Flux Managing Partner on 021 062 9683 or b.marshall@theicehouse.co.nz
Or Mark Gatt – Think Ladder Co-founder on markgatt@thinkladder.com