Stephen and Michael Harris of Harris Pumps and Filtration discuss their recent Owner Operator Programme experience. This article first appeared in The Profit magazine.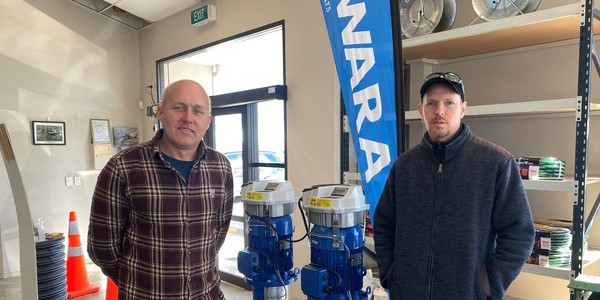 Stephen and Michael Harris are the third generation to take the helm at Hastings-based firm Harris Pumps and Filtration and the cousins are determined to take the business to the next level, joining business growth organisation The Icehouse's Owner Operator Programme and recently getting support from the Regional Business Partner to work through the shock of Covid 19.
Stephen Harris anticipated trouble ahead when the effects of the pandemic started to hit their supply chain in Italy and China earlier in the year so he started ordering extra products and supplies.
"We stocked up on pumps from Italy and China and thankfully the freight kept coming in." Initially, when lockdown hit in New Zealand there was a group of staff ready to work but the phones were quiet and staff numbers required in the office were cut back. Workshop staff were in their own bubble and staff came up with ideas to maintain safety with workshop hours, for example, staggered. "We couldn't send staff in the same vehicle and the costs went up for sure."
April's revenue has been slashed but Stephen knows they were fortunate to continue being operational, particularly as farmers were being hammered by the drought and needed their specialist support. Most supplies weren't too hard to get - with the exception of PVC pipe.
"We had to prove that the pipe was required for essential services and the suppliers were just very nervous about getting the supply to us. They were also charging a premium for delivery."
Before Covid 19 hit the business, Stephen and Michael made the decision to join the Icehouse Owner Operator Programme facilitated by leading business coach Michaela Vodanovich. They had heard about The Icehouse from Tim Masters from Masters Plumbing who had completed the Icehouse programme a few years back.
"We needed a push – we had grown up with the business and just kept doing things they way they were always done and I guess you fall into that trap of sticking with the way things were done in the past. We tended to get busy with the everyday work but since we've been in The Icehouse Michaela has made us think about the future and finding out the key things that we needed to sort out to work smarter.
"We delegate better and we have created a leadership team which is working really well. We promoted our office manager into an operations manager role and she has been absolutely brilliant – she'll say what needs to be said. We are incredibly fortunate with her and with all our staff. I think everyone enjoys their roles and for most it's not just a job.
"We have a lot of staff that have been here for a long time and we now sit down together for a lot more meetings and that's meant there's more ideas coming from those staff. Sometimes you only think about things from your own perspective so the value in gaining staff input has been valuable. During lockdown we really needed those different views especially when we were trying to decipher the Government information because a lot of it was quite grey."
While key clients were maintained during lockdown, including McCains and Heinz, farmers and growers, Stephen said it was interesting to see what people wanted to buy. "Strangely a lot of products and fittings just weren't things we would normally sell so I think people were doing a lot of work on their blocks that they normally wouldn't do."
Through the connections made on the Owner Operator Programme Stephen is looking to work with specialists to develop online strategies and e-commerce. "If this happens again, the ability to sell online might be something that is really useful – who is to say this thing doesn't come back – there's always the potential for it to happen again – hopefully not, but the risk is there."
Follow the link for more information on our Owner Operator Programme, for owners of successful Hawke's Bay and Gisborne businesses.
For more business ownership and leadership advice, check out more of our blogs.