Early June saw the launch of Taking Your Business Forward (TYBF) – The Icehouse's inaugural interactive digital programme enabling business owners to tackle core business functions in a secure and stimulating virtual environment.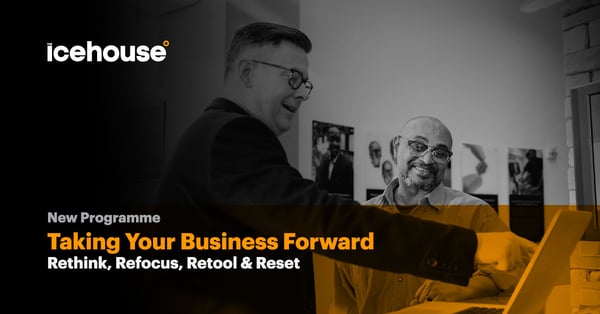 TYBF is built on the cornerstones of running a business; meeting customer expectations, building resilience, financial readiness, creating and delivering value, and more.
It's an interactive three-month rethink and reset programme and is ideal for business owners with revenues between $1M and $3M who employ between 5 and 25 people.
|

Where academia and business meet
Chris Woods has worked with The Icehouse since 2001, is one of our most experienced and high-profile facilitators, and is lead facilitator for TYBF. As Associate Professor at the Department of Management and International Business at The University of Auckland Business School and consultant for SMEs and Family Businesses in strategy development, learning and business growth, Chris brings both academic and real-world business insights to TYBF.
'TYBF offers something completely new from The Icehouse – primarily formulated as a reaction to the struggles businesses are facing from COVID-19,' says Chris.
'But TYBF tackles age-old challenges. We've never had something online which helps grow your business, helps you run your business, and enables participants to network with people immediately. We've had so many people interested and it's great.'
The move to Level 1 in New Zealand in June drew a collective sigh of relief nationwide, marking a more optimistic shift towards more 'familiar' working conditions.
|

TYBF providing more opportunities
TYBF meets this need and more as it's an opportunity to reach a new audience and broader demographics thanks to its immediacy and inclusive user experience.
'Although it's available for everyone, by offering something online like TYBF, The Icehouse can engage more women, family businesses and those owners whose lifestyles make them time and resource-poor,' adds Chris.
'The business model that sits in behind it is interesting. Organising a Zoom meeting, for example, for owner managers, would have been a complex task six months ago. Now it's easy – and we're learning all the time about what it means to engage online. We can also engage people that beforehand thought they weren't big enough to participate in an Icehouse programme or believed it was too difficult, so it's incredibly exciting.
'We want it to be accessible no matter where in NZ you are,' says Liz Wotherspoon, Head of Growth at The Icehouse. 'We'll draw on our deep experience with SMEs over many years and we've incorporated relevant elements of our flagship Owner Manager Programme.
'Sessions will be interactive and inclusive and will at times be deliberately provocative and challenging. Each element of the programme has been designed to keep owners interested and engaged as they think about what they need to do to rethink, retool and refocus their business.'
|

How Taking Your Business Forward will impact your business?
U

nderstand your customers and align your product and service

Improve your leadership and communication
Build resilience in your business and personal life
Understand accounting and finance better
Create and deliver more value
Understand and explore digital technologies
Sign up here and learn more about Taking Your Business Forward.
For more business ownership and leadership advice and the latest discussions around a post-COVID-19 business landscape, check out more of our blogs.