Taking Your Business Forward is our first interactive digital programme. To mark its imminent launch, we caught up with Gareth Bayliss, Maryse Dinan and Chris Michaels – our three fantastic customer growth partners – to find out more about the programme and its use of digital technology.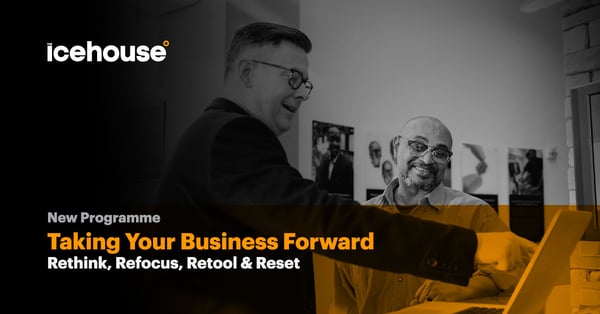 Taking Your Business Forward (TYBF) is built on the cornerstones of running a successful business; how to meet customer expectations, build personal resilience, upskill financial knowledge and understand how you can create and add value to your products and services.
|

Time to take your business forward
'This is the perfect time for businesses to rethink, refocus and reset,' says Gareth. 'By asking themselves "where do I go as a business owner to take my business forward?" they can address the challenges of owning and running a business in the current climate and plan for the future.
'When businesses have aspirations to grow, or find themselves facing specific challenges, we find that the owners who tend to do best are the ones who explore all the available options for themselves and then reach out for guidance. This is why we exist as The Icehouse,' he explains.
Small businesses are facing challenging times, and TYBF will get business owners to think about where they are, invest in themselves, and go through a process where they can learn from the experience that we have collected after working with business owners for 19 years.
|

A unique virtual programme
'The virtual programme with The Icehouse is unique. There is no other business programme out there that has the same level of experience, knowledge and understanding of business owners as these programme directors and facilitators,' adds Maryse.
'We know what makes a positive impact; in fact, we are known for it. We provide confidence and clarity for business owners.'
TYBF also fulfils a need for businesses to be more capable online. At The Icehouse we upskilled and adapted ourselves; incorporating digital technologies like Zoom meetings and connecting into our daily routines, while expanding our service offerings to our wider network by introducing online webinars and podcasts for small business owners.
The success of our webinar series during lockdown showed that programmes for busy Kiwi business owners could work via the digital realm, make a difference to businesses, and potentially provide a valuable tool for them post-lockdown.
|

Real-time facilitated sessions
'It's also a chance to expand and enable participants to interact with business owners from other regions around New Zealand. That's really exciting,' says Chris.
'There's a practical side, too. There are lots of business people across the country who have very limited travel options – or simply don't have the time or resources for a physical programme at this particular time, so this programme is a great option.'
In TYBF, you'll benefit from real-time, discussion-based sessions with Icehouse facilitators and fellow business owners over 13-weeks in total, and this includes 7 weeks of group learning and 6 weeks of moderated group sessions.
It's a chance to network and work together in a completely new ecosystem and, as with all Icehouse programmes, in a uniquely intimate, small-group programme setting in a secure and stimulating digital environment.
|

How Taking Your Business Forward will impact your business?
Understand your customers and align your product and service
Improve your leadership and communication

B

uild resilience in your business and personal life
Understand accounting and finance better
Create and deliver more value to customers
Understand and explore digital technologies
There's still time to take advantage. Learn more about  Taking Your Business Forward.
Visit  our  dedicated resource page  for businesses impacted by Covid-19.  It's full of useful information and resources, support and offerings, funding opportunities and partnership and coaching details.
For more business and leadership advice, check out more of our blogs.