Our latest blog focuses on another of our incredible coworking space tenants. Meet Andrew Martin (Marty) New Zealand Regional Director at Strategic Specialists Group.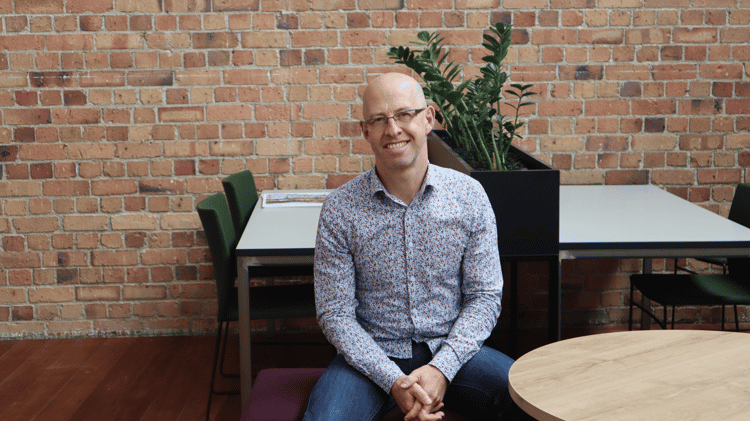 Marty and his team work side-by-side with business owners and executives to develop and deliver customised plans of action to accelerate businesses in the areas of finance, marketing and sales. Originally founded in Australia, Strategic Specialists Group was always looking to extend its reach across the Tasman, and Marty leads a delivery team from The Icehouse's coworking space in Auckland.
Ironically, for two organisations which specialise in unlocking opportunities for business, the chance to work in the same space almost didn't happen.
'I was very familiar with The Icehouse, having clients already in the coworking space. I'd also attended a couple of Icehouse Demo Days but, when I signed up for a coworking tour, it was oversubscribed, and I didn't get to go. I turned up a few weeks later to meet up with one of my clients, got talking to The Icehouse team, had an impromptu tour, and signed-up in July 2020,' says Marty.
'There are so many things to recommend. It's a great place, full of good people. I can knuckle down to do my work, but I can also break and spark into conversations. Secondly, the people who look after us make sure that we're getting what we need.
| Perfect Partnerships
Living 15 minutes away from his Meadowbank home is a further plus, while being close to existing and potential clients in central Auckland is another obvious attraction.
'It's a full-service facility – you don't have to worry about the small stuff, and it's a pleasant, modern environment with exposed brickwork and plenty of natural light, so clients enjoy coming here. My 16-year-old son came here for some work experience and said he didn't realise work could be so much fun!'
Marty's typical day is a mixture of delivery, business development and company creation. 'We solve two different sides of the same coin. We solve 'overwhelm', because we help people gain clarity on what's required for them to achieve sustainable growth. We get them clear on their objectives and help them create the plan to deliver these.
'We also solve 'underwhelm'. Often people taken on external advice and come up with a great plan. Six months later though that's what they've still got, a great plan, with no discernible change in their business. And that's when the underwhelm sets in. We avoid that by placing part-time resource in their organisation to kick start progress and build their internal capability to deliver.
The challenging business climate of the past few months hasn't hindered the Groups' activities. The New Zealand operation is getting up to volume quickly and Strategic Specialists Group is actively opening up new channels. 'There is an irony to it. Over the next six months, there will be a wealth of opportunities for our clients and for us.
'We're only 18 months old in New Zealand. We have all the benefits of our existing IP and all the capability from our Australian operation, so we don't have to go through the new-market learnings you'd traditionally expect.
'All this requires good channel relationships. We've a history of working with channels to support their customers so know the structures and the support you need to have in place to deliver effectively. Developing a channel, and delivering value to that channel, can be very different things.'
| Delivering breakthroughs in business
Marty is also overseeing the New Zealand roll out of a sister company to Strategic Specialists Group, Volt Lab. Where Strategic Specialists Group is focused on helping organisations develop sustainable growth Volt Lab compliments this by focusing on the lead generation activities to kick off the sales cycle.
'Volt Lab is about sparking growth. How do we do things to get you more leads, push more through, and get you to a place where you're growing faster – because you've got the marketing in place to do so.'
Many organisations lack time to roll out and maintain meaningful strategic marketing initiatives and are not able to develop content in a timely, regular manner. This is where Volt Lab assists.
'One client I work with has just launched in-market. They have a good offer, but they're not hitting the numbers they need to. How do we change the structure and get more urgency in their sales and marketing efforts?
'We have to be very rigorous in how we deliver so project and expectation management are a big part of our job. We know how to structure delivery, and use technology smartly to support execution. Being very process-driven frees us up to be creative.'
Get more information on The Icehouse coworking facility.
Follow the link for more information on Strategic Specialists Group and its range of products and services.
For information on how capability building programmes, workshops and advisory can help your business, click here.