We're shining the spotlight once again on another incredible business that shares The Icehouse's co-working space.
The Insides Company is a med-tech innovator that has developed a range of transformative products that significantly improve the outcomes and recovery times for patients with bowel cancer and inflammatory bowel disease.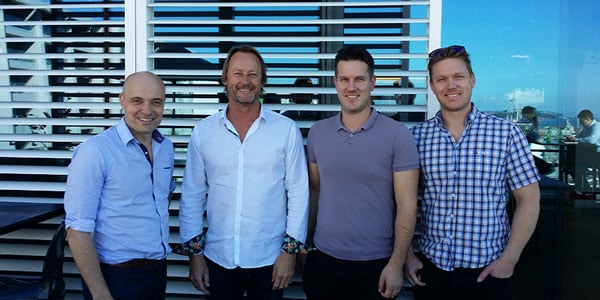 | New year and new expansion

The company began 2020 in the best possible way – receiving ISO13485 certification and CE mark approval for its chyme reinfusion therapeutic medical devices, giving the green light for their life-changing med-tech products and services.
'It means we're now cleared for marketing in Europe and the UK, which is very exciting. These are great milestones to reach,' says Garth Sutherland, CEO at The Insides Company.
'Our mission is to build revolutionary abdominal technology that empowers patients to take control of their condition. Getting regulatory approval means we're transitioning from being a product development company to a product development and sales company.'

To that end, 2020 will be a year of expansion, building out on the sales & marketing side as well as the area of clinical support, expanding its European operations, and exploring the pipeline of opportunities it has developed in Europe.

| Building success from New Zealand

The business currently has 12 full-time and two part-time members of staff and is growing rapidly. Garth believes New Zealand is a very good place to build the businesses from. 'The med-tech sector here is full of talented people, it has a healthy early-stage funding environment and the public health system is directly accessible.'

And it knows The Icehouse very well. In 2003 Garth commercialised his first med-tech company, called Nexus6, in The Icehouse. Later, this was the first Icehouse alumni to list on the public stock exchange.

The Inside Company initially raised NZ$4.3 million through an early stage capital raising in August 2019 – the bulk of the investment was raised through Icehouse Ventures – the investment arm of The Icehouse – as well as Sir Stephen Tindall's K1W1, UniServices, Eden Ventures, and the New Zealand Venture Investment Fund.

Garth put his 20 years' experience as a med-tech innovator to the test when pitching the business at a demo day in 2019 with The Icehouse Ventures

The process was successful, and now The Insides Company operates from The Icehouse's shared-space in Auckland. '[The Icehouse] is one of those places where you can truly connect and directly leverage the extensive Icehouse network. It's a healthy environment for us to base ourselves because we're building a performance-based culture.'

| Co-working space benefits

That extends to getting on well with 'the neighbours'. In fact, The Insides Company has recently adopted some of the services of a fellow co-working space business – Spoke Phone – who just happen to be located a few metres away.

Spoke Phone turns mobile phones into business phone systems. 'We just got chatting and talked business while making the morning coffees – so it shows you can really use concepts such as co-working spaces to connect and build networks. There's a lot going on in the space and it's an exciting time to be immersed in it,' says John Davidson, founder.

For more information on The Insides Company, its products and services, visit: The Insides Company.

Check out The Icehouse co-working space online.

For more business ownership and leadership advice check out more of our blogs.