Name: Ron van Til
Business: Rangiora Bakery
Industry: FMCG
Region: Canterbury
Programme: Owner Manager Programme, 2007

When Ron van Til made the decision to go on The Icehouse Owner Manager Programme his business was in a stable state. Rangiora Bakery had been in business for 150 years and under the ownership of Ron for the last 25 of those years.
Coming from a background in sales, Ron chose to purchase the business from his father and had been running it smoothly ever since. During Ron's time as owner, the business has started to plateau. Ron had visions of expansion but didn't know how to do it or get to the next level. Ron would get bored with the business and found himself trying his hand at other things such as property whilst the business continued to tick over in the background.
Ron says he had a good team around him and was initially sceptical about doing the programme. "I wasn't sure about the large investment of time or money that was required to do it, but I was advised by my peers who had completed the programme that it'd be worth my while – they strongly recommended it," he says.
"I thought to myself, I should be open to suggestion and even if I didn't learn anything from the programme, at least I could use it as moderation for the business. I guess you could say I went into it a bit cocky. I didn't think I was going to learn anything new, and I went in with the attitude that I was only doing it for due diligence."
Ron started the Owner Manager Programme in a very comfortable position, he understood it may give him 'something', but also accepted it may end up not giving him anything.
"After the first session I thought I was doing things fairly right, but following that – things changed and the realisation that I was doing the wrong role in the organisation came about. I discovered I was the bottle neck," says Ron.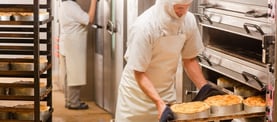 "The programme allowed me to be in a situation where I was having people critique what I was doing and another unique realisation I wasn't aware of came from this – I was actually bored in the business. This realisation helped me understand I needed to reduce my minor decision making and delegate more. I spent a lot of time changing my mind set and establishing what I should be doing in the business," says Ron. Ron says everyone gets something different from the programme.
"For me the practical teachings weren't so important but they still helped to refresh some things in my mind. The key for me was learning about organisational structure and strategic thinking. These learnings helped me to think in a new light and taught me how to get from a certain size to a corporate level," he says.
"The facilitators on the programme were fantastic in the group learning environment, which actually develops its own culture throughout the time you are together."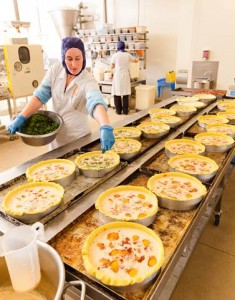 Ron says the structure of the programme can be daunting at first, but when you commit to it, it ends up working well.
"Initially it was never a 'good' time to start – I always had too much on. The reality is, we all work on priorities. Once you've locked yourself away, you suddenly have to work on those priorities you've been putting off – the ones which are actually the most important for the business."
"Psychologically the time frame is perfect. Three days away from your day-to-day operations a month works well – it's like taking a long weekend, but with a business focus," he says.
Ron says the programme helped him to implement ways to manage his team more effectively.
"After the programme we went through a year where there were some issues that arose, but thankfully because the team was now in a different place we all could manage these issues easily."
"I used to treat my employees like Bonsai plants; always keeping them under control. Now I don't prune them any longer and I allow them to grow in their roles. We have open discussions which allows them to get more out of the business."
Ron says his employees really enjoy the improved organisational structure and culture in the business and this is backed up by the low turnover rate. Ron decided to put his 'right hand man' on the Icehouse Leadership Development Programme which he says helped him to understand where Ron was coming from.
"It had a strong positive effect on the business. Our renewed focus and improved ways of looking at things had a water down effect – it meant all of our employees benefited from us completing the programmes," says Ron.
Since completing the programme, Rangiora Bakery has shown on average 15% growth year on year. They have doubled the size of building including opening a flagship café 'Artisan Café' which sprawls over two floors and recently won the 'Upper South Island' title in the NZ Café of the Year Awards. The business now employs 160 staff and 25% of the business is based around exporting to Australia.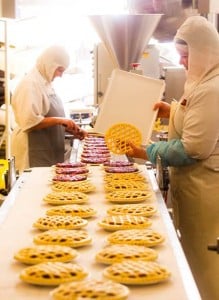 "Way back all our work was domestic, but we identified Australia as having the biggest opportunities for us, now we are sending 40ft containers of our product there," says Ron.
Ron's stress levels are now the lowest they've ever been. "I've always had a great team, but now I feel confident that I can take time away from the business and it will run well without me. I can go on holiday and not have any anxiety about what's going on back home.""I'm less stressed due to the fact I've released a lot of responsibilities to my staff. I'm focused on what I should be doing," he says. "I chose this programme because others advised me to – now I want to recommend it to others. I only recommend things I believe in, I feel strongly and I believe in this programme," says Ron.
"If I could choose – everyone would be subsidised to attend this programme, it would help a lot of people. It's not just about generating profit – there is a level of respect which comes with how it's structured, the facilitating team and being surrounded by other business owners."
Ron says the best thing about the programme was gaining the understanding of his role – this impacted every aspect of the business. "If I hadn't done this programme we would be in the same place, and I would still be holding back the business."
Find out more about Rangiora Bakey: http://www.rangiorabakery.com/