In a new series of blogs, we're shining a light on our Business Coaching Experts, starting with Richard Poole. As well as being an Icehouse coach, Richard is the founder of Co-Pilot, the business advisory service.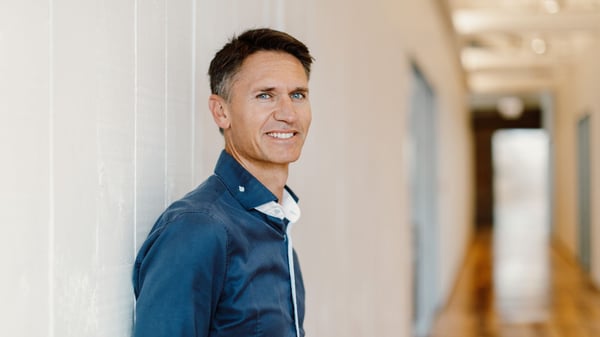 Richard has had some involvement with The Icehouse since the very beginning – attending the launch event in 2001. Then in 2015, he relocated his own business into the coworking space (he sold GrownUps, an online lifestyle magazine and social club for the 50+ market, to a Fortune 100 company in 2016). He's also faced his own challenges as a business owner, making him the ideal coach.
'I've experienced lots of ups and downs, really tough stuff. And that's often what you remember as an owner, as opposed to the wins, unfortunately. In our case, we did get there in the end. So I hope that's what I bring to others when I work with them – it's not easy, but professional business coaching and someone asking you the right questions at the right time, can save you from some of that tough stuff,' he says.
| Focusing on the right priorities
As a result, Richard's expertise stretches far beyond ideas around developing resilience and life balance – to more high-level strategic concepts around how to steer businesses through rapid periods of growth, by looking broadly across every part of a business, to see how it fits together and whether the focus is on the right priorities.
'Ultimately, you often become a counsellor of sorts, but at the core, I love business and that's what we look to make progress on, along with ensuring the owner is taking care of themselves. My experience has taught me that you really just do need to spend time 'on' your business. And that's what most business owners don't tend to do,' he says.
'In general, we don't recognise how big a job building a business is, and I'd put myself in that class as we grew GrownUps. If we'd capitalised on coaching and advisory services, I believe we would have got to where we needed to get to a lot quicker and with much less stress.
Owners live daily with self-doubt, uncertainty and a feeling of being overwhelmed. COVID-19 hasn't helped, but Richard has a positive take on what's happened so far in 2020. 'I don't know if what we're experiencing is any different from usual in terms of general business issues, but COVID-19 has hugely exacerbated the situation. It's made many business people reach for assistance and say to themselves; "You know what, if there's some help here, then I need to do something about it" – so in that regard, it has been helpful.'
| Turn coaching into a business asset
This philosophy underpins a new mindset among New Zealand's entrepreneurs and established business owners, who perhaps overlook coaching as a business asset –with tangible benefits and measurable results.
'Any business advisor who comes with experience and theoretical and practical knowledge, I'd argue, provides a value potentially greater than say a lawyer or an accountant. I firmly believe that. Often it's not seen this way and is hence hugely undervalued, but things are changing.'
Richard explains that the first step in reaching out is to understand that asking for help isn't failing.
'We perceive 'help' as a sign of weakness – I was guilty of it myself as an owner. We need to understand that asking for help is a sign of strength, not weakness. Then we will be in a different place.
'It's okay not to know everything, and it's healthy to have someone else's perspective on your business, because you simply cannot see it when you are in it. The owners who come to you and know what they want, but at the same time are prepared to listen and hear a different person's point of view, get that gift of clarity.'
| Apply new thinking to solve old problems
Moreover, successful business owners can put aside their past experiences and apply new thinking to their daily operations. Often the key to unlocking a business problem is right in front of an owner, but they are so immersed in the business that they can't see a reachable solution. That's where Richard can help.
Richard's vast marketing experience from his time as an owner is something many of his clients like to tap into. An owner will say, "I need some help with marketing because I'm not getting the sales". In reality, the issue might not be around marketing at all. It might be that they're selling the wrong product at the wrong price and in the wrong market. They're not looking at margin, for example.'
And one piece of advice for owners? 'In today's data-driven world, it's possible to turn your customer database into a community. That's what I took from our GrownUps business. Don't just view a database as merely that – it's your community, which can be developed, nurtured and mined through engaging in sales and marketing initiatives, so you can grow a more profitable business.'
Click on the link for more information about Richard Poole, his coaching services and areas of expertise.
For more business ownership and leadership advice, check out more of our blogs.