Part one in a new series on the benefits of business coaching. Let's start at the beginning, because the first step towards seeking business coaching is… realising you need business coaching in the first place.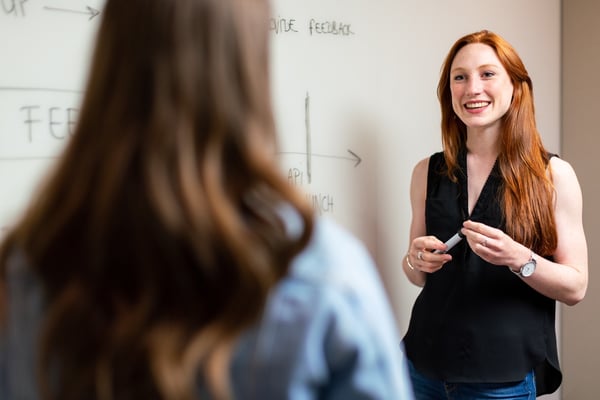 This may sound obvious, but so many leaders and owners are neck-deep in the daily running of the business that they might not be aware of the tell-tale signs that they need to reach out. So how do you know when you need help and what should you be looking out for?
| Three signs that you need a business coach
'I'm overwhelmed' is something we hear a lot. You feel there's too much to do, the business is controlling you and not the other way around. This is the number one sign that you need a business coach.
'I need to talk to someone' – it can be hard to make the big decisions on your own. This isn't necessarily a business advisor who will tell you what to do – more like someone you can use as a safe sounding board – a 'mentor' who can give you honest feedback on your thoughts and ideas and help you to ask the right questions.
'I work so hard, but I'm not getting the results I deserve.' A business coach can help you find the magic ingredient that's been missing, or pinpoint obstacles to success you weren't aware of, and help you remove them.
| Bespoke coaching to solve individual business challenges
Coaching programmes often fall down because they're too generic for your individual needs, challenges or goals. You might get the 'this is what's wrong', but you don't get the 'how can I fix it?'.
So a 'one size fits all approach' rarely works. Look for coaching that comes with a wide range of options; including six month, 12-month engagement or tailored 1-2-1 coaching. And look for innovation.
If you opt for a tailored coaching engagement, before you even get to your first session, we'll chat to you to understand what you want to get out of the experience, and then pair you with the right coach. You'll have an informal getting-to-know-you session – just to make sure your coach is the perfect fit for you.
What, and who, is the right coach? Does your designated coach really have the experience and expertise to assist? The Icehouse coaching team has the knowhow across many areas of business, from culture and purposeful performance, to operational planning and finding growth. They are also experienced business owners who they know what it's like to walk in your shoes.
| Coaching that's officially world-class
The Icehouse business coaching Net Promoter Score – the global metric for measuring client satisfaction has a 73 average (anything 70 or above is considered 'world-class').
Business coaching starts with an initial planning day and business planning and goal setting. A coach will ask you 'Where do you want to be?' and 'Where do you want to get to?' Before reviewing your financials, your existing business plan and business structure and discussing your current priorities and focus, before expanding out to pinpointing your goals, values and vision for the next decade.
| On the coaching experience
'The coaching resulted in higher confidence in myself- I was able to gain insight from a different perspective and put in place those simple solutions and get quick wins.'
'Able to break through a 'crust that cocooned' our team and how we saw ourselves and our business.'
Interested? The Icehouse's Business Coaching service helps you refine your strategy, keep you on track and achieve your business goals.
For more business ownership and leadership advice check out more of our blogs.