We caught up with another of our fantastic shared space businesses to discuss coworking, agile working, and… babies.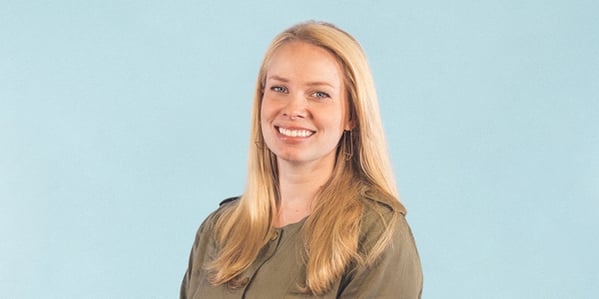 Lacy Hackett is Director for the New Zealand HQ of Owen Jones, an integrated brand agency that creates new branding, websites, environments, and campaigns for digital and print clients globally.
|
Coworking synergy
Owen Jones' client portfolio is stacked with famous names, and the organisation has more than 50 employees at its main office in Portland, Oregon. However, as Lacy explains, opening a new office in a different hemisphere was like starting from scratch – despite having to cater to a team of one.
'I convinced the executives at Owen Jones to let me open a new office halfway around the world – utilising the foundation we have established in Portland and my decade of marketing experience to invest in New Zealand, partnering with companies that could use the creative force of a US office,' she says.
'Our initial strategy was to find a shared space that was more than a desk. We needed to be part of a community where like-minded people were able to freely work and network, without having to think about all the logistics of an office.'
|
Making the move to central Auckland
'After touring a few other spaces, it was an easy decision to invest in The Icehouse as our physical space because you're surrounded by smart people, the espresso machine is always running, and they truly support and celebrate your success.'
That was in November 2019. Lacy is married to a Kiwi, which has made integrating into New Zealand far easier than it could have been. However, growing the business on this side of the Pacific, the arrival of COVID-19, being 7,000 miles away from home, and expecting a baby in a couple months means her 'new normal' is anything but.
'It can feel like the candle is burning at both ends with the amount of hurdles I have ahead, but it's not the time to focus inwardly. Now is the time to sow seeds and look at the longer play of how I want to be positioned when we're all on the other side of this. This is a defining moment in my career with some temporary challenges I will overcome or adjust to.'
|
New challenges require new solutions
Keeping sales up and the pipeline stable is a huge challenge for all businesses currently, as is adapting to new ways of working to meet client expectations. Lacy believes Owen Jones is using its digital expertise to full advantage in this area.
'Our team works nimbly, and we want our clients to feel they can trust us to still deliver on that – despite the physical distance. We are taking the time to pause, asking our leadership to spend time with people on individual calls that include more than how they are doing with work.
Lacy explains that the Owen Jones values centre on intellectual rigour, aesthetic excellence and emotional intelligence, which sit nicely under the current climate. 'We absolutely do what it takes for our clients – partnering with them and digging in on the details of who they are, their goals, their product, their market, all to ensure we understand what is actually going to resonate with their target consumers.'
For more information on integrated brand solutions and services, head to the Owen Jones website.
For more business ownership and leadership advice and the latest on COVID-19, check out more of our blogs.