Mark Quinn is a Co-Founder, Director and Masters Qualified Musculoskeletal Physiotherapist at Auckland Physiotherapy. The clinics specialise in clinical and wellness services including Physiotherapy, Pilates, Massage, Personal Training, Mindfulness & Yoga. In 2016, he completed the Grow Your Financial Skills Workshop with The Icehouse.


As a trained physiotherapist, Mark Quinn co-founded and opened Auckland Physiotherapy and by default, opened a bank account and found himself in charge of finances. With the business growing, he needed to learn on the job and quickly adapt to all aspects of the business, including managing the financials. "How to read financial statements, profit and loss and balance sheets were a completely different language for me back then," he shares.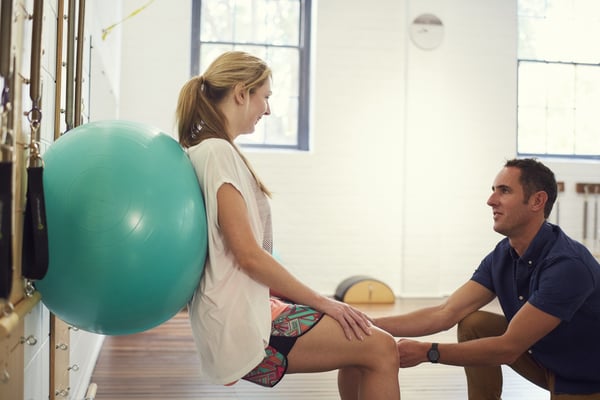 Mark Quinn (right) with a client. Image: Auckland Physiotherapy
Out of necessity, Mark knew that he had to do something, but wasn't sure which avenue or teaching facility was right for him, "I talked to a colleague who had done their MBA but he suggested that I look into The Icehouse. At that stage I was considering the Owner Manager Programme and so I did the Grow Your Financial Skills as a test drive to see if The Icehouse was applicable to my business – how it was organised, whether it fitted into how I work and how I learn. It ticked all the boxes for me, I really enjoyed it and got a lot out of it."
Developing financial skills to manage his business was an area Mark needed to come up to speed with quickly; especially as the business was growing rapidly which meant increased responsibility and headcount (staff and board). He thought the 'Grow your Financial Skills' workshop from The Icehouse was a good fit for his needs. Mark goes on to say; "We didn't have the most supportive accountants at the time and so that was a challenge too. I didn't know and didn't like not knowing whether things were good or not, whether our profit / loss sheet was doomed or not and I had no guidance.
I like having the confidence to know that our accounts are looking in good shape and are moving in the right direction and I think the ratios that our facilitator, Matt, talked about in the course and comparisons to industry standards, was quite reassuring."
"For me, me the course was about pulling everything together and making sense of my finances and knowing the jargon that I didn't understand before," says Mark. When asked what the biggest takeaway from the workshop was, Mark responded: "It sounds really simple, but it was just being able to make sense of the numbers."
"It wasn't about being able to read a profit and balance sheet like an accountant but knowing where to start and knowing what looks healthy and what doesn't look healthy."
Matt Bellingham, facilitator for the 'Grow your Financial Skills' workshop, is a seasoned Chartered Accountant and co-founder at Bellingham Wallace with over 25 years' accounting experience. Matt has an in-depth understanding of business finance and providing business advice, but despite this, makes learning accounting easy and approachable. "I thought that Matt Bellingham was excellent, he's got good energy, is a really good presenter and is really engaging. He doesn't make things complicated and makes sure everyone in the room actually understands what he's talking about. He made the concept of accounting really down to earth," shares Mark.
"If anyone is on the fence about signing up to Grow Your Financial Skills, I'd tell them that it's not a waste of time, it'll pay itself back in three months (for anyone concerned about money)."
"I have more confidence reporting to my board and putting together reports. So, just do it, you won't regret it."