Stephen Doecke is the Owner and Insurance Director at Asset Insurance Partners, insurance and risk management providers based in Blenheim. Stephen's company provide IQ-M (Intelligence Marlborough) Business Leadership Grants for their clients as a way to give back and ensure their success. Many of Asset Insurance Partners' clients have attended The Icehouse Leadership Development Programme with financial support from the IQ-M.
Asset Insurance Partners are more than just in the business of corporate insurance and risk management. Throughout the Marlborough region and beyond, they've supported business owners to be better leaders through their IQ-M Business Leadership Grants. Talking with Stephen Doecke, it's clear why providing this grant is such a big part of his business, "I've come to realise that the greatest threat to a business isn't fire or flood or an earthquake, it's actually poor management and poor leadership. So that's why I've started what I have."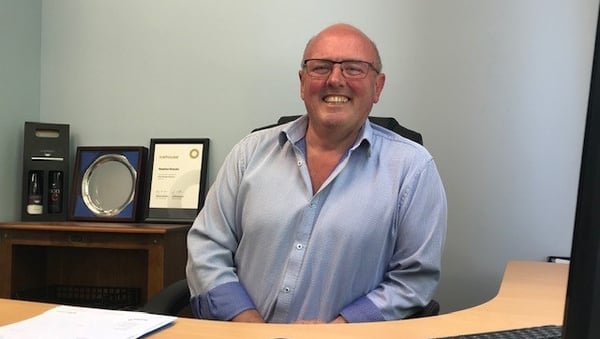 Stephen Doecke, Owner and Insurance Director at Asset Insurance Partners, and alumni of The Icehouse Owner Manager Programme.
After Stephen left the corporate life to set up his own business, the team sat down after the first 12 months to look at their budgeting and where they had been spending their money, "I sat and thought about what it is I actually stood for, or was trying to stand for. Then, I decided to commit a percentage of our income to supporting our clients. That's where the IQ-M came from."
Eight years ago, Stephen met The Icehouse CEO, Andy Hamilton, at a Japanese New Zealand Business Council event, where he was appointed into the Council at the time. "We just got talking over a bottle of wine and he was telling me the good things that The Icehouse do. So, I came back to Blenheim, Marlborough and organised for a two-day event to be run down here, Achieving Business Growth."
After meeting Andy and learning about The Icehouse, the partnership was a natural fit. "The relationship we've had with The Icehouse grew from there. I've just seen the impact that they have on my clients and how they inspire. I have been approached by various other coaching-type arrangements but it's just the quality of the people that are involved with The Icehouse and present for The Icehouse that make them unique. They're quite humble about it really. They're down-to-earth and that's the best quality."
Stephen created the IQ-M to, first and foremost, create a positive impact to businesses and business owners,
"I believe that a better business leader will always build a better business and that a better business, will always build a better community."
"Everyone has their own leadership style, everyone has their own goals and aspirations and if you start with one person, the rest of the business will grow. The IQ-M gives people a practical opportunity to grow themselves, because if you have to read it out of a book, you're just going to become like everybody else."
Since establishing the IQ-M five years ago, Stephen has financially supported 14 business owners to attend The Icehouse Leadership Development Programme and two to attend The Owner Manager Programme, "I've had one gentleman that wanted to make his own mark in the world and is now exporting to Malaysia; another has done the Leadership Development Programme, expanded and bought out their competitor because they had the confidence within themselves to take that step; some haven't expanded but have a better culture within the business. I gave one of my IT clients an IQ-M grant, he only stands at around five foot four, when I saw his wife while he was on the Programme I asked her, 'how's he going?' and she said it's the first time in his life he's stood six foot tall, so she saw the difference in him. Little stories like that are just great. You're not going to set the world on fire immediately, but you change an individual and good things will happen."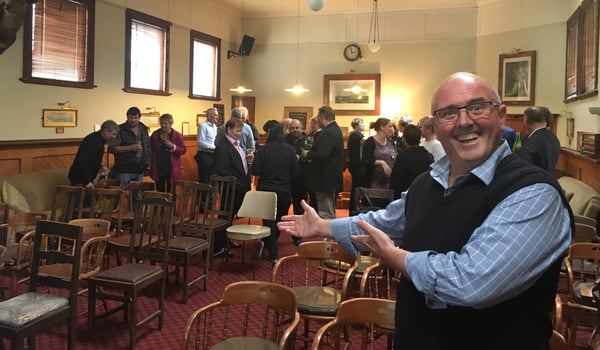 Stephen co-hosting an Icehouse event in Blenheim
Although the IQ-M grant isn't exclusive to The Icehouse, Stephen has sent a majority of his clients on The Icehouse programmes:
"It's the quality of what The Icehouse delivers, I just can't fault it. I always look out for the best intentions of my clients and I send them to The Icehouse programmes because good stuff happens."
"You see them walk taller, literally. You just know they're going to go places." Next year, he plans to send six people on a scholarship to go to the Leadership Development Programme.
Another motivator for Stephen is to support the community of Blenheim business-owners, "Blenheim is quite a small community and a lot of people associate me with The Icehouse, all my clients definitely do. I have conversations with my clients about self-development and growth during every chance I get – 'What are your plans? What are you doing to achieve them? What do you need to change?' As an insurance partner, you take more of an interest in your clients. Everyone knows that I'm there to help them when they need it."
One of the first IQ-M grant recipients, Chris Bowhill, was one of the many inspiring business owners Stephen saw a lot of potential in, "When we created the IQ-M we had Chris in mind. You know when you go through life and you just meet somebody and think that they've got the X-Factor, but they just need support or a framework to help them excel? Chris was one of those people. I was fortunate enough that Chris said yes after we discussed the IQ-M and the Leadership Development Programme. Just to see the change in him has been phenomenal really."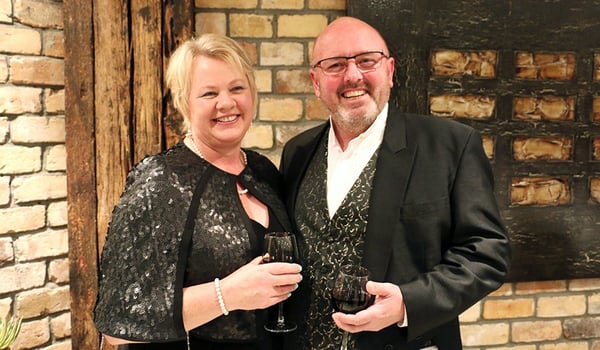 Stephen with wife and Project Manager at Asset Insurance Partners, Sid, at the Owner Manager Programme final dinner


Stephen completed The Icehouse Owner Manager Programme earlier this year, "If you're going to be promoting something you've got to walk the walk, but another reason I decided to the Owner Manager Programme was that I'd got to a point where I escaped from the corporate blanket – and I should have been smothered – but I was able to set my own directions for my business and in that, I was actually getting a little bit confused. I kept asking myself 'am I an insurance broker or am I a business development person?'. The 'insurance' part allows me to play in this business world, but what spins my wheels is helping people."
"I learned a lot from the Programme, one change I implemented quickly was utilising my advisory board more. My business was getting bigger, I was taking on more staff, so I just made more use of the people in my advisory board and that's been very beneficial. I suppose the number one thing I learned was about finances. I now have a meeting with my accountant every month and I pay the extra. Although it's an extra cost, I now know what my fees are, what my margins are.
"I've also been able to delve down to the actual data of my business more and with data you can make better decisions."
Stephen is enthusiastic about helping more business leaders in the Blenheim region and beyond, and encourages any business owner/leader in New Zealand who is interested in the IQ-M to get in touch with him.
Through working with Stephen, The Icehouse has been introduced to some excellent businesses leaders who have attended the Leadership Development Programme and Owner Manager Programme. If you are interested in learning more about these opportunities, contact Gareth Bayliss, Customer Growth Partner, on g.bayliss@theicehouse.co.nz or +64 27 202 1702.