Gearing Up: Leading Your Kiwi Business into the Future is the new publication from Auckland University Press and follows on from the huge success of Changing Gears.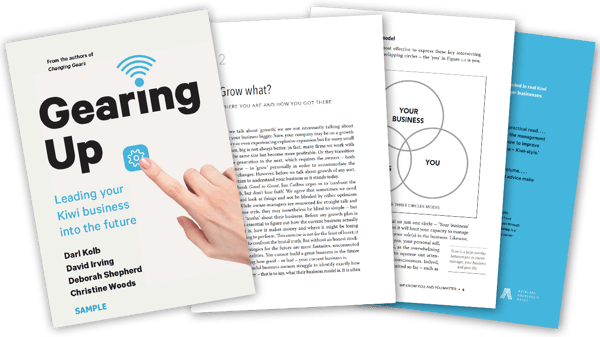 Gearing Up is a completely revised and updated primer of business school wisdom, grounded in real-world examples, for New Zealand's owner-manager businesses.
Published a decade ago and reprinted multiple times, Changing Gears was the first book of its kind to enable Kiwi-sized firms to integrate business-school wisdom into their thinking. It has been adopted and used as a strong supporting text in The Icehouse's development programmes, including the flagship Owner Manager Programme.
| Celebrating unsung heroes
The arrival of Gearing Up gives New Zealand business owners new opportunities to learn, grow and develop their business.
'Working with SME owner-managers over the past 20 years has been a privilege. In Gearing Up we once again share the learnings we hope will resonate with the 'unsung heroes' on whose shoulders so much of the economic prosperity of Aotearoa/New Zealand depends,' says co-author Chris Woods.
Management Magazine called Changing Gears 'an inspirational and practical read… a thoughtful, practical guide to tackling the management issues of how to grow, how to lead and how to improve management and leadership performance.'
Gearing Up is the natural successor to the ground-breaking original. Focusing on the opportunities and challenges faced by those running owner-operated businesses, the new text reintroduces the business basics that haven't changed (business models and financial drivers, leadership, team building, strategy and planning), while exploring how globalisation and digital transformations are challenging what we know about doing business.
| Uniquely addressing owner managers
'What's compelling about Gearing Up is it's NZ's only book addressed solely with the Kiwi owner-manager in mind. Being constantly relevant in a dynamic, fast-changing world demanded we wrote Gearing Up from the ground up, but with several big shifts,' says co-author David Irving.
'That said, the purpose is the same – to enable today's owner-manager to run their business successfully,' adds David.
Owner-managers and their businesses are the backbone of the NZ economy, and while Gearing Up addresses existing and new issues facing businesses, the philosophy is also centred on remaining relevant and useful to these unsung heroes.
'It is at the heart of what we care about as authors. Gearing Up is an extension of the passion and respect we have for this group of business people,' says co-author Deb Shepherd.
'Ten years after writing Changing Gears it was time for a refresh. We hope Gearing Up acts both as a reminder and a call to action on many of the business fundamentals that are more relevant than ever with this changing world we are navigating. We also hope that Gearing Up reflects the learning we have gleaned having had the privilege of working with owner-managers for 20 years,' adds Deb.
| Core practices and the original motivations
Fellow author Darl Kolb explains that due to recent events, there's never been a better time for owner-managers to remind themselves of core practices and the original motivations for why they created a business in the first place.
'While we finished writing this book before the dramatic worldwide crises of 2020 rocked the world of owner-managers, we believe in times like these, perhaps more than ever, it is important to remember the basics of business and, importantly for owner-managers, to rediscover why you're in business, what you care about most, and how to carry on for yourself and those around you,' says Darl.
Darl Kolb, Deb Shepherd and Chris Woods are faculty members of the University of Auckland Business School and have extensive experience working with owner-manager businesses through The Icehouse programmes and their own community. David Irving is a co-founder of The Icehouse and has a long history of serving owner-managers in teaching, consulting and governance roles.
You can download your free sample of Gearing Up by clicking the orange button below.
Find out more about our coaching and advisory services and the business benefits to you.
For the latest information around our programmes and workshops, click here. 
For more business ownership and leadership advice, check out more of our blogs.