Whether you're a startup or a market leader, all businesses start with an idea. Whether this provides a solution to a problem, makes our lives easier, or changes the way we do things, they all have one crucial ingredient in common: They provide the market with something it wants.
Yet not all ideas are created equal. How so? Let me explain in an example:
A New Zealand business based in the Bay of Plenty, Best of Times is a furniture upcycler that originated as most small businesses do: from an idea and a backyard garage. Having quickly outgrown their early 2015 beginnings as a Facebook page, they were looking to grow.
But how could they be sure there was a viable market for their products?
This is a crucial question for any business. Because no matter how great an idea, a business won't succeed if they don't have a market to sell to!
So how can you tell if your idea is the basis for a profitable business? Like Best of Times, you need to put your market to the test.
By doing so, you can discover vital information that can transform your business during the conceptual and planning phase. Allowing you to make full use of the information you find, including:
Whether a market or niche exists for your product or services.
How this market is trending over the short, medium and long term.
How competitive this market is.
Better still, this process doesn't have to be difficult. In fact, by using the following 3 tried-and-tested SEO tools, you can quickly and easily determine whether there's an online market for your products. All while laying a strong foundation for future SEO including digital and content marketing strategies. All curcial in achieving the maximum visibility for your business within your market or niche.
1. Research Search Volumes With The Google Keyword Planner
The foundation of every SEO campaign since the dawn of (internet) time, keyword research is vital for search ranking success and determining both the size, scale and purchasing intent of your target market.
To do this, we use Google's Keyword Planner. A tool that provides insight into the search volumes behind keywords relating to your business.
Through the Keyword Planner you will find:
The approximate online demand for the products or services you plan to offer.
New or related niches that may prove more lucrative for your business.
Best of Times employed the Keyword Planner during the early stages of planning their expansion into a new website and larger market. The time when this information can have the biggest impact on optimising your website and informing critical business decisions.
Ready to do the same? Then:
1. Open the Keyword Planner and either log in with your existing Google account, or create a new one.

2. Select 'Search for new keywords using a phrase, website or category'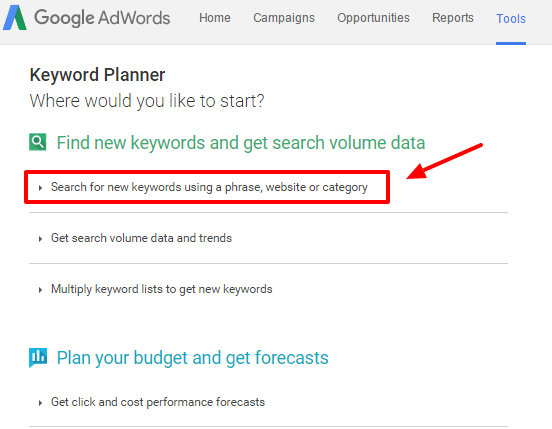 3. In the 'Your product or service' box, enter any number of keywords related to your business, products or services.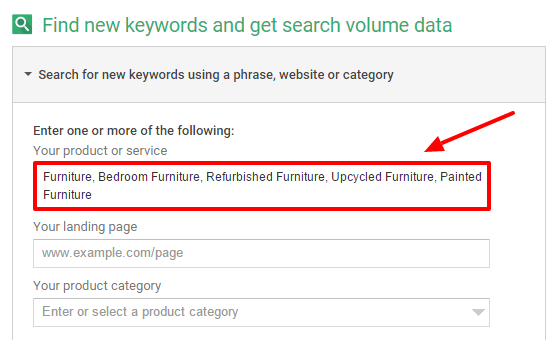 Operating under the 'Refurbished Furniture' tagline, Best of Times went into the Keyword Planner with the idea of targeting this as their main market.
As we'll see later, expectations don't always match what the numbers say. Which is why this stage is so crucial in informing future decisions!
To ensure they had a wide range of data to work with, they also included additional, related keywords they'd discovered during prior keyword research.
These included:
Upcycled Furniture
Painted Furniture
4. In the 'Your product category' text box, enter a general term for the overall category your business, product or service falls under.

5. The 'Targeting' area lets you set a number of parameters. The first of these is the country you want to target. Click on this and change it to 'New Zealand' if it isn't already.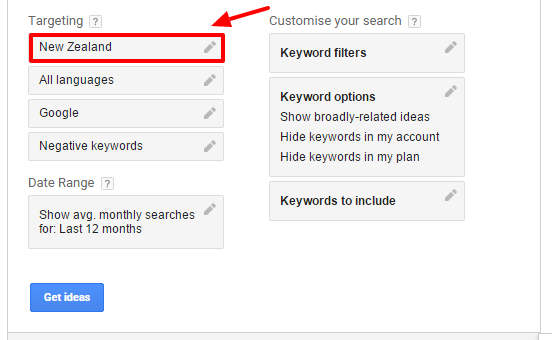 6. Hit 'Get Ideas'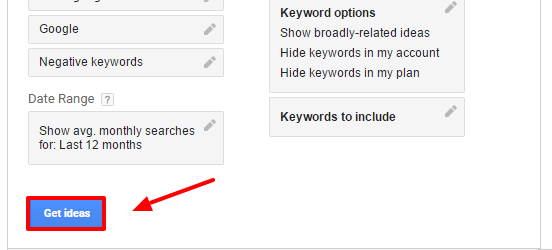 7. The Google AdWords Keyword Planner defaults to showing you the 'Ad Group Ideas' results for the search you carried out. We're looking for keywords, so click on the 'Keyword Ideas' tab.

The Keyword Planner will present you with the search volumes of your keywords. As seen below:

Through examining these results, you'll uncover: Competition vs Volume
Choosing your keywords and the market you're targeting should be dependant on two major factors:
Search Volume
Competition
As you can see below, terms like 'Furniture' and 'Bedroom Furniture' have a high # of Avg Monthly Searches:

But they're also highly competitive. Outranking these sites and claiming a portion of this market would require a larger investment of time, money and/or resources than a less competitive area. Which is why striking a balance between competition is an important consideration, perhaps more so in early stages.
Your First Idea Isn't Always Your Best
Through the Keyword Planner, Best of Times discovered two vital pieces of information.
Can you see the first below?

The search numbers for 'Refurbished Furniture' are incredibly low. Only 10 a month!
Without carrying out this research, they may have crippled their opportunity for growth, online visibility, and - most importantly - sales. All before they'd even begun.
The second?
That related keywords fared much better. As seen below:
What does this show us?
That our first ideas aren't always the best ideas. Don't be afraid to refine, reset, and try again.
As was the case with Best of Times. With this new information, they were able to refine their name, branding and website plans to better target the much larger 'Upcycled Furniture' market.
What a difference a few words can make!
Local Keywords
Search volume isn't always indicative of a searcher's purchasing intent.
Search volume =/= customer volume.
This is where local keywords come into play.
Users searching with a location-centric variation of your keywords are more likely to be looking to make an enquiry or purchase.
Best of Times found this with their new target keyword 'Upcycled Furniture'.
While it may receive some 140 searches a month, these searchers could be looking for any number of things related to Upcycled Furniture.
By plugging a locale variant into the Keyword Planner, they found something surprising:

As you can see above, not only is Upcycled Furniture NZ a keyword that's more likely to include paying customers. But this local variant actually has more searches per month than the regular keyword.
By uncovering the search volumes of your local keywords, you'll be better placed to match your products and services to the people who want them. In turn increasing your conversion rate and turning more visitors into paying customers.
2. Study trends with Google Trends
So, we've discovered that search volume can be a worthwhile indicator that there's a market for your business. But as with technology, hollywood gossip and social networks, everything tends to have its 15 minutes of internet fame.
So how can you ensure your market isn't there one day and gone the next?
Google Trends lets you track search volumes for keywords over a given day, month, or even years. With information like this, you can track the health, growth and sustainability of a given market. As well as make more informed decisions on the services or products you plan to offer or sell.
Open Google Trends
Enter a keyword or term related to your industry, niche, product or service in the search bar.

3. Google Trends will display a graph of that term's search activity over a given period of time.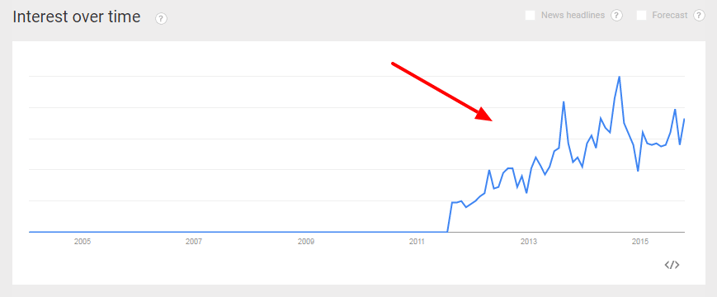 4. To compare more than one term, select 'Add Term' and enter a new term.

As the screens above show, 'Upcycled Furniture'' has risen steadily since 2011. From this we can see that this market isn't likely to go anywhere anytime soon!
You can also use Google Trends to determine the kinds of products your market are most interested in. This is especially important for new businesses who are time poor and spread too thin.
Best of Times used this to examine the shifting popularity of a range of furniture styles. A crucial piece of information in a market where trends and taste tend to change every year.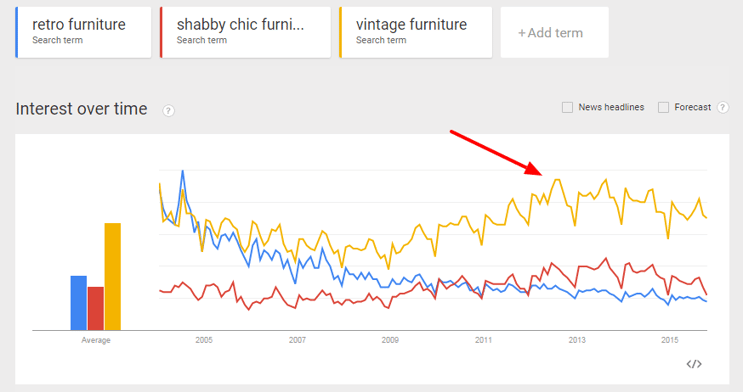 As you can see above, Google Trends shows that 'Retro Furniture'' has seen a steady decline. While terms like 'Shabby Chic'' and 'Vintage'' have remained steady, and continued to edge upward.
Enabling them to stay ahead of the shifting market, Best of Times were able to dedicate their time to their Shabby Chic and Vintage lines to ensure they were maximising their return on time invested.
3. Scope out the competition via Google Search
Through examining the search results for your keywords, you can quickly and easily determine how competitive a given market is.
As 75% of searchers never make it past the first page of search results, it makes sense to devote our attention to the first page: the top 10 results for your keyword.
What you find here can determine whether a market is worth pursuing.
While browsing these results, you should be looking for:
A lack of big name brands or websites
Highly competitive terms often turn up big names. For Best of Times, keywords like 'Bedroom Furniture' had them competing with the likes of Harvey Norman and Freedom Furniture. As seen below: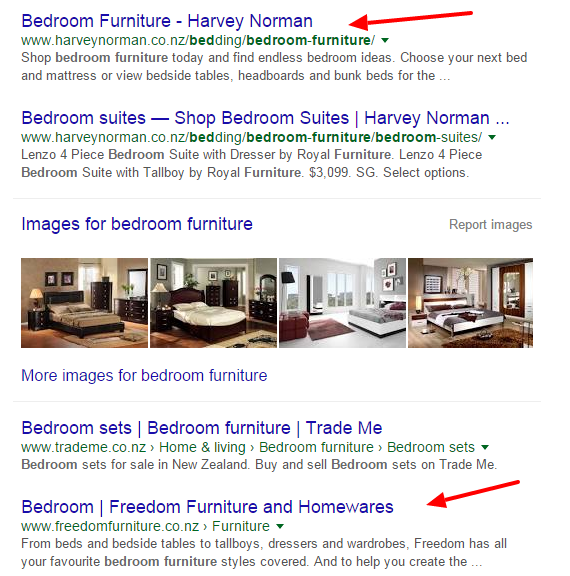 If you look to target these keywords, just know you'll be competing against large, established brands that can be hard to outrank, or outsell!
Low-Quality Competitors
Not all competitors are created equal.
As they say, you shouldn't judge a book by its cover!
While you may notice a number of competitors appearing on the first page, it pays to examine these pages further. Looking for:
Quality of the website and relevant content.
The direct relevance to your business.
The site's PR & DA rating.
By searching for 'Upcycled Furniture NZ', Best of Times found that the first page included a number of possible competitors. On further inspection, many of these were only partially related to their market.
While those highly ranked sites that did compete had a low DA & PR rating. A sign that these sites may be easier to outrank than the likes of Harvey Norman.
In Conclusion
While not the only tool in determining the validity of a given market, the above methods are an invaluable addition to any business's market research. Not only does this information enable you to make strategic decisions about your business, but it also puts you on the path to future SEO ranking success: a crucial piece in the success of any business in the digital age.
As for Best of Times? By using these tools they were able to expand into a market they knew was interested in the products they offered. And by building on this foundation with further, specialised SEO techniques, they've been able to climb to the second position for their target keyword within a few short months.
Such is the power of prior research, planning, and a good business idea!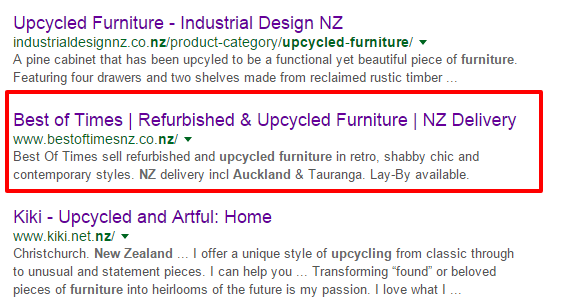 This article was contributed by Robert Kramers of Found SEO, a New Zealand search engine marketing company.