Back in 1998, engineer Scott Field had just returned to Hawke's Bay from the UK. Having worked in engineering firms in England and Brazil, he was keen to carve a niche in a rapidly expanding local economy. Setting up in Brookvale Road, Havelock North, with a 120 sqm workshop, Scott asked brother-in-law and engineer Blair Hislop to join him. Blair had also spent time in Europe, in the automated technology sector and returned to the Bay in 2002. Now occupying 400 sqm in the Whakatu Industrial Park, Fields Way has a reputation for harnessing technology and innovating.
They have a discerning customer base requiring products ranging from high end residential customised stainless-steel bench tops to heavy commercial irrigation systems. In the last two years, the business has scaled new heights as both Scott and Blair joined the Icehouse Owner Operator Programme, giving them the time and motivation to develop role clarity, implement new processes, build capability in their highly specialised team and that all-important freedom to work on the business, rather than in it.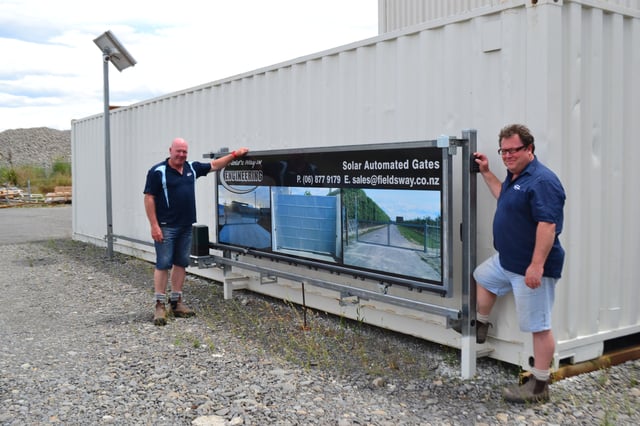 Scott (left) and Blair (right) from Field Ways Engineering.
Scott and Blair joined the Owner Operator Programme in the summer of 2016. Business had been going well but with several new projects in the pipeline, they both recognised a need to upskill to ensure sustainable growth.
Fields Way Engineering was well known for manufacturing good-looking electronic gates and customised trailers but there were plans to expand further.
"We wanted bigger premises and we were developing a new model for creating high end stainless steel benches, fixtures and fittings to complement our current work, so we needed to ensure we got this model right first time," Scott says.
One of the Programme workshops focused on leveraging genius and role clarity. This provided the ideal platform for the two owners to nut out who would do what in the future. This included restructuring the organisational design of the business and building a high performing team.
Planning began for a move from the Thomson Road leased premises to the Whakatu Industrial Park as well as building the capability of specialist designer Mickey Heibner.
"We knew we couldn't grow the way we needed to, without building the capability of our team," says Blair.

Read blog: What Is Sustainable Growth and What Does That Look Like for Your Business?
Mickey joined the Icehouse Effective Leadership Programme (ELP), giving him the extra skills and tools to manage the new customer base, which was expanding fast with the arrival of more efficient solar power for electronic gates.
"Since I did ELP I have become more focused on my role in the company and more open minded about how to get the best out of the team and amplify their skills. It's given me much more confidence with our clients and the other businesses we are working with," Mickey says.
Collaborating with other local businesses has created high value channels for new business for Field Ways, and the team pride themselves on working well with other complementary businesses.
"We have an excellent relationship with Rabbitte Joinery when it comes to producing top end customised kitchen and bathroom benches and fittings. We work with security firm Eastek on the electronic gates and more recently Thinkwater for irrigation work."
The team had identified a gap in the market for creating heavy duty water systems for irrigation. Their time working with The Icehouse allowed them to step away from the business and get the model right for this as well.
"We recognised we needed to have a bigger focus on design and project management. We're all about the things you can't buy off the shelf, and we know the design expertise we can provide is going to produce the right finish," Blair adds.
With the large number of projects now on the go, ensuring that in-house processes are streamlined is vital for Fields Way. Working with Icehouse programme facilitator and coach Michaela Vodanovich provided the impetus to change to Workflow Max and online calendars, as well as focusing only on the projects that are adding value to the bottom line.
"Everything we do is KPI'd and we analyse where every dollar is spent - on every job we can tell the guys exactly how much time they have to get it finished and that means no stress." Blair says.
Moving into their new Whakatu offices in mid-2016, plans are underway to expand the workshop to have a larger bay for stainless work as the demand increases. A 60-ml thick folded stainless island for a Waimarama beach house has just been completed, another customer has recently requested oversized specialist shower nozzle fittings for an outdoor bathroom at a lake house in Taupo and Mickey has been brought in to advise on a curved bench top for a Napier Hill kitchen that is nothing short of a work of art. Commercial kitchens and new juicing factory plants are all being kitted out with stainless steel.
Staff are being upskilled to be able to work with the new designs, adding to the staff morale.
Both Blair and Scott agree they couldn't be happier with the team they have built around them.
"We treat staff like family, we are interested in their personal life, and making sure they get the family time they need. No-one seems to want to leave, so we feel pretty good about that and it makes this business an awesome place to be."

This blog was written by Kate de Lautour, The Icehouse Customer Growth Partner & Operations Manager, Hawke's Bay.