Silicon Valley can be a daunting place for Kiwi entrepreneurs. The culture is different, it's hard to know who's who, and while organisations like Kiwi Landing Pad are there to help you hit the ground running, it can be difficult to know how to go about getting venture capital funding.
In February, Scott Nolan gave a presentation at New Frontiers on "How to Raise Venture Capital in Silicon Valley". Scott is a partner at Founders Fund, a San Francisco-based VC firm, which invests in companies building revolutionary technologies. Their past investments have included SpaceX, Airbnb, Spotify, Palintir and Facebook. Scott's talk covers the life cycle of fundraising for companies, the do's and don't's, and approaches to take towards multiple rounds of funding. It's well worth a watch for anyone who is new to raising VC funding, and contains some great tips for seasoned pros as well.
Below we have outlined ten of Scott's main pointers for locking down that first round of VC investment.


Getting a Meeting
1. Be prepared to pitch a LOT of investors
When seeking investment it's best to cast a wide net to find a good match. While you might be able to find a match in only 3 or 4 investors, be prepared to talk to 20 or 50 – finding the best match is important. Don't get discouraged when investors say no. Silicon Valley is full of stories of people getting rejected by dozens or more angels or VC's before finally securing investment, and then going on to build a successful company. Talk to as many people as possible, clearly explaining what you have achieved so far.
2. Know who has invested in your competition before you start contacting investors.
You don't want to get in touch with investors that have a stake in competitors. They have a conflict of interest from the beginning, and they probably won't be able to fund you. If you have a discussion with VC's who are funding the competition, you will be wasting your time and theirs, and sharing your secrets unnecessarily. Plus you'll look like you haven't done your homework.
3. Time of year matters. A lot.
During the US summer, some VC's take long vacations, so it's best to avoid the summer months - especially July and August. Even if the investor you are talking to is around, their partners may not be. If someone is away from the firm, preventing the possibility of consensus, the decision will often be delayed or the process slowed. This will be an unnecessary hindrance on your fundraising efforts, so avoid it. Similarly, November or December are not good months, as VC's often head away on Thanksgiving and Christmas holidays with their families. Plan your runway so that you don't have to be raising money during these months.
4. Don't use cold emails or submission forms.
Personal intros are always the best option. People know each other in Silicon Valley, and the VC and entrepreneurial communities are closely linked. The best possible intro you could hope for is from a CEO who has already made that investor money, as they will have established trust. Similarly, every introduction comes with a level of signalling based on how trusted the connector is. If you don't yet have a personal link to VC firms you are targeting, work towards meeting new people and making connections throughout their networks. If you have a mutual connection and don't use it, VC's will wonder why you didn't, and potentially come to the conclusion that your mutual friend isn't excited about your company.
5. Make sure the VC you're targeting knows that an intro is going to be made.
A 'cold intro' is almost as bad as a cold email. Rather than your mutual friend introducing you out of the blue, provide them with a short blurb about your company, which they can send to the VC first. They can then first check if the VC is okay with being introduced. Provided they trust your mutual friend, their answer will almost invariably be yes - so this is just a courteous step to ensure that the VC isn't caught off guard.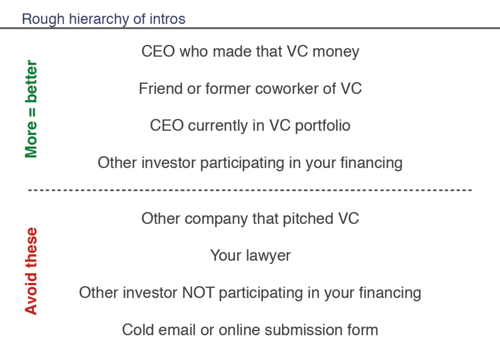 Right, you've got a meeting! What are the next steps to tell your story and close the deal?
6. Dress like it's another day at the office.
Raising funds is part of an entrepreneur's daily life. So it's appropriate that you dress like this is just another day in the office. Don't wear a three-piece suit. We're not saying head into your meeting in a dirty hoody and unwashed hair – but wearing smart-casual clothes that are typical of the startup world will help the conversation flow naturally.
7. It's a conversation, not a presentation.
When you sit down with VC's to talk about your company, do just that – sit down and chat, rather than giving a formal presentation. This is your story, so take the time to tell it in a way that shows your personality and passion. Talk about your company, define how you create and capture value, and explain why you exist. Let them ask questions, and ensure that you're making room for two-way conversation. It's a discussion, not a monologue.
8. Outline why the VC should fund a Kiwi company
If you're targeting Silicon Valley as a Kiwi company, you will need to convince the VC why they should invest in you, over the US company down the road who might be doing the same thing. You'll need to outline your strategy for ex-New Zealand distribution of your product. You'll also need to have a multi-office strategy, explaining where you will open global offices and why - opening an office in Silicon Valley 'coz that's where the investors are' is not going to cut it. Considering the common-place practice in US-based startups of providing equity to employees, this is a move you may want to consider.
9. Leave the meeting with clear next steps
It should be clear when you leave the meeting what your next moves are going to be. Ask for a clear timeframe within which you might expect an answer. This will help to ease your mind, as well as showing them that you're serious about moving your company forward quickly. Make sure to complete any follow up tasks that were discussed as soon as possible.
10. If the answer is no, move on
Don't try to change the investor's mind - you don't want to work with those who aren't a fit, so it's best to move on and focus your efforts on finding a VC who is better aligned with your vision. Whatever you do, don't approach someone else at that same VC fund. This will be viewed as going behind the original investor's back. They have probably talked to their colleagues about you already, during the process of making their decision, and you don't want to burn your bridges for your next round of funding.
Happy fundraising, and good luck!